Windows 8 Surface Tablet Review
Today as a part of our Microsoft Tablet Reviews we will be looking at the Windows 8 surface RT.
Since its release in late 2012 the Microsoft surface may not have drawn the attention of consumers as Microsoft wanted. The draw back was that the surface could only use new windows apps from the windows store and not any desktop apps which was a major disappointment. This led to price reductions because of its low demand by customers. Although it is not a bad device it has some good specs:
• Windows RT, Microsoft Office Home and Student 2013 RT (Word, PowerPoint, Excel and OneNote), 11-Inch Clear Type HD Display, comes with touch cover
• Quad-core NVIDIA Tegra 3
• 64/32 GB Storage, 2 GB RAM, Up to 8 Hours of Battery Life
• Two 720p HD LifeCam, front and rear facing
• Wi-Fi (802.11a/b/g/n), Bluetooth 4.0 Technology
Microsoft Surface 64GB Tablet (Dark Titanium) with Black Touch Cover
Average Rating: 

146 total customer reviews…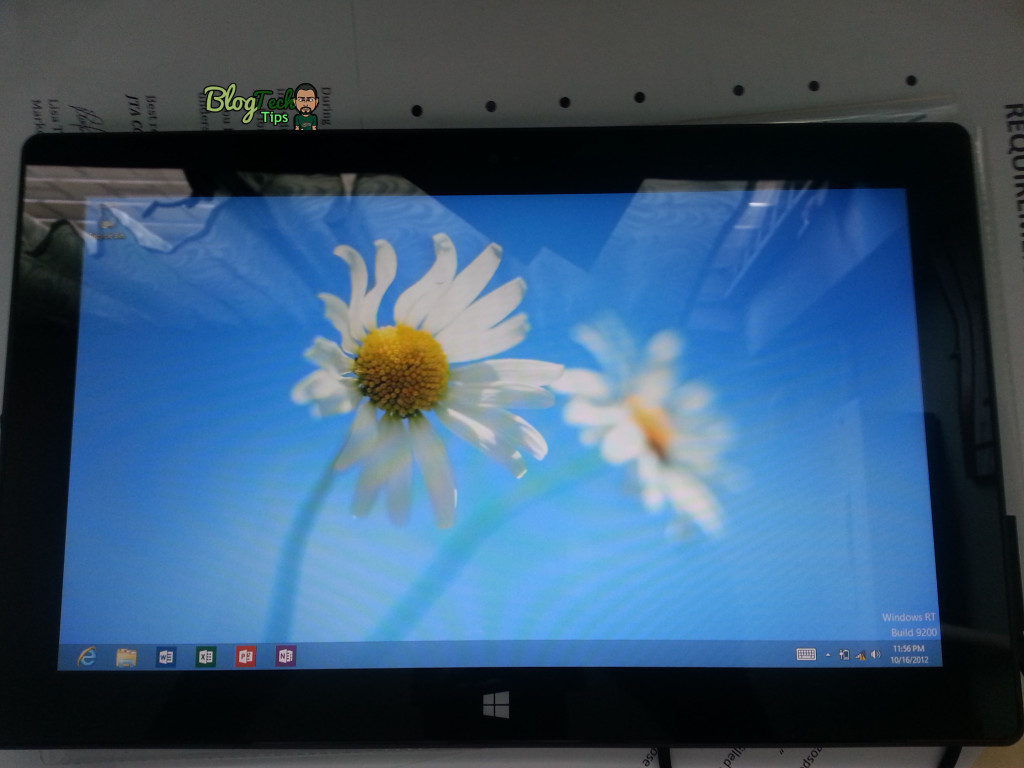 DESIGN
The design of the Windows 8 surface RT itself is unique and is just different, something that consumers love because repetition is overrated. The surface is 9.4mm thick and the edges have a nice neat finish. The surface weighs 690g making it heavier than its competitors. Microsoft introduced a kick-stand made of metal at the back of the device that allows it to be propped on any surface.
GALLERY
DISPLAY
With a 10.6 inch screen and a resolution of 1366 x 768 pixels on a 16:9 aspect ratio screen the surface provides a great deal to display but falls short when it comes to HD. The colors are bright and vivid providing the user with a mind blowing experience. The surface's texts are sharper than most android tablets.
CAMERA
The surface sports an 8 MP camera and it seems that it is not ideal for capturing important pictures but if you like shooting videos the surface captures videos in 720p which is not bad at all. The front-facing camera is ideal for video chats and panoramas.
SOFTWARE
The Microsoft Surface proves that it isn't a push over supporting windows RT operating system which is similar to windows 8. Windows RT was designed to help the surface sustain a longer battery life. With windows RT the surface is able to use a wider variety of USB peripherals than most devices The surface supports a 1.8 GHz Atom Z2760 processor, 2 GB DDR2 SDRAM and a 64 GB storage making it ideal for both professional and personal use .Its processor has 2 cores and 4 threats and providing a clock speed of 1.8 GHz. Although the surface has a 2 GB DDR2 SDRAM it allows the device to perform better and improve speed along with reducing memory system power demand. Because of its Quad-core NVIDIA Tegra 3 chipset the surface provides a PC-like experience when it comes to graphics.
CONNECTIVITY
This device uses Wi-Fi (802.11a/b/g/n), which will allow the average user to get a great experience while browsing the internet. After a hard day of using the Surface there was no great pressure to find a plug right away making the surface ideal to carry out task on a busy day. While watching videos on YouTube, I found that playing videos wasn't a very big deal but with the inclusion of the speakers on the right and left side of the surface sometimes audio was fairly good and I mainly found myself using ear buds. When browsing the internet I found out that the webpages would not load due to opening to many tabs and this became frustrating especially when carrying out important tasks The Microsoft surface uses Bluetooth 4.0 Technology which enables the device to stay paired to another device over a longer period of time while using less power.
 VIDEO UNBOXING
CONCLUSION
If you're the type of person that is always carrying out business tasks on the go or just use a device for web browsing and word processing then I would recommend the surface RT but if you would love to have access to both windows store apps and desktop apps then a device like the surface pro will better suit you.

Price Disclaimer
Continue Reading we have even more Tips for you: