A tablet is the perfect stand in between your phone and full blown laptop. Today I will be looking at the Samsung Galaxy Tab A 8.0″ Tablet Review. This one is the latest model and may be your next tablet.
What you get out the Box?
Inside the box of the Galaxy Tab A is your usual accessories that includes charger and data cable. You get a SIM eject tool, documentation and instruction manuals and basically all you need to get started.
The box also outlines all the product features and specifications. I suggest you get a case to protect the Tablet right away on purchase, a MicroSD card comes with some devices.
What I Like about this Tablet?
The Samsung Galaxy Tab A 8.0″ Tablet has all the latest software support and you can update it to Android 10 out the box. It has a very nice display which I find is ideal to watch movies or Stream things on YouTube, Netflix and the works. In that regard the display is 8″ screen with 1280 x 800 resolution.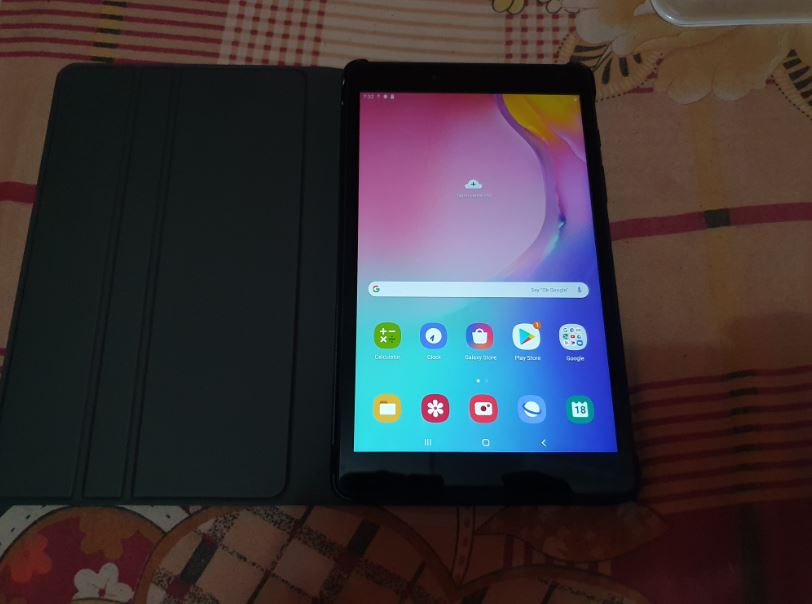 The Main Camera is 8 MP AF camera with a secondary 2 MP front camera. This makes this ideal for video calling, conferencing and what kids or adults would need for online schooling or working from home.
They were nice enough to include a 64 GB MicroSD card which you will need trust me on that, so make sure to vary if yours comes with one before buying. The speed is good and it does do well at Gaming, battery life is very nice as you can easily do a full day on Battery.
You will find that you can insert a SIM card and use your device for services such as Whatsapp. Not all models included some features though as the additional memory card and SIM slot is dependent it seems on which vendor you purchase from.
Video Review:
This is my video review of the Samsung Galaxy Tab A. If you like the review leave a like.
What I don't like:
The included 32 GB of internal storage is sparse and not really overly impressive. It was nice that they included a MicroSD card as I described above.The memory card really solves the limited storage issue and I cant hold it against the device.
As with all devices like this to protect it you will need to get a case as a case will surly go far towards protecting your device.
Where to Buy This Tablet?
You can purchase this Tablet in the link below.
Conclusion
The Samsung Galaxy Tab A 8.0″ Tablet is the kind of Tablet you will need that strikes a perfect balance between performance, price and hits just right. Its really a bargain device that I would not hesitate to purchase or recommend to someone looking for a Kids or adult Tablet for everyday tasks, work or school.
So go ahead and pick up yours in the link here or above.