Amazon Super saver delivery is a God send and I cannot count the thousands of dollars that this innovation from Amazon has saved me in shipping fees, it's definitely a program that keeps on giving month after month. There is literally no other program on the internet from any shopping or retail website that comes even close although they do try to imitate.
Try as they might there is no beating a deal like this one.
What is Amazon Super Saver Delivery?
Amazon super saver delivery or super saver shipping is a program developed by Amazon where you are given free shipping on qualifying orders of over $35 and items are delivered to you totally free of charge. The shipping is great and orders are at your door in approximately 4-5 days on average in my personal experience, despite Amazons time frame of 5-8 business days.
This is super fast and I never pay for shipping which can be quite expensive when Amazon free super saver shipping is conveniently available.
How to Qualify for Amazon Super Saver Delivery?
The process is easy simply follow our guide and you will be getting free shipping each time you shop at Amazon:
1. Go to Amazon as usual and select an item that you want to buy if the item is meets the follow criteria you are good to go:
a. Must be shipped from or sold by Amazon.
b. Should be $35 Bucks or more
2. If the item is less than $35 bucks as it usually is in most cases then do not worry you simply need to add some inexpensive items to your shopping cart to get you to Super Saver Delivery, these items are called Add-on items and we listed some good ones here and explained a bit more on what they are here:
If you did not find a suitable item or items there then check out this extensive and detailed list here that qualify and are great bargains to boot.
3. Once all Qualifying items are in your shopping cart like this:
4. You should now notice a notification in the upper right hand next to checkout that says:Your order Qualifies for free shipping.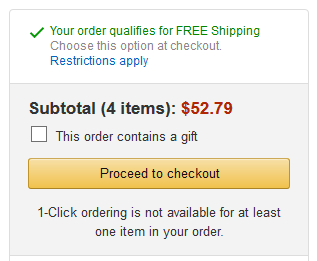 5. Proceed to checkout, now this part is very critical by default the Free super saver shipping will not be selected automatically you will have to select it yourself when you are asked to select shipping speed and remember to have Amazon group my items into as few shipments as possible to ensure you receive all items in one box unless it's a big shipment with lots of stuff.
6. Go to payment and then just before finalizing the order double-check that free shipping is still selected, when satisfied proceed and check out. That's it you have just qualified for Amazon super saver delivery right to your door. You can go ahead and check your invoice you will notice that the shipping is free. You can do this over and over for each order that you make in the future as long as you want and you will always receive free shipping.
I hope that you guys enjoyed our tutorial, we really enjoy shopping on Amazon and free shipping only makes us want to shop more each time. If you have any questions please feel free to use the comments section to ask away and you will be guaranteed an answer as soon as possible, as always happy shopping.