The Patek Philippe Calatrava Men's Diamond Platinum – 5298P-010 is one of those luxury watches that exudes a touch of class often unreached by most regular brand named luxury watches on the market today. Suited for that special gentleman in your life or for the man who has reached the pinnacle of his career or life long ambitions.
This watch also makes for the perfect gift idea to commemorate a special occasion such as a birthday or milestone anniversary. Place your precious time in the hands of the Patek Philippe family and its world renowned brand that have been crafting perfect timepieces from 1839 until today with 175 years of watch-making experience under its belt guaranteeing a superb time piece.
Construction
The watch casing  is constructed from pure Platinum with a diameter of 38 millimeters and the front face cover is made from Sapphire glass with the inner dial colored black for a high contrast against the moving hands. The black inner dial with diamonds at every hour mark and the outer bezel is adorned with 38 baguette diamonds (3.37 ct.).
The watch itself features automatic movement (Self-winding caliber 324 s c movement) with built-in date and is waterproof up to 3 ATM or 30 meters making it ideal for everyday use, the straps are made from the highest quality hand stitched black alligator hide to accentuate the inner dial. These watches are Swiss made guaranteeing the highest standard in watch manufacturing that even the most conservative watchmakers would consider a top class time piece.
To finish things off the strap ends in a pronged buckle affixed with 6 baguette diamonds 0.30 ct. each.
Patek Philippe Calatrava Price

Price Disclaimer
Patek Philippe Calatrava Men's Diamond Platinum – 5298P-010
Average Rating:

3 total customer reviews…
Patek Philippe price is not for the faint of heart although they offer different price ranges of watches, one cannot truly put a price on luxury and the finer things of this life.
Why is Patek Philippe is so expensive?
The reason why Patek Philippe is so expensive is because they are often made from Gold and Platinum, unlike Rolex watches and other less expensive models that are made from steel. Also Petek Philippe is best known for dress watches which are highly fashionable and extra care in taken in the construction of these watches which adds to the expensive cost, the creators are extra meticulous with extreme care been taken in hand finishing and crafting each piece to perfection versus total machine crafting of some models resulting in a higher quality watch .
Also the level and detail of work that goes into this brand is way above and beyond those that are placed into models such as standard Rolex's, something that sets it a part in terms of cosmetic difference.Also they are expensive as the quantity of pieces that are made for a year is significantly lower than most regular Luxury brands guaranteeing a unique time piece in limited editions thus adding to its uniqueness and overall value.
See for yourself how each Petek Pilippe is crated with Meticulous care
View the video to see Swiss masters at work crafting the beauty that is Patek Pilippe watches
Gallery
See the Contents of the Box: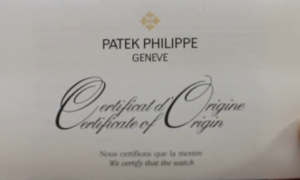 Advantages
1. Superior craftsmanship and meticulously fashioned.
2. Create from only Premium precious materials such as Gold and Platinum, in this case Platinum.
3. Swiss made guaranteeing a precise timepiece that's very accurate.
Disadvantages
1. This time piece is quite expensive, but one does not buy a luxury time piece for affordability.
Conclusion
The Patek Philippe Calatrava Men's Diamond Platinum – 5298P-010 brand is ideal to purchase and keep as a family heirloom that can be passed down from father to son. Also it will retain its value for the future which adds to its resale value and ultimate long-term worth, which in reality could be considered an investment of sorts. From Watchmakers to watch enthusiasts this is easily a brand that is at the pinnacle of the watch industry that easily sets itself apart from other models and a must have time piece.