When you first get your brand new laptop or install Windows 8.1 for the first time you may quickly realize that righout out of the box that the time will auto update or change which results in a wrong time been shown on screen which can be very annoying and frustrating and you may want to  stop Windows 8.1 time from auto updating or changing from the time that you have set.
The problem
Windows time keeps changing or updating to a incorrect time resting in the system clock displaying a wrong time, this usually changes itself about every hour or so and can be annoying as soon as you set the time its automatically readjusted without warning.
What Causes the time to Auto Update?
The time auto updates or changes when windows contacts the Internet time servers or windows time server and then synchronize your computer time automatically with the time stated on the servers for your selected region once you are on the internet.
How to stop Windows 8.1 time from auto updating?
To stop Windows 8.1 time from auto updating you will need to:
1.Rest your cursor in the right side of the screen and allow the charms bar to appear, click on setting from this bar and then look all the way at the bottom for a setting that says: Change PC Settings and click it.
2. From the left panel select time and Language.
3.Now turn the following settings to Off which should be in the on mode: Set time automatically and Adjust for daylight time automatically.
4. You may exit the menu now and go back to the windows interface as you time will not change now until you manually change it yourself.
Additional Settings to Fix Windows time keeps changing Problem
Sometimes even unchecking the settings above will not be enough to stop windows time keeps changing and causing the time or even the date to become incorrect, so follow these additional settings that will guarantee that your time remains on the settings that you have set. Also remember these settings work on any windows version and not only Windows 8.1:
1. Click on the time in the system tray area and change date and time settings.
2. From the date and time Tab click on change time zone
3. Set the timezone to: Bogota,Lima,Quito,Rio Branco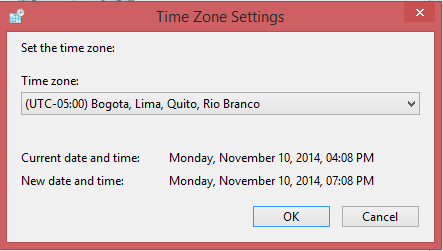 4. Also uncheck the box that says automatically adjust clock for Daylight savings time if present and apply the settings by clicking OK.
That should do it in my experience even the most annoying Windows time automatically changing on its own issues can be fixed by making this adjustment and you will not have to adjust the time again as it will remain on the time that you have set.
I hope you were able to correct the issue you were having with your Windows 8.1 or other version of windows time changing without you resetting it, this is an annoying issue that tends to get anyone who has to deal with it frustrated as the options to correct the issue are not directly visible.