Have you ever wished that you could see the Password of a WiFi connection? Well today I am going to show you a pretty cool trick that I like to call the WiFi password revealer. Do note this is for educational purposes only and is meant to be used at home on your own devices. Also with this trick all you will need is a Laptop with a WiFi connection or a desktop with a WiFi dongle or card. This works in all cases once certain conditions are met and no software is needed. It also good to know about this trick to improve your Wireless network safety in case someone tries to use this on you.
You can also use this cool trick to remember forgotten passwords in case you end up forgetting what your WiFi Password was. Do remember only to use this on your own devices at home.
WiFi Password revealer
To see what a WiFi Password is the following conditions must be met:
1.You need to have been granted access to the WiFi at least once.
2. You will need a Laptop or WiFi enabled Desktop.
When you connect or you are in range of the WiFi (Do this only on your Home WiFi) go into the system tray beside the time and date lower right of the desktop. Now find the WiFi connection to which your are connected and right-click the connection and right-click and choose properties.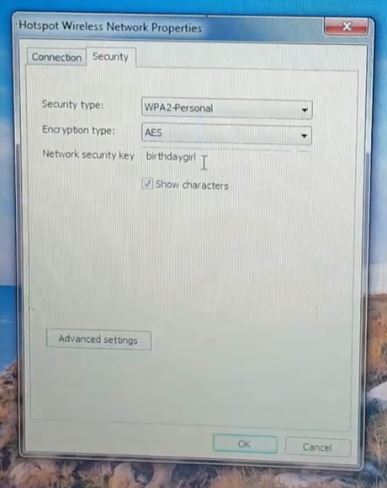 Next select the Security tab and check the option: Show characters to reveal the:Network security Key or the hidden password will be revealed. That's the password of the connection you are currently on or have been granted access to in the past.
Video Demonstration
Here is a video demonstration showing you how its done:
How does this Work?
If you did not know Windows keeps a record of all the WiFi Connections that you have been granted access to. In this way it can reconnect to them in the future without needing to know the password again. This trick works because all we did was to look at the password for the Network which is stored on the computer. Most people will give you access to their WiFi and not reveal the Password thinking its safe but as you see someone with a little know how can actually get your Password easily.
What can I do to protect myself from this?
To protect yourself from this simple workaround do the following:
When connecting a new device uncheck the option that says connect automatically on Laptops.
Change your WiFi Password on a regular basis.
Monitor your WiFi Activity using a tool or the router interface and devices that connect to it.
Only Allow trusted Friends and Family to access your WiFi.
I do hope you found this tip useful guys. It a cool thing to be aware of and once you know about it you can be more careful to who you give access to your WiFi connection. I do hope you will use this to improve your WiFi security as you now know what others might use to gain access to your Wireless. After all this is a legitimate part of Windows that been around for years which I doubt will be removed as it serves a legitimate purpose.