Mega Run is the successor to the addictive Android game Mega Jump that takes the adventure in a whole new direction. Instead of being a vertical progression based games the new Mega Run changes tactics and has you on a horizontal side scrolling mission that's reminiscent of Super Mario with more advanced graphics.
The main character is a red monster who progresses through each level collects coins and power boosts, with each power boost adding a new ability. Such abilities as growing to three (3) times your size, or going super nova and blazing through a level and obstacles.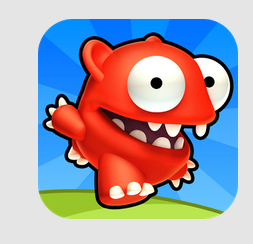 The Story of Mega Run
Like any good game Mega Run has a simple yet fun story highlighting the previous games where in an attempt to jump upwards you are smacked back to the ground and all your friends are captured by an evil villain. It's now up to you to catch the bad guy and rescue your friends in this new and exciting adventure.
Impressions
I love this game and its a great game that you can pick up and simply start playing at the drop of a hat, however while you may be able to breeze through the levels, you may find that you have to backtrack in an effort to collect more coins and progress to unlocking further levels.
Controls
The controls are fairly simple and you simply tap the screen to jump and long tap in order to jump further. The character is ever-moving forward so it will be up to you to skillfully dodge the obstacles and survive the near pitfalls and traps throughout the levels.
Graphics
The levels are beautifully rendered and this is easily one of the most stunning games visually on the Android platform. I was most impressed with the background artwork and special effects when you pick up a special ability that's sets the character on fire or allows him to light up like a laser beam as he zips across the screen.Your phone will heat up a bit after playing this game, as most games so remember to give your device a break between levels every now or again. This might be cause by the extra rendering that the GPU has to do when rendering this games, otherwise its all good.
Download
1. Download Mega Run for Android here
2. Download it for Kindle Tablet for Free:
Conclusion
Mega Run is one of those games in which the sequel takes a risk and in so doing has created a new games that unique in comparison to its initial version but stays true to its roots which is a fun and addictive game that should have you playing for a few hours tops and keeping you well entertained.
Continue Reading we have even more Tips for you: