Knowing your way around Android is a necessary skill if you wish to survive in this fast paced world as so many devices use the Android operating system, especially when it comes to phones. In today's article we would like to teach you how to hide text messages on your device and even go as far as hiding even calls, recently we showed you how to fake calls and I am sure you found that tutorial most useful.
So in continuation of showing you some advanced Android skills we will now teach you how to actually hide incoming SMS messages and calls from selected contacts which can be very useful in situations where you don't want a particular person calling or texting you at certain times, the way you use this app is totally up to you so use it at your own digression. So any contact that you choose should they call or text you the calls and text will not show in the phones call log and the phone will not ring but you can view the call log or text message in a secure private screen later.
How to hide text messages and Calls?
To achieve your goal of hiding your text messages we will be using Apps that hide texts or more specifically the best app that can hide both texts and calls that is known as Hide Text SMS & Calls. As the name of the Android App suggests its made to hide your texts and calls that you don't want showing up in the normal phone screen. So if you are thinking this could be used to hide your phone activity from someone then you are thinking along the correct lines but remember that this App and the way you use it is your own responsibility.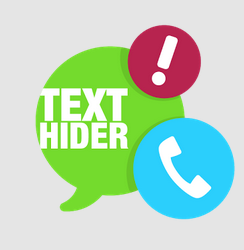 How to actually hide text messages?
OK so let's get started in getting this app in full working condition:
1. Download and install the App: Hide Text SMS & Calls by clicking here .
2. After installation and setting your PIN you will notice for privacy the App icon will not show up on your home screen or where you normally find a new App but instead there will be a new green Text icon and a Battery App.
3. The Battery App is actually the login to see your hidden calls and messages, to access your calls and hidden texts click on the battery icon and long press the picture of the battery. A screen will appear for your PIN so enter it and you will be in the hidden screen.
4. From the hidden screen you will be able to:
Check your call log and hidden text messages
View Pictures taken privately.
Capture pictures and hide them instantly
Add or remove contacts that you want to Hide text and calls for.
Browse the internet and hide your browsing history or Browse privately.
5. Open the new text Icon thats green and it will ask that you set this as the new App for handling texts, accept and all your text will now be screened and the contacts you set to hide their messages and calls will not show anything should they text or call you. Now simply replace your normal text App with the new Green text icon on the home screen. Do not worry your normal text App is still installed and is the normal icon.
How to select a Contact that you want to hide their texts and calls?
Now for the fun part, to hide a contacts texts and calls press the battery icon and long press the picture of the battery, login and then go to contacts, at the bottom of the screen click Add contact and enter the name and number or simply click the plus and find him or her in your phones contacts, check either Hide calls or Hide texts or both and save. The feature is now active and texts and calls will be hidden for the chosen contacts.
You will know you have a text or Call when you click on the battery meter and it displays Red, and do not worry the Battery App actually acts as a real battery App and gives accurate feedback on your battery to actually fool those that might snoop around with it, you know who.
This app is really cool, in case you are checking your messages and someone happens to sneak up on you then you can shake the phone and the app will close. You can also go into settings and have the app close behind you whenever you perform an action such as view a hidden picture. The App is totally private and you can text or call contact that you select without leaving a trace on your actual phone. Plus you can use the built-in browser to surf and all your search history will never be saved so no one can tell what you are viewing online. As a bonus you can take and view pictures and keep them in a private safe.
I hope you found this App very useful there are a number of applications for it, but remember to use responsibly and we would love to know what you think of this App and was it what you were looking for?-you can use the comment section below to answer our question, looking forward to hearing from you.
Continue Reading we have even more Tips for you: