If you are from Canada then I would expect that you are quite excited that it's almost Black Friday, well who would not be with all the crazy deals that are going around, you only need to know where to look and you will be well on your way to getting your next big purchase at a highly discounted price, after all that's why we all love Black Friday so much among all other days of the holiday season as it actually sets the pace for the start of the holiday.
This year My Canadian friends can rest a little easier as we have removed the trouble of finding good deals in our:Black Friday deals Canada article and rest assured that we are only bringing you the very best deals and nothing else:
Black Friday deals Canada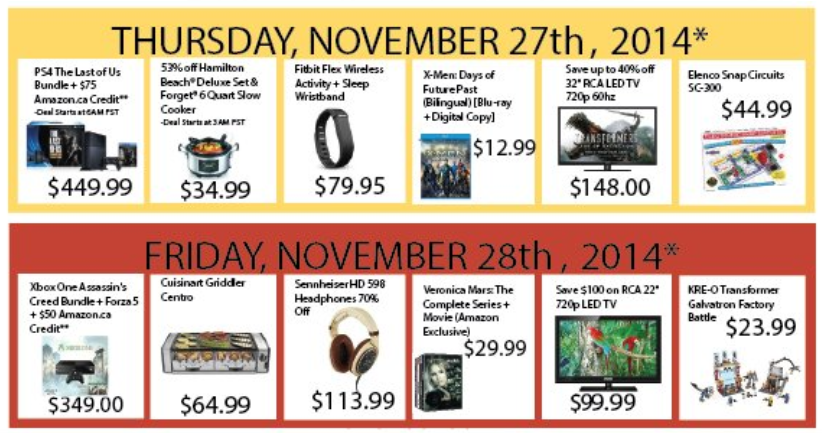 November 27th Deals
1. RCA 32-Inch 60 HZ 720p LED HD TV
A great discount of 40% from the regular price on this beautiful 32 inch HD Television set that can be yours for one low low price, I can hardly believe the actual cost of this Television set.
2.X-Men: Days of Future Past
Get the Blu-ray and digital copy of the latest X-men movie for a super low price, if you missed it in theaters now is the perfect time to own a copy for your collection. Let me just say that I am a big fan of the series and this is the best movie in the series yet.
3.PlayStation 4 The Last of Us Remastered Bundle
As if this PS4 Bundle was not already awesome you also will receive a $75 Amazon.ca credit the bundle cost $449.99 and will be available while stock last but I don't need to tell you that will not be long so take advantage as soon as possible.
4.Fitbit Flex Wireless Activity + Sleep Wristband
Stop postponing getting fit or tracking your progress to help you on the way you can do both with the Fitbit Flex wristband.
5. Hamilton Beach® Deluxe Set & Forget® 6 Quart Slow Cooker

Price Disclaimer
Roast up to a massive chicken or roast no problem, especially if you are going to have guests over this holiday season you need to find a more effective way of preparing meals with this great cooker.
6.Elenco Snap Circuits SC-300
Develop your young child's budding mind with this great toy that teaches them as they have fun playing, they will never realize that they are actually learn with the fun they will be getting from this set.
November 28th Deals
Here are the best deals for the actual day of Black Friday 2014 for Canadian shoppers on Amazon:
 1.RCA 22-Inch 60 HZ 720p LED HD TV
Another great Television set this time from RCA and this ones a nice 22 inches and a very good price, would make for a nice bedroom television set.
2.Xbox One with Kinect Assassin's Creed Bundle
The Canadian XBox one Assassins creed Bundle with Froza 5 and $50 Amazon.ca credit will be the biggest deal of the Canadian Amazon store so be ready when it's listed, the going price will be $349.00 while supplies last which is such an insane deal.
3. Sennheiser HD 598 Headphones
These head sets are usually so expensive and just for Black Friday they will be sold for $113.99 a 70% discount in the original price.
4. Veronica Mars: The Complete Series + Movie (Amazon Exclusive)
Will be on sale for 29.99 just for your movie collection and you can only get this exclusive Black Friday deal at Amazon.ca.
5.Cuisinart GC-17NC Griddler Centro
Grilling has never been so easy as when its hands free and even the rotation is automatically done for you, you must check out this great grill that's price has been discounted.
6.KRE-O Transformer Galvatron Factory Battle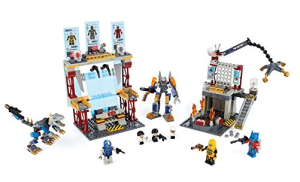 The kids will love this as a gift for the holiday and you will be purchasing this great Black Friday deal at a greatly discounted price.
I hope you were able to find the perfect Black Friday deals, for my friends from Canada we would love to know what you think of these items and the discounts and while you are at it be sure to subscribe to our blog to be notified first of great deals such as these in the future, thanks for stopping bye.
Continue Reading we have even more Tips for you: