Every now and again we come across deals that we just have to share with you guys and with smartphone deals there is no exception. We recently saw the Nokia Lumia 520 Gophone and could not believe the incredible price of that device that came with no annual contract, you heard me correctly with this smartphone you will not be tied to an annual contract.
Nokia Lumia 520 GoPhone
The Nokia Lumia 520 Phone itself has a 5 Megapixel camera with 4x Zoom,1 Ghz dual core processor,has Windows Phone 8.0 out the box and is upgradable if you choose to 8.1, 4G support, 512 MB or RAM, 8 Gigs internal storage and a nice support of up to a 64 GB MicroSD card which is very good in my book.  You can also shoot video is crisp high-definition at  1280 x 720 or 720p HD.
The Review
The best thing about the Nokia Lumia 520 Gophone is that unlike most phones from AT&T it does not carry a ball and chain 2 years contract which makes this phone very appealing, I can see your eyes really glittering now and yes that means if you wish you can use it on AT&T's Prepaid service other wise know as GoPhone which simply adds to the flexibility of the device.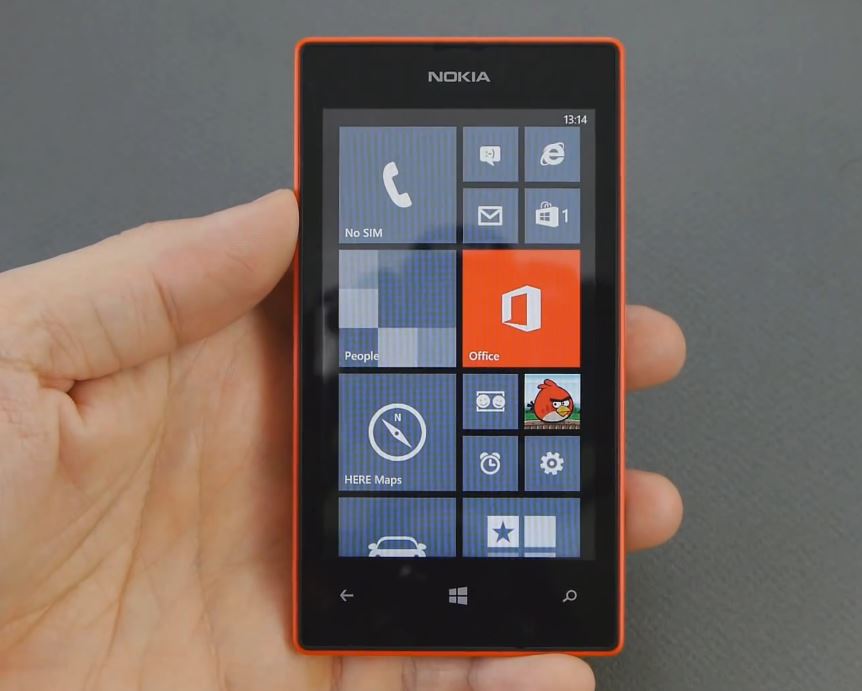 [wp-review]
If you're an existing AT&T customer and have their SIM card and need a replacement phone this ones a perfect fit and you can simply place your existing SIM in and it will work, I find this very useful where your main phones destroyed and you are on a budget and need a capable device or maybe you want a phone with great specs and that does not require that you spend a tone load of cash on it.
Performance wise the At&t Nokia Lumia 520 has awesome performance with its dual core processor which is great and keeping the price that you can see below in mind as its hard to overlook, the phone itself feels bulky in the hands and the all plastic construction is to be expected but this makes the phone very slippery so I recommend that you also pickup a great case to avoid dropping the phone. The buttons are quite firm which means they will not wear out easily after repeated use and there is even a dedicated camera button to make capturing pictures much easier.
The visibility of the phone in direct light is good and unlike most phones which are unreadable in direct sunlight outside, this one is. The screen is a bit of a fingerprint magnet and needs regular cleaning but otherwise its very sensitive to touch input even with a gloves or other covering on your hands. The apps that come preloaded such as Angry birds roost is great for Angry bird lovers, Webpage loading speeds is OK but rendering on zooming in on pages is a bit laggy, but panning around on page is fluid .
We also loved the Free offline voice guided navigation feature with its maps which is a handy feature for those traveling allot especially for major countries and places that are supported by the feature.
Video and Audio Performance.
The speakers are nothing to phone home about and offer OK performance for listening to your music, my recommendation is that you get a decent set of ear buds, the video performance is great as it can run most popular video formats right out of the box. What was very surprising is that the phone was able to run 1080p video files very well especially in the DIVX file format which we had seen no log in playback.
Capturing pictures and video while not perfect were decent at best with the video it shot being very fluid and accurate in terms of colour reproduction although things could be a bit sharper, which is expected from the 5 megapixel camera.
The Price
The most Amazing thing about this phone is the actual cost of the device which is less than $50 bucks US, you can check the exact price below:
 Advantages
1. No yearly or 2 year Contract
2. Very Cheap and affordable costing way less than $50 bucks.
3. Great specs and performance for the price.
4.You can use on a Post or Prepaid package with AT&T.
5. Great video Playback capability.
6. Free offline voice guided navigation.
7. Can be operated with gloves on.
Disadvantage
1. The device is locked to the AT&T Network by default.
2. Camera does not have LED flash and there is no front facing Camera so no video calling.
I hope you enjoyed our review of this great smartphone from Nokia, if you are seeking a budget smartphone with very cool features and a matching price tag and you are on the AT&T network well look no further than this device, until next time friends take care.