There is something simply fascinating when great design meets even better hardware, such is the case of the MSI Z97-G45 gaming motherboard from Micro Star International (MSI). In today review I would like to look at this awesome looking Socket 1150 motherboard and show you why you should get it to complement your next gaming PC build as I did. In case you want to know which parts I used for that build which I will be featuring soon you can check out the parts list here.
MSI Z97-G45 Gaming Motherboard Review
From a design stand point the MSI Z97-G45 gaming is a sight to behold and MSI did well with going with a red and black theme for the look of this motherboard, I literally can't take my eyes off this board it's that attractive. After all a Gaming PC should be something of beauty, as a gamer I know you know what I mean 🙂 .
The Features and Specifications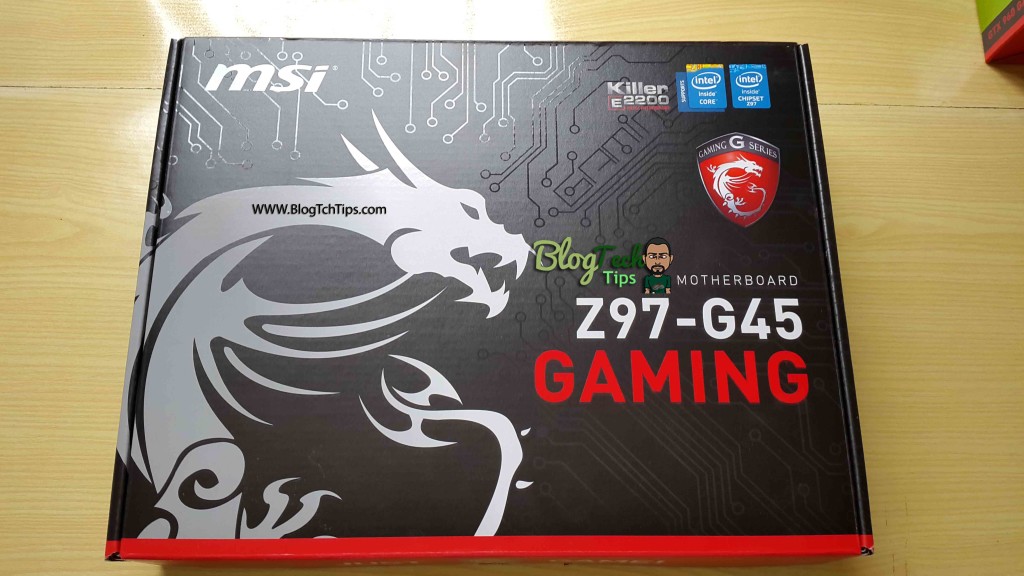 While this top of the line Gaming motherboard looks great it's not all for show as for the very attractive price point MSI was able to put a lot of nifty features that both casual or enthusiast gamers would like, which includes:
Socket LGA 1150: Supporting Intel's latest CPU architecture or those from the 4th and 5th generation core processors and more.
Intel Z97 chipset
4 X DiMMS dual Channel DDR3-3000 (OC)
ATX
6 SATA 6GB/s+1 x MSATA
Supports RAID 0,1,5,10
3 PCI-E x16 3.0 and 4 PCI-E x1
VGA, DVI and HDMI ports
3-way CrossFireX and 2-way SLI ready
Sound Blast Cinema 2
Killer Game Networking
6 X USB 3.0 + 8 X USB 2.0
8 channel 7.1 HD Audio
Killer E2205 Gigabit Ethernet LAN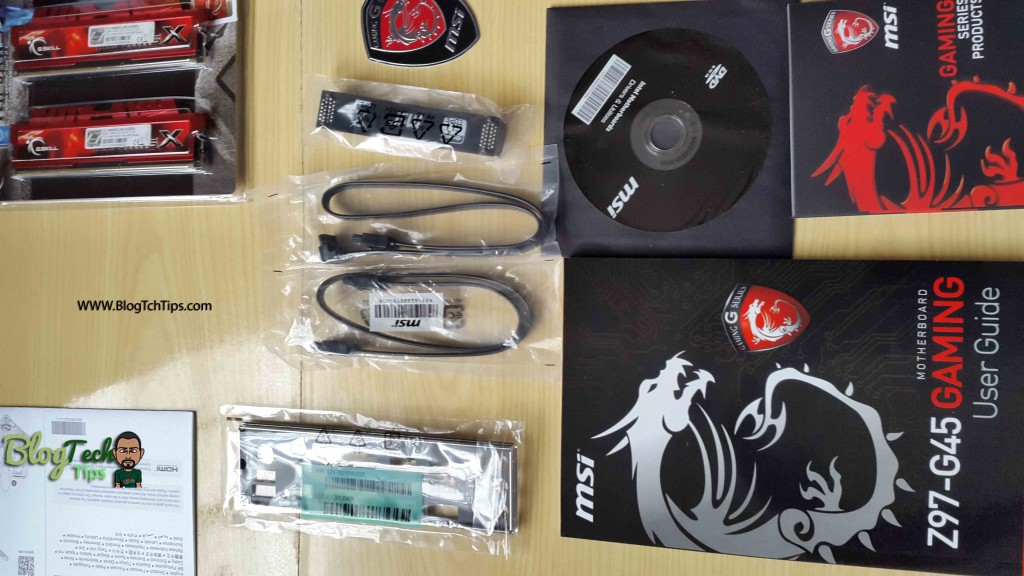 Now those are some very nice features to have on a board right out of the box and you can get all of these gaming grade features at less than $150 US dollars.
Accessories
Inside the box is every screw and cable that you could ever want and this was very useful for a trouble free build, the box included:
1. USER Guide
2. Drivers DVD
3. Back IO shield
4. SATA cables x2
4. SLI Bridge
5. Case Badge
6. pamphlet of other MSI products.
Video Unboxing
Check out the video and see what this motherboard looks like:
Graphics Support
The on board Graphics of theMSI Z97-G45 gaming is great but who actually buys a Gaming Motherboard for on board Graphics its great to have but the real deal is to attach a Video card as the one that I purchased for my Gaming build. But either way this board is very flexible as it allows you to choose between Nvidia cards or AMD ones so this offers quite the flexibility as in my case I went with the Nvidia 900 series of Graphics cards. Thanks to this board I was able to run my Graphics card at its full speed with its PCI-E 3.0 ports, if you so choose you can actually get two video cards and run them in SLI or Crossfire for AMD.
Audio Boost and Sound Blast Cinema 2
Every one will admit that on board sound is crap, but don't be too hasty with that decision with this Motherboard as it's clearly the exception to this rule,the on board sound is actually great and is very loud I was blown away when testing this after my build was complete. This seems to be thanks to MSI's Audio Boost and the Sound blaster 2 audio management system that comes with this Motherboard. What they did was to separate the section of the motherboard that controls the audio so that there is no interference which leads to outstanding music playback, Gaming and Video sound quality that's on par with a dedicated sound card. Whats also cool is that section of the board lights up which adds to the cool effect.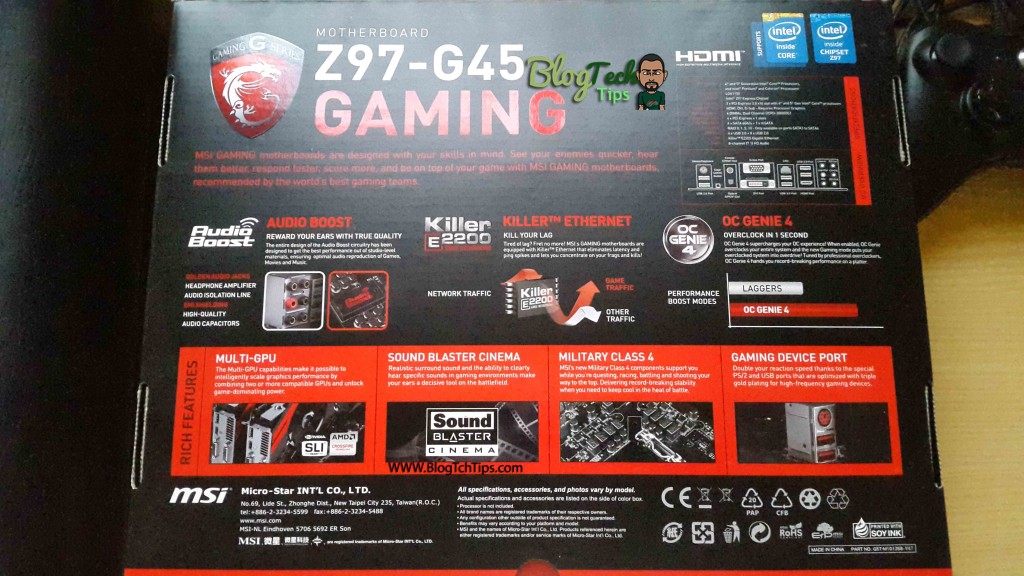 Dedicated Gaming Ports
There are a set of Red dedicated 2x USB and a legacy PS2 port on the input ports found on the back IO which is for fast response times in games so you will never be held down by lag. This is very cool as you can hook up your Gaming Keyboard and Mouse  and as they are designed for high performance gaming devices they will work at peak levels as they were designed to, what more could you ask for.
Super Fast Ethernet
The Ethernet ports are very fast and there is very little to no lag compared to none gaming Motherboards that I have used in the past. In fact even everyday web browsing seems to be better on the MSI Z97-G45 gaming motherboard. That aside when you are playing online games you will need this feature to make sure there is no lag that is the difference between wining or loosing a match online, that means no latency and high ping rates.
Built to Last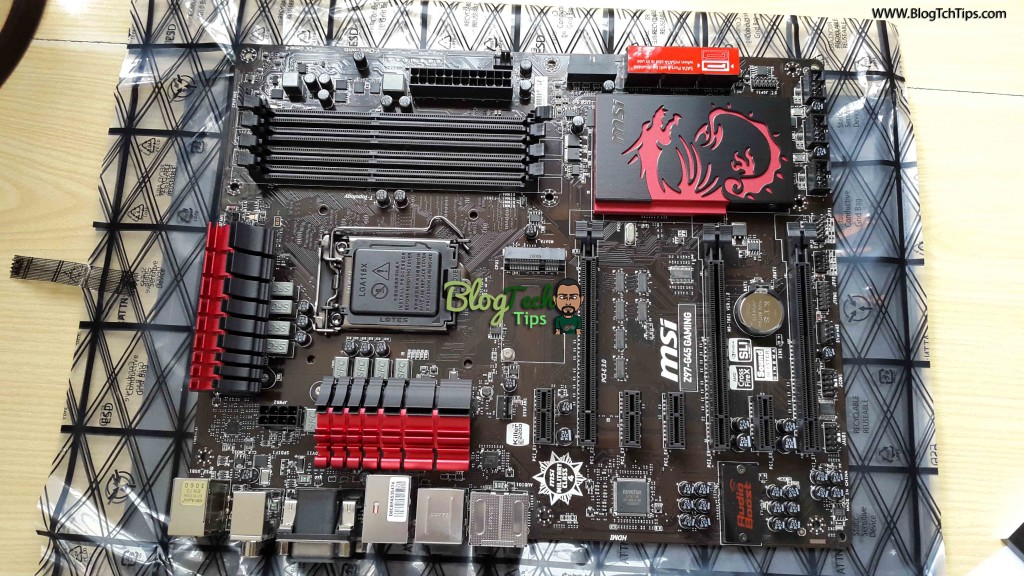 The components in this Motherboard are built from Military Class 4 components which translates to very strong and durable components that will not die on you easily and can stand up to the pressures of gaming. This is a must as I am a gamer and regularly do video editing on my Gaming rigs which are on for days on end and you can't afford to use anything less than top of the line hardware.
Easy Overclocking
Although I have not used the feature as yet the OC Genie 4 makes overclocking a breeze as with just the click of a button the system find the best Overclock for your processor with settings and you don't have to manually overclock if you don't want to, it could not be simpler.Note however if you are looking to overclock that you should get an unlocked processor.
The Price
The MSI Z97-G45 motherboard is nicely priced and is packed full of features to make passing this deal by a very hard thing to do and then again why would you not want to get one at these low prices:
Overall I was able to build a pretty solid Gaming PC from the MSI Z97-G45 motherboard I am loving this new build over my old Gaming setup and I will be showing it off here soon on the blog so subscribe for those future articles. I hope you enjoyed my review and please feel free to ask any question that you would like to ask about this or any of the other parts in this build. This Motherboard is so easy to work with that I was able to boot this new gaming setup with this Motherboard on my first boot no issues.

Continue Reading we have even more Tips for you: