So finally all the parts that I have ordered from Amazon for my 2015 Gaming rig have finally arrived and I will be unboxing and reviewing them all for the coming week. To start things off we have the MSI GTX 960 gaming 2g edition that was one of the first pieces of this build to arrive. I am quite excited to get into using this card as MSI placed a lot of work into the presentation on this card and if the boxes are any indication of what I am in for then this MSI GTX 960 Review is going to be awesome.
MSI GTX 960 review
The MSI GTX 960 is a mid range card to say the least and you can pick up one of these just a bit above the $200 price point from Amazon which offers some of the best prices on the market. I must commend Amazon on the great packaging as the last thing you want is for a GPU to arrive and be found to be damaged during transport. My video card arrived in perfect condition thanks to the great packaging.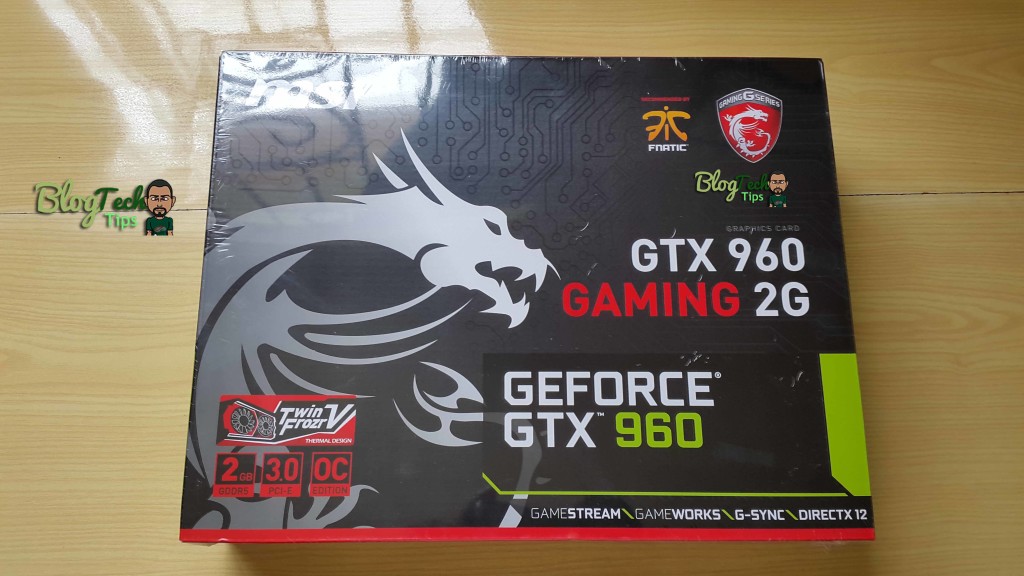 The Box and Packaging
I must say that I am loving the MSI red and Black color scheme on this card it simply looks bad ass and the image of the dragon on the box simply screams Gaming edition video card. They also did a great job of outlining the features on the back of the box which is a welcomed feature so that you can familiarize your self with the great features you will be getting with the card.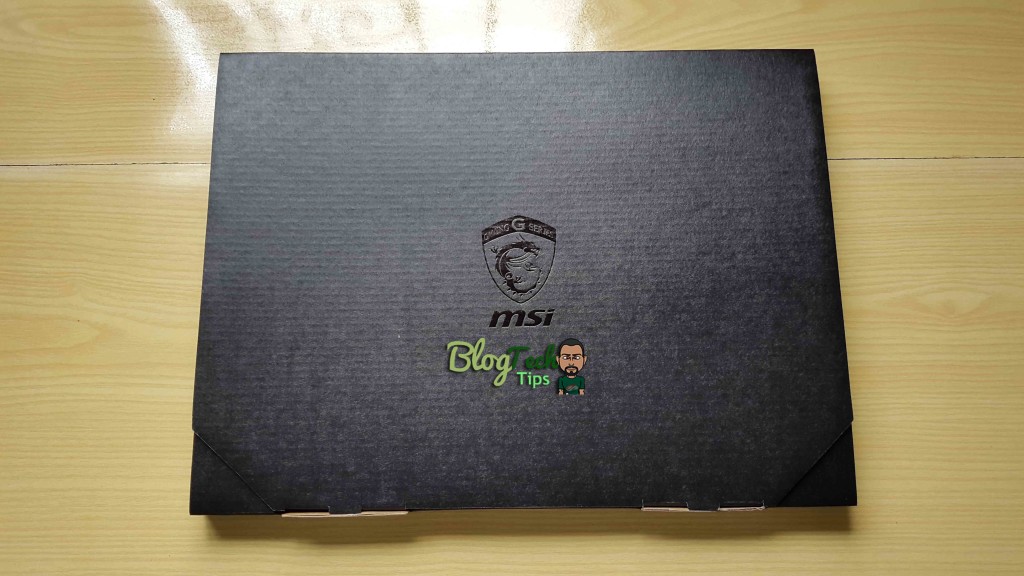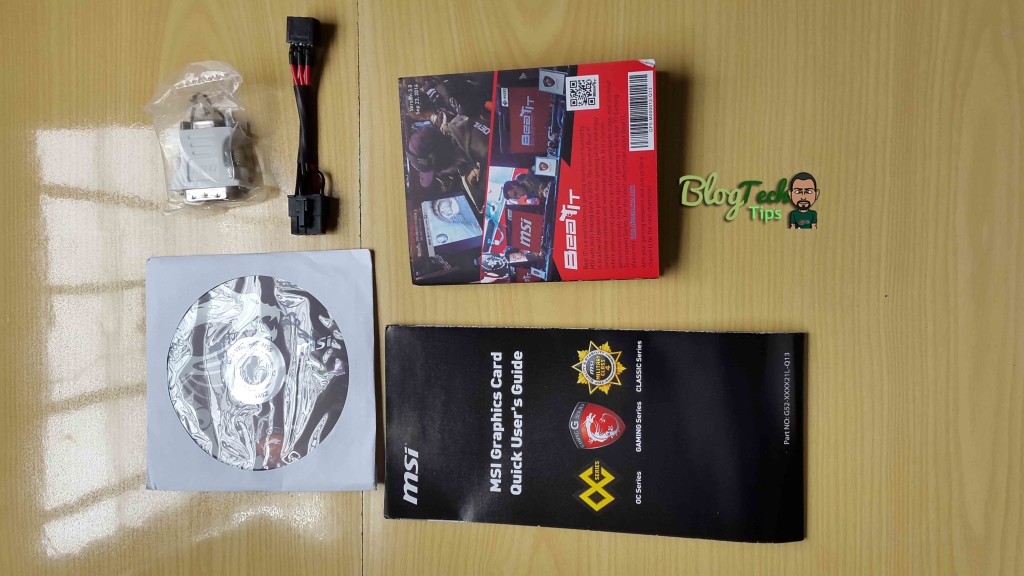 Right after opening the box I was presented with an impressive black formal box that housed the: Case decal, VGA adapter, quick started guide, GPU power adapter, promo pamphlet and a drivers DVD. I must say that this adds a premium feel to the card and you will feel as if you are getting something of worth. Beneath the accessories box is the Video card itself and it is imbedded in protective foam and covered with an Anti-static bag for protection.
The Video Card
The red and black color scheme is adapted right through the card, with the PCB being a nice deep black and there is no back plate with the sensitive parts of the card being covered with red plastic caps. On the front there is the signature MSI ZeroFrozr fans which we will talk about more later I was literally blown away by how good this card looked and the picture I saw before seeing it face to face hardly did it justice. In the front half the plastic shroud is black and the other half red with black and red alternative colors on the back-end of the front half.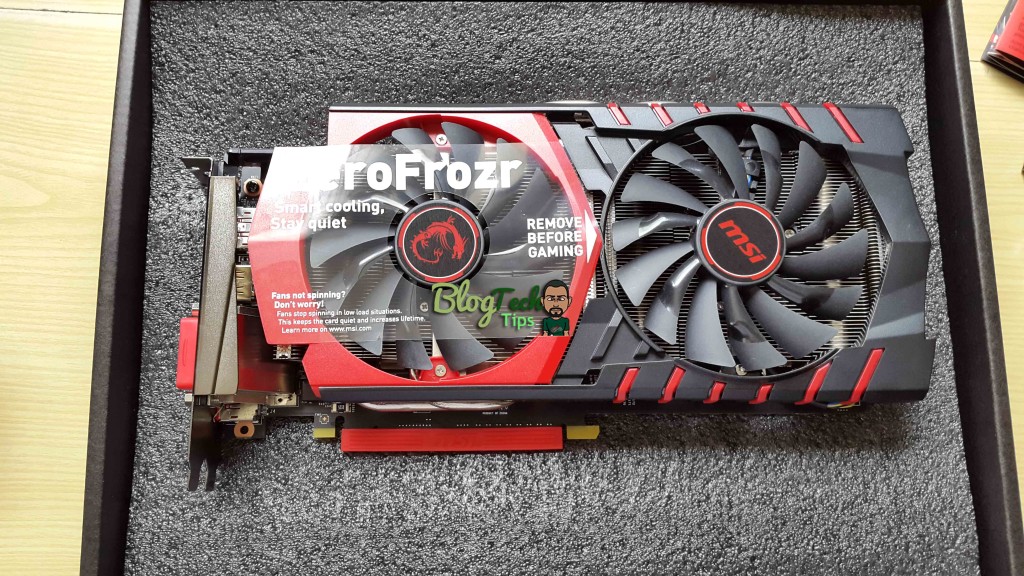 Also the MSI logo with the dragon lights up when the system is on which looks great when you are looking at it through a side windowed gaming case.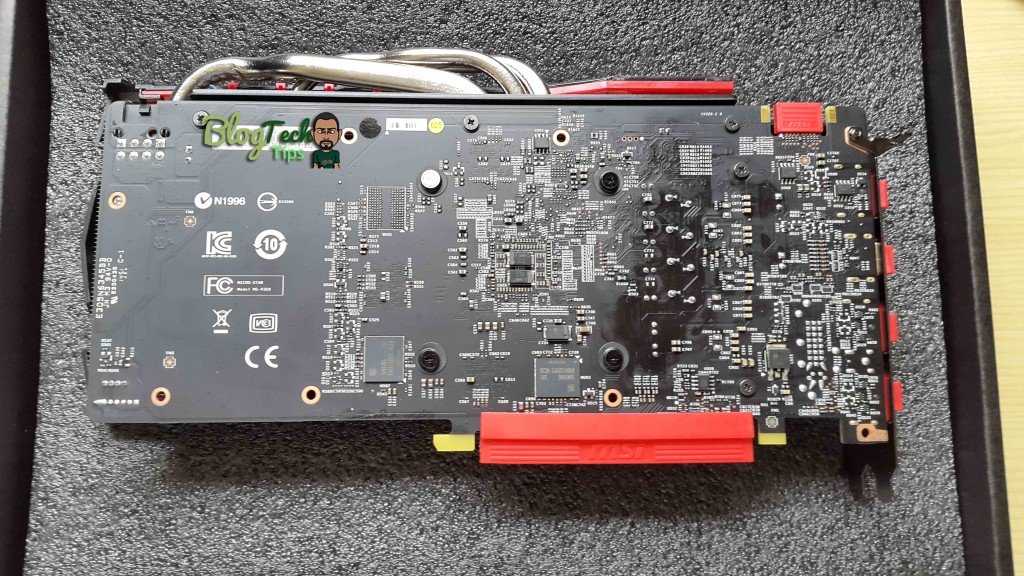 Output Ports
The MSI GTX 960 has a Dual Link DVI-I port , 1 HDMI, and 3 Display Ports on the back it was very thoughtful of MSI to cover these with red plastic caps which I have chosen to leave in when those ports are not in use. The video card can support a max  Resolution of 4096 x 2160 (4K) and up to 4 Display or  Monitors at a time which is great for those who need that much. Also to support all this there is a total of 2GB GDDR5 Video memory. To power this you will need a 8pin PCI-E Power Connector to supply electricity to the card.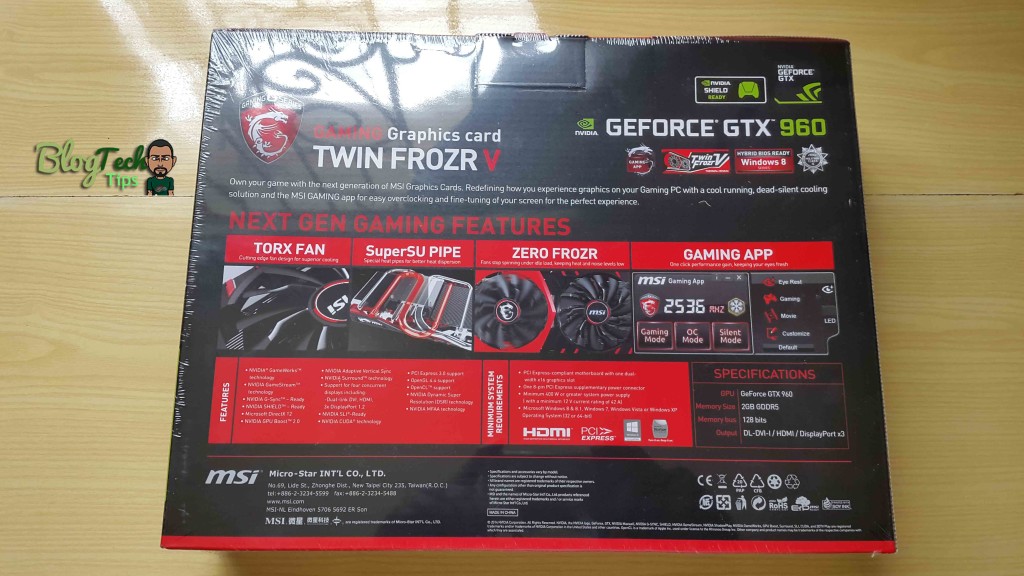 The official specifications recommend a minimum power supply of 400 Watts but I recommend that if you decide to get this video card that you go with a 500-600 Watt power supply unit depending on the components that you are working with and future plans for upgrade.
Performance
Now for the fun stuff, I must say that MSI has out done themselves with this card,can you believe that the fans on this Video card do not spin at idle, you might think something is wrong with the card if it was not for the MSI glowing logo. This leads to a very quite PC and for the most part the Fan does not spin for 50% of the time, I have put it to the test by playing a 1080p video file and the fans did not even budge (Drool).
In fact the only time I got them to spin is to actually play a new gaming title. I am very impressed so far. This is from a guy who has not updated in a while so you can imagine the leap this upgrade has made. My video and pictures look noticeably sharper plus video intensive processes are performed in record time. The heat pipes design and the TwinFrozr V fans are a beast at cooling.
GTX 960 Benchmark
I know how you guys love bench marks so I decide to do a GTX 960 benchmark using Cinebench R15 using the OpenGL test and you can see the score below: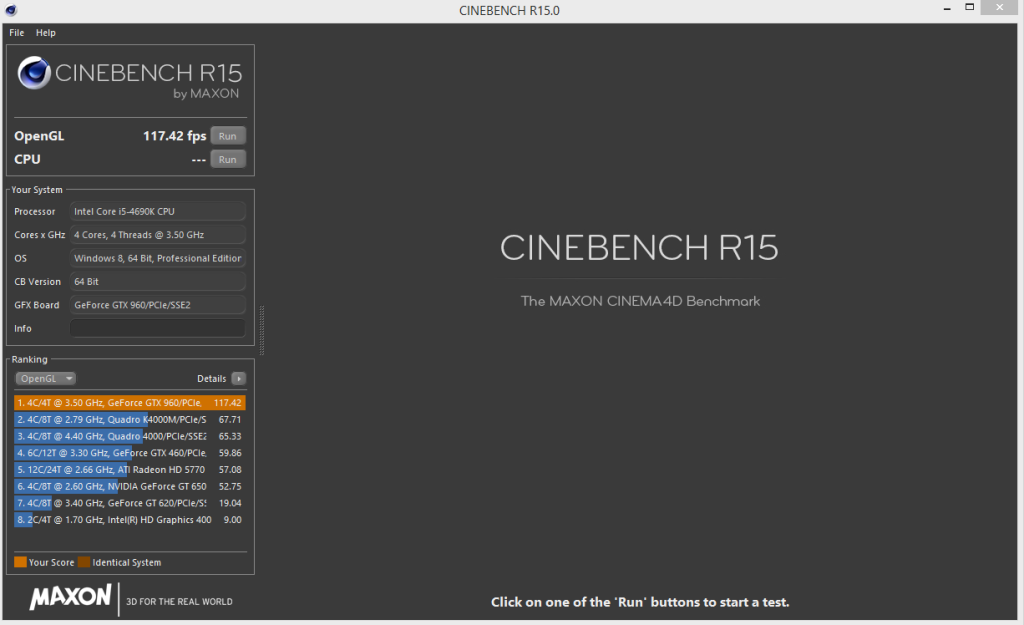 As you can see from the screen shot the GTX 960 scored a 117.42 fps in the openGL benchmark which is great and you can see how it compares to other similar Graphics cards in the bottom left of the screen shot.Also check out the temps and readings from MSI Afterburner the GTX 960 from MSI is idling at a very cool 32 degrees celsius or 89.6 Fahrenheit:
Also check out the GPU-Z readings:
Gaming Performance
So far I have decided to give this card a real challenge and I threw Far Cry 4 – PC at it and it handled it very well I was able to play at high with very fluid game play which is easily 60 plus frames per second based on how fluid the game play was with no lag, bumping the Far cry 4 setting to Ultra settings saw the graphics card being able to play the game with no problem at the max setting with no lag and fluid game play. I can see this making quick work of older games and playing any modern game on high or better settings. I was very impressed with how well it rendered characters on-screen and as far as I see the only limiting factor on this card is the limited 2 GB of video ram which may fall short in games that require more video ram for high settings. But there is a higher memory edition of this card available.
The Price
The price is great and I cant stress enough that if you are on a budget or need a bang for your buck video card this is definitely the card to own.
Conclusion
The MSI GTX 960 may be limited in its video memory but as a budget $200 dollars video card that sit at the sweet spot of power and affordability it literally can't be beat, if MSI had given just a bit more video memory this thing wouldgive the  GTX 970 a tougher fight but they had to justify that series and thus the memory cap as if you want the higher memory capacity it will cost way more than the very affordable GTX 960, but fret not as what this card lacks in memory it makes up in its ability to be overclocked if you so choose as that features is available with this edition.
All and all you can't go wrong in choosing this card if you don't want to over spend on a Video card and sacrifice performance of your gaming PC, I personally have no regrets in getting this card and its more than justified I simply love the MSI GTX 960 it has great design, performance and I price that makes look past this card almost impossible.I hope you guys enjoyed my MSI GTX 960 Review please be sure to check out the article on the completed build using this card.
Continue Reading we have even more Tips for you: