I am really excited today as I went to collect my mail to find an extra surprise in the form of my very first Amazon CPM check, this is quite exciting considering that Amazon only started their Amazon CPM program recently where they pay publishers a set rate for every 1000 impressions of their ads as CPM stands for cost per thousand impressions, entry into the program is by invitation only right now and I went into details about it in the article : Amazon CPM Ads all you need to know.
I don't really do income reports but I do often post a new check of an income source that I receive payment for the first time so as to commemorate the event and so it can be there as proof in case I need it later. I was able to make payout in my first full month and Amazon offers payout for its Amazon CPM program at a balance of $100 or more but you will have to wait 2 months before reviving payment much like their Associate program which is a separate entity as they issues the payouts separately.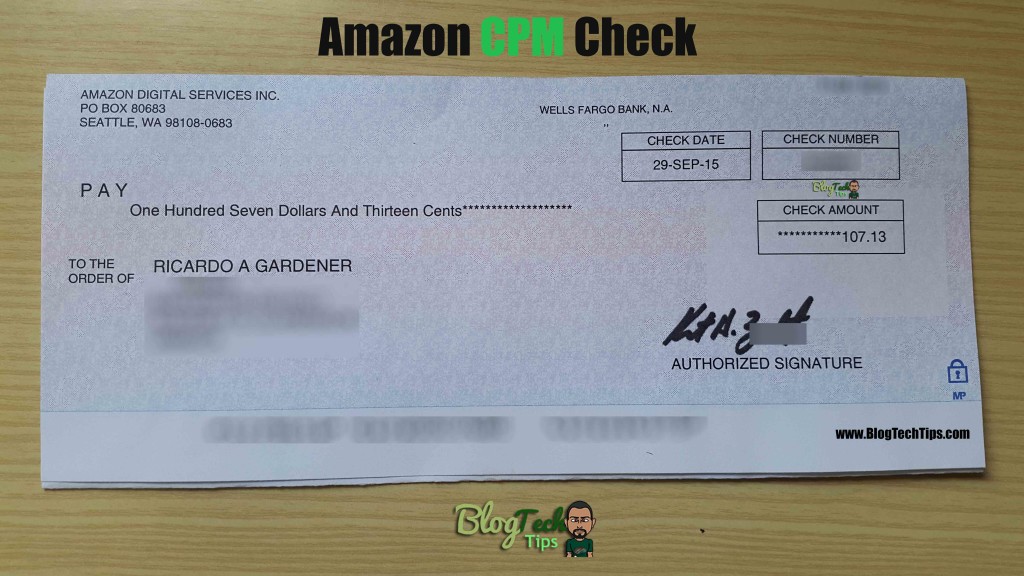 I also decided to post My first Amazon CPM check because I see very little information on the Amazon CPM ads checks online, so this is for those who want to see what the checks look like. But as you can see the Amazon CPM check looks just like the one for Amazon Associates seen here. I was hoping they would be different like a different color but seems Amazon decided to go with the same style and color they are almost indistinguishable, the only difference I saw was on the stub that you keep a small note that says: CPMAds#… vs the Amazon associates that says: Assoc#….. which is not really a big deal.
Seeing earnings are paid every 2 months I have already surpassed the earnings seen here as I have tweaked the ads and so far my earnings are way more now but as I said this is simply to show what the check looks like and to show that you can make money online and this is just one way you can monetize your website or blog in terms of getting the most out of your consent.
Tips for those who want to Join Amazon CPM program:
As was said there is no set way yet and Amazon will most likely roll out the program soon to every one but meanwhile here are a few tips that might help you out
1. Join the Normal Amazon Associates program and work at getting your sales up.
2. Once you start getting consistent sales on a month to month basis and making payout every month Amazon should naturally choose you for the program.
How to increase Earnings from Amazon CPM Ads?
I have observed the following from implementing the ads:
1. Experiment with your CPM rates there is a sweet spot as you should not set it too low or too high, a good rate is somewhere in the vicinity of $1 per thousand impressions give or take.
2. Place the Ads at prominent and visible spots.
3. Grow your traffic by creating great content and your earnings will continue to increase.
4. Fill rate will fluctuate base on the type of website you own, product oriented websites will have higher fill rates between 70 -80%, other websites can have lower, also setting your CPM rate too high can cause you to get really low fill rates so as #1 above find the sweet spot.
Well that's all I wanted to share with you guys do remember to comment and share this article,I would love to know your thoughts on the Amazon CPM program.