So guess what guys I have received my second Adsense Check in the mail and this one was for US $123.82 and it only took four (4) months to make it to payout. This is a huge improvement over my first adsense check of $123.53 that took me six (6) months to earn.
I will not include a picture of my Amazon earnings in this report as I no longer receive my earnings by check but by direct deposit, but if you are interested in seeing my first Amazon Check you can see it here. So as you might guess I am quite excited as while this is only my second payment from Google Adsense program, I am hoping to make the next payout in less than four (4) months this time.My objective is to make it to a Adsense check each and every month.
Amazon Earnings update (Direct Deposit)
March 30,2014  -$177.97
May 30,2014 – $61.37
June 29,2014 -$18.82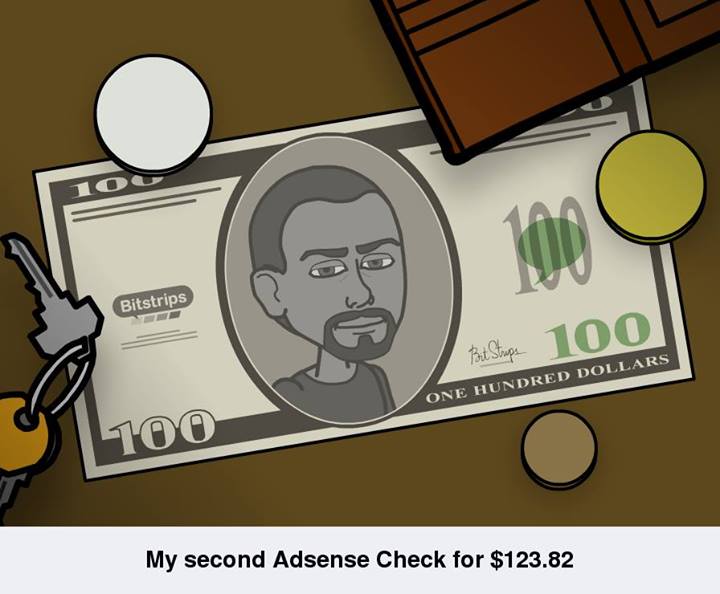 Strategies to Receive an Adsense Check every month
I plan to employ the following strategies to ensure that I receive an Adsense check every month:
1. Create fresh content daily that's detailed and original.
2. Optimize my Adsense ads using the strategies outlined here.
3. Organize a social media strategy to get my articles before as much eyes as possible.
4. Get a few more Quality backlinks to BlogTechTips.com (This website)
5. Promote my brand even more and improve the reputation of my website.
With these strategies I am hoping to drastically improve my revenue and receive a Adsense check each and every month.Its allot of hard work and the in most cases hours worth of work. But it is never work if you truly enjoy what you are doing and do it with all your heart.
#1. Create fresh content Daily
This strategy of mine to create fresh content daily is a bit of a stretch but its possible even with a Full time Job, what I have decided to do is use the WordPress post scheduler to organize my posts ahead of time and have them published on a daily basis at about the same time each day.
In this way I can write a few articles in my spear time and plan ahead a few days or weeks and have my website basically run on a schedule. Its hard work but it can be done.  As for breaking news or new tech news I can always do additional articles when the opportunity presents itself.
 #2. Optimize My Adsense Ads
Optimization of Ad units is a critical part of maximizing my earnings and I intend to experiment with ad placement and colors until I find what works best for my website. As you all know what works well for one website does not necessarily work for another and so on.
I have seen other bloggers that it took them years to actually get there blog off the ground and start earning a steady income, I wish to do the same while being as efficient as humanly possible.
#3. Organized social media strategy
We all need a strategy or a battle plan in this war and mine is to actually use the leverage of social media to generate additional traffic to my blog, my key focus areas will be using:
Google+
StumbleUpon
Facebook
and Twitter
I have placed them in the order of the networks I like the most with Google+ and StumbleUpon being the best personally. Who knows your preferences might be the other way around but those are the ones that works the best for me. For example I have over 975,944 views on Google plus, just a few views shy of a million.
9944 views
 #4. Get a few more Quality Backlinks
While backlinks no longer run the show in deciding website authority it's always good to have a few quality back links that can speak to the authority of your website. In fact I really don't worry about backlinks at all, recently I wrote an article and was surprise to see that two (2) prominent Forums naturally linked to my content and I did nothing but wrote the article and left them be.
The old saying is really true: cream will always rise to the top, but sometimes its good also to be pro-active.
#5. Promote my brand
This is my brand and I love it very much, but it's still a long way off from what I want it to be, so my goal is to grow this websites reputation one brick at a time. Among my strategies to get things out there is to use infographics that are easy to share and pass around to get lots of visitors to my website. Also I am considering a contest in which I can give away some prizes, this will be a great means of exposing the website and increasing brand recognition.
Well guys that's it I hope that you have enjoyed the article and should you have any questions or concerns I would be glad to discuss them with you below in the comments. Thanks for stopping bye.
Continue Reading we have even more Tips for you: