If you are getting a new laptop for work or school you will need something that can work in all circles including being able to handle demanding applications such as Adobe Photoshop, or video editing applications while being able to easily perform regular PC computing tasks such as internet browsing or word processing applications with ease.  The last thing you would want is a Laptop that falls short of that goal, if you are in the market for a capable Laptop that meets and exceeds those performance barriers then do check out the Acer aspire v15 series of Laptops.
This laptop comes in different variants with varying amounts of RAM and either a Core i3,i5 or i7 processor with the Core i7 versions which are the more capable being the very best of the lot. Despite this distinction depending on your budget I suggest going with any version that suits you but the best versions begin at the core i5 editions and work their way up from there. The version that I used for this review was the Aspire v 15 touch v3 572pg 5153 the Core i5 processor but this review can be applied to any edition including the Acer Aspire V 15 V3-572PG-7915 which is a Core i7 version or the Acer Aspire V 15 Touch V3-572P-326T the Core  i3 version and there various other editions that have been produced.
Performance of the Acer Aspire V15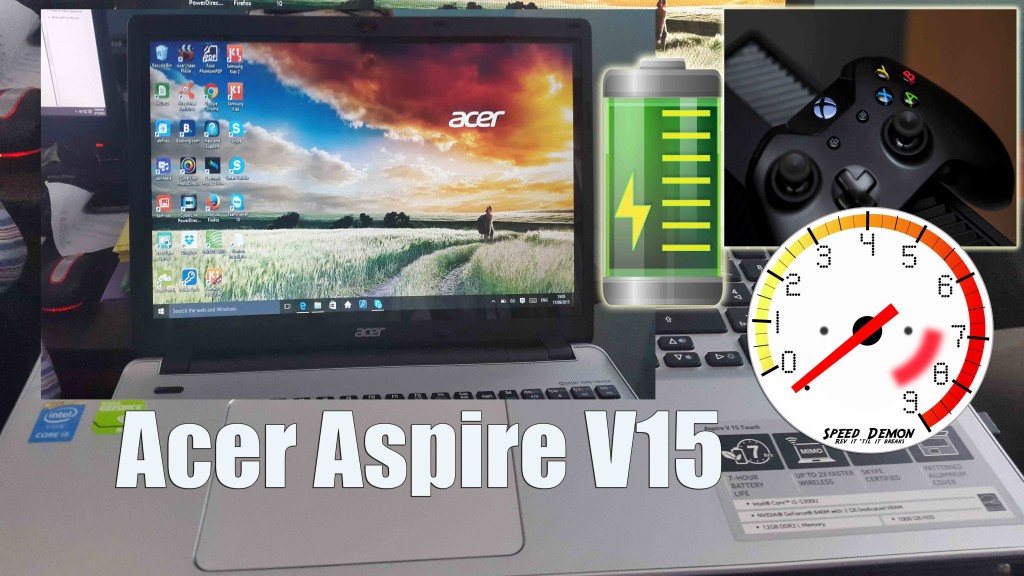 The Acer Aspire v15 has a:
Core i3,i4 or i7 depending on which version you go with.
6-8 GB DDR3L SDRAM Standard and go as high as 12 GB
1 TB 5400 rpm Hard Drive
15.6-Inch Touchscreen, NVIDIA GeForce 840M
Windows 8.1, 7-hour battery life
2 x USB 2.0 ports and 1 USB 3.0 port. VGA, HDMI and Ethernet port.

These features result in one capable Laptop that can handle virtually anything that you can throw at it and this is amazing considering it not even a full fledged Gaming Laptop but due to its specification it can handle every day tasks and play your Video Games medium to high setting in most cases even for newer titles. Consider if you were to buy a Gaming branded laptop it would cost you twice as much as the price tag with little to no difference.
It's also operates whisper quite with little noticeable heat which makes me wonder how efficient this laptop must be which would explain the battery performance of which I speak about later on in this review.
The Display
The display of the Aspire v15 touch is very crispy and sharp with a 1366 x 768 pixels for really great color reproduction which is ideal for Movies, video editing and more. Its was a really nice experience starting into the Laptop screen for extended periods doing work as colors looked great and sharp which is something that's always appreciated when it comes to a display.I was really surprised it was not 1080p HD but only 720p but I grantee you will hardly notice the difference at 15.6 inches.
Keyboard
I really like the keyboard design of the Acer Aspire v15 touch as the keys are easy to touch and great for long typing sessions and they are different from the standard design that's used by most laptop manufacturers, they are firm and less likely to be damaged like the standard types that you will find. If I had one complaint it would be that there is no back light built with these keys which would have a functional novelty effect that's quite useful and would add to the beauty of the design of the laptop.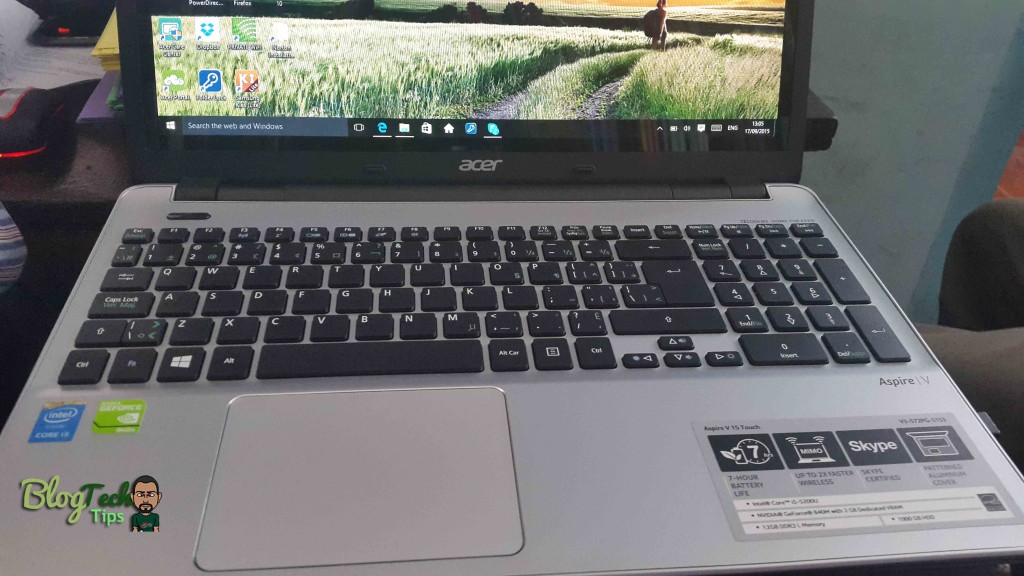 despite the lacking of the back light it's still not a deal breaker as the laptop does makeup for this in performance which I am willing to forgive due to this trade off.
Battery Life
The Laptop claims 7 hours battery life and I can't believe I would ever see the day that a manufacturers specs even come close to its claims under real world conditions or use but you really can get a solid 7 hours or in my case about 6 hours and that was under some really intensive work loads using Adobe Photoshop to design a project that I was working on. It took the major part of the day and this Laptop handled it like a champ I must say it was worth every penny, the battery is a 1 Lithium ion battery in case you were wondering. If you get this Laptop for nothing else do so for the impressive battery life and performance.
Touch Screen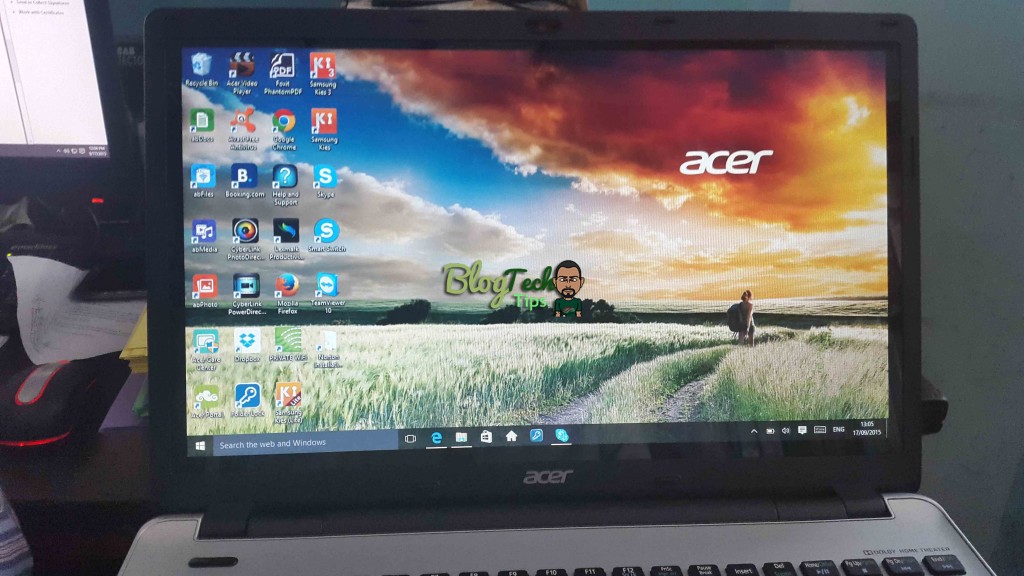 The touch screen features are great and considering that windows 10 has some great integrated features for touch it cool knowing you have such features for when you may need them. One thing I realized quickly though is that I tend to forget quickly that the screen is touch capable as I am coming from a none touch laptop and occasionally either me or someone else in pointing something out on the display tend to touch it and you are reminded but otherwise its really responsive and handy for scrolling through lists or quick launching applications.
Touch Pad
The touch pad is another beast and while really sensitive and does a good job I found myself longing for my mouse which was no fault of the touch pad, it's just that the level of precision that's often needed for certain applications call for the use of a mouse. So I do advise you to pick up a small Bluetooth mouse and aLaptop Bag when you get this Laptop.
Reason to get the Acer Aspire V15
1. Great battery life that lives up to the manufacturers claims.
2. Super fast and smooth performance especially on the core i5 and i7 editions.
3.Well designed and looks great.
4. Good price to performance.
5. Plays Games with dedicated graphics.
Conclusion
The Acer Aspire V15 Laptop is a cut above the rest and will work great for those who want maximum performance especially when they are away from a wall outlet and need every ounce of power they can from their Laptop, this makes this a Laptop that's ideal for school and university while being flexible enough to even fit into the workplace for intensive to causal applications. So if you find that these various criteria fits your needs and budget then by all means do check this Laptop out.
Continue Reading we have even more Tips for you: