Hey guys welcome to another tutorial or fix. Today we will be looking at the error: No Boot Device Available. This issue is quite common on Windows Laptops and could even happen to desktops as well. In today's article I will show you how to deal with such issues to fix the problem once and for all so your computer can boot up again.Who knows you might even save yourself a trip to the repair shop.
What does the: No Boot device Available mean?
Well the error as the name suggests is the computer telling the end-user which is you that it can't boot windows in most cases because it can't find or locate the boot device which is the hard drive.
Now if a computer can't locate the Hard drive then it won't be able to startup the operating system so it returns the error: No boot device Available or No bootable device.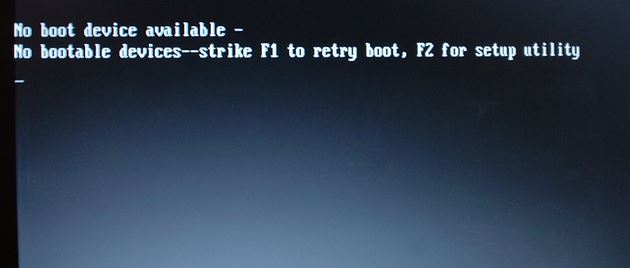 What devices are affected?
This mainly happens to Laptops although desktops are not excluded. They are Usually running Windows 7, Windows 8,Windows 10 or some older or newer version of the Windows operating system or some other OS.
How to fix this Problem?
To fix this issue simply follow the instructions below:
1. You will need to boot into the BIOS, if the key is not indicated on the error screen it should be displayed as the computer starts up for the first time. It's different for every computer and all you need to do is press for example F2, Delete key or some other key that's indicated to go to the BIOS.
2. Once in the BIOS navigate to the boot tab with your keyboard or Boot options. Now look at the boot order or Boot priority and make sure that the first device that's set at 1st Boot device is –Internal HDD devices or the Main hard drive.
3. The above should do it but in some cases if that's not working you will need to set these additional  options: Disable the option Boot security.Last set Boot mode to Legacy if you are loading an older operating system. In both cases these options related to laptops for the most part and may have slightly different names.
4.Next press F10 to save and exit or go over the Exit tab and choose the option to save and exit. The computer will restart and this time it should just boot all the way up to Windows login screen.
See that's was not so bad your issue should now be fixed. If it's however not fixed try these additional things that might help.
1. If you can't find the option in the BIOS above exactly and you searched all the options try resetting the BIOS back to its default settings, this sometimes resets boot priority and makes the Hard drive primary. (or)
2. Read this article with a very similar issue and how to fix it which might be your situation in some cases.
Final Thoughts
I have seen this No Boot Device Available error several times and even several variations of it, I do hope you corrected it and if so please share your Laptop brand below and where you found the option that corrected the problem or what you did. It can really help another reader fix their device. Also remember to share this article and check out more of our other posts.
Continue Reading we have even more Tips for you: