Hey guys so My current gaming build is making progress and will soon be featured but as of now I am currently working on Ironing out the bugs before I do a Full feature on the build. So after installing windows 8.1 I got the following error in the lower right of my desktop that I would like to show you how to fix in case some one else has this issue it could save them valuable time:
"Windows 8.1 pro Secure Boot isn't configured correctly Build 9600"
Now this error can be really annoying especially after just building a new System or Gaming Rig, my first thought was that windows was not activated, but this is not the case as windows was fully activated.
Whats causing the Secure boot is not configured correctly Error?
The error is caused by the brand new UEFI Bios and a new system called Secure Boot, you can read more about secure boot here. In my case I am using a MSI Z97-G45 Gaming motherboard but all new motherboards that have a UEFI or Bios will encounter this issue after installing windows. You have two options to fix the issue: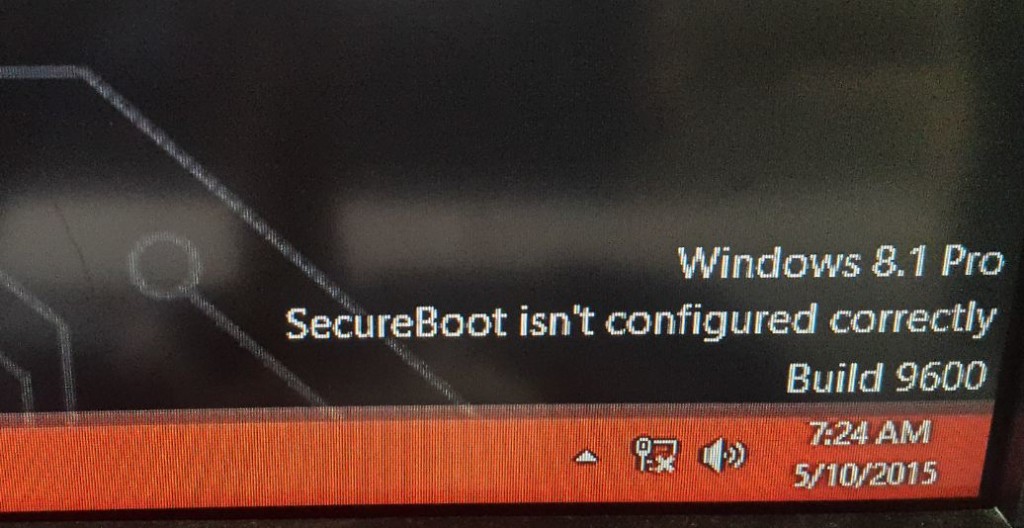 The Fix
1. The easy Fix will be to install this Microsoft update which removes the "Windows 8.1 SecureBoot isn't configured correctly" watermark in Windows 8.1 and Windows Server 2012 R2,the file is only a few Kilobytes and windows will reboot after installation and the watermark will disappear.I recommended option one its less of a hassle and you will thank me for it.
2. Option 2: involves doing what Windows suggest which is configuring secure boot, do this only if you need the feature, but remember in the future when you will want to install windows again you will need to disable this feature as it will result in you not seeing any boot devices to install windows until the feature is disabled. To enable:
Enable Secure Boot on MSI Motherboards With UEFI
To enable on a MSI Gaming series motherboard simply boot into the UEFI by pressing delete on startup and go to: Settings then Advance and enable windows 8/8.1 features.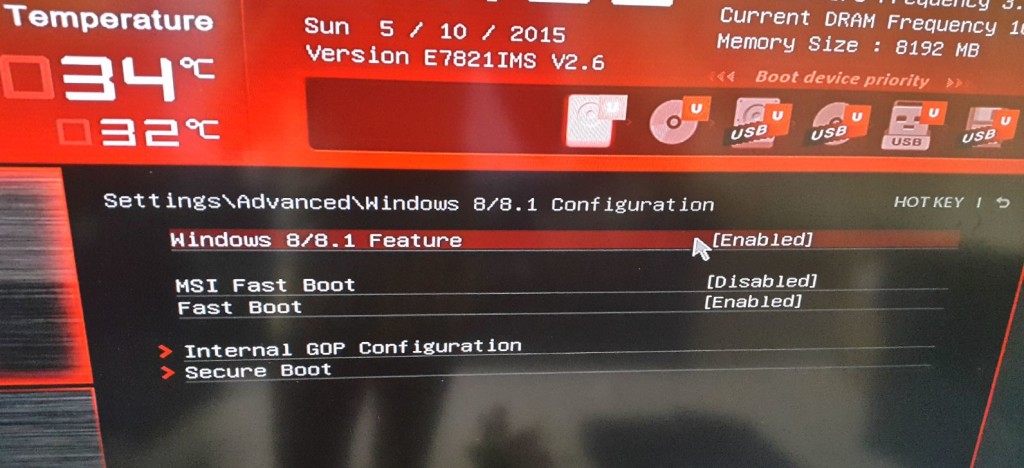 Then the secure boot option will appear. Depending on your motherboard and the chipset enabling this feature will vary but you will need to enable secure boot support, if you are having issues set secure boot mode to custom and configure the key and then enable Secure boot support.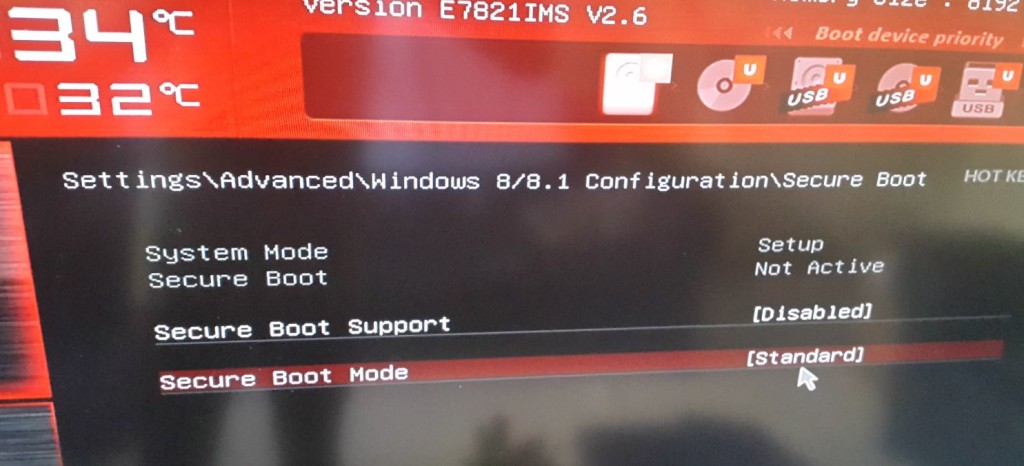 For other Motherboards
It's a simple matter of going to settings in your UEFI or BIOS and finding a setting that  usually marked as security or advance and finding the secure boot option and enabling it.
Best of luck to all my readers and I hope you were able to fix this secure boot isnt configured correctly issue and you are now able to move on with your build as I was able to.