If you have ever tried to update your Samsung Galaxy phone and you get the message either automatically or you go into settings and choose about and then software update and get the error message: Your device has been modified. Software updates are not available. Then this article will show you how to fix the problem and get your device to get software updates again.
What does it mean modified?
It seems modifications can cause conflicts with updates so Samsung has opted to actually disable updates for these devices. Things that qualify a device or makes it considered modified is rooting your Android device or Unlocking your device by certain methods that allows it to use any SIM card from any Global carrier often uses methods that circumvent the normal operation of the phone and the phone is considered to be modified.
Newer devices Message
On newer devices the message reads a little different but basically says the same thing:
The operating system on your device has been modified in an unauthorized way. Try downloading software updates using smart switch on your computer or visit a customer service center.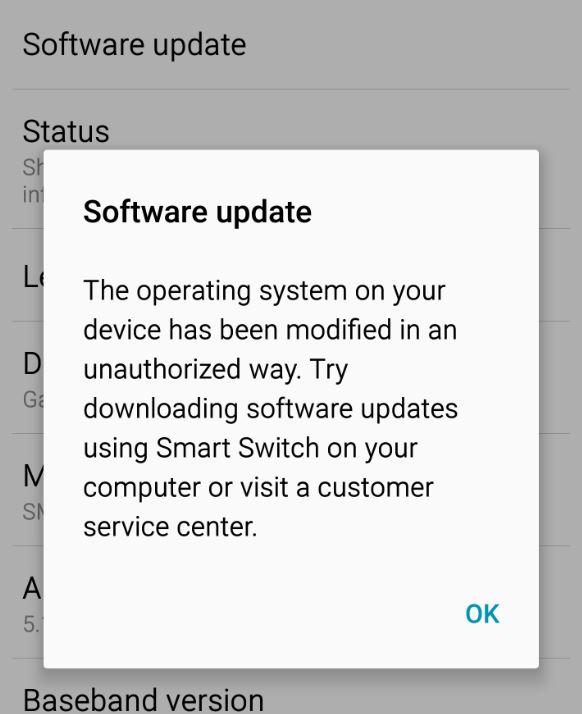 How to check if your Samsung Galaxy has been modified?
To check if your device is modified other than the message after trying to update simply go to settings, about device and then go on status. Now scroll down to all the way to the bottom to Device status you will see: Custom which means your device has been modified. A Normal device will display:official.
Warning:
Do Note that devices that are rooted may behave strangely when you try to update them and I will not be held responsible for any damages to your devices caused by previous modification done to your phone. Also if your device was unlocked by some third party method you may want to be careful before updating from a modified status as those mods may be whats keeping your device unlocked.
Video Demonstration:
See how this is done in the video below or or continue reading so you can see exactly what to do.
How to Fix this Error with Updating software on Samsung Devices?
In order to fix this error with Software update error or Your device has been modified you will need to download Samsung Kies. On newer device you will need to download Smart switch and update your device which works pretty much the same way as Kies.
1. Once Samsung Kies is downloaded connect your phone to your PC.
2. Your device will prompt you to enable debugging mode,go ahead and enable it.
3. You should be notified by Samsung Kies that there is a newer version of your software available. Go ahead and hit next and read the instructions.
Make sure your device has enough charge,its recommended that you fully charge your phone. Also be sure to backup your files in case something goes wrong. Also use the original Samsung cable and don't connect other devices to your PC or interfere with the update process while it's in progress.
4. Allow the device to fully update and do note it can take a while to finish.
Congrats your device should now be update to the latest update version of Android. You can also go to about device and see that your version number has been changed to the more updated version of Android.Also going to software update will now show Your device is up to date and as long as you do not modify your device you will get normal software updates from your phone.
If you found this Your device has been modified fix useful please leave a comment below and consider subscribing to the blog. Also do check out more of our articles below.