I finally got the Samsung Galaxy S7 Android Nougat 7.0 update on my T-mobile SM-G930T device. Even my other Android phone got the update before this device and that's largely an unknown brand that I use for testing.No doubt I am still happy as its better to be a little bit late than never. This article is aimed at helping those who want to update to Android Nougat on their Galaxy S7 to do and to also give you guys an idea as to what the new update looks like.
When Will I get the update for my device?
Now if you have the same device as me or another on a different mobile carrier you may be checking for updates and your device may be telling you that you have the latest update despite its not Android 7.0 or Android Nougat. Don't worry this tends to happen allot. Firstly its takes different carriers a while to roll out updates. Also depending on where you are located it may still take a while. So one check your carrier to see if the update is being rolled out and also be patent as not all device will get the update at once, it can take some time to show up.
The Android 7.0 Nougat update keeps Failing when I try to update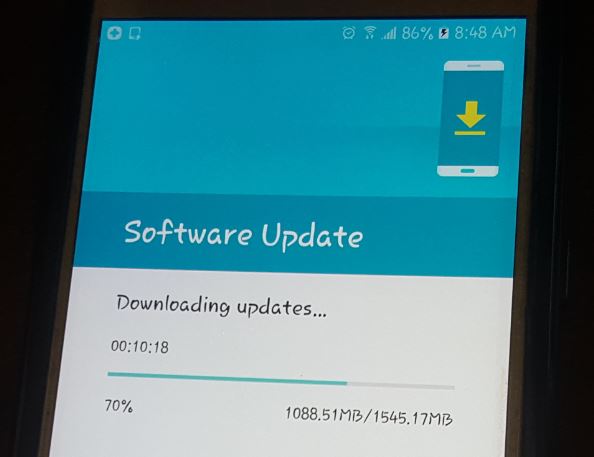 First note that the update for Android Nougat is quite large and is actually 1545MB large which is more than 1 GB in size. When I tried to update I had the update fail as well. So if you want to prevent the update from failing or to fix your issues with errors when trying to update keep these things in mind:
1.Make sure that you are updating on Wi-Fi that's of a adequate speed.Also try to do the update in one go without interruptions, sometimes if the connection is unstable when you try to uncompress the update files you will get a error or notification that download or update has been corrupted and it will fail.
2.Make sure you phone is charged to at least 50% or more as the update process can take a while to complete.
3.Make sure you have free space on your MicroSD card, I recommend at least 16 GB of free space. Also make sure your phone internal memory is not full as well.
4.Do not interrupt the update process once its has begun.
Now if you do all the above your device should update fine and you will not have any problems. I had an issue and was able to fix it by keeping those tips in mind and this will work for any major update of Android on any device too.
What does Android Nougat Look like on the Galaxy S7?
You can watch the video above to get a quick look as what to expect from this update before updating.The touch wiz UI really gives android Nougat 7.0 its own unique look. The most noticeable changes have taken place in settings which has been simplified and additional settings have been added to control things such as display resolution, Blue light filter and a bunch of other settings that have been added that I will not be going into in detail. Also the quick toggle menu has been updated and you can quickly access features such as Wi-Fi hot spot and more by swiping down from the top and accessing the quick toggles section easily.
Final Thoughts
So guys I do hope if you were having issue with updating your Samsung Galaxy S7 to Android Nougat that this article helped in fixing the issue and also to give you a better idea how things have been updated for this version of the operating system. Please tell me what you think so for about this version of Android, your views are always welcomed and please also share this article with a friend as well.
Continue Reading we have even more Tips for you: