OK I am really excited about writing this article as I want to show you my readers how to Get free Amazon Gift cards. This is no joke and its a legitimate way that's free and it works 100% as I have tested it out myself and have redeemed my gift card by buying stuff on Amazon with it.So with that being said let's get started by showing you what you will need and what you can do to start raking up those Gift cards to buy stuff you have been eying.
Before we begin though let be just say that this will require some effort on your part to actually get a gift card but it's not super difficult.
What you will need?
You will need the following
1.A Smartphone.
2.Active Internet connection.
How to Start Earning Free Amazon Gift Cards?
1. First from your Smartphone download and install the Whaff application.
2.This is an important step After Install launch the application and in order to get a starting bonus input the following invitation code: DT82499 , during signup.
3. Once that's done you can start earning. Simply go to the Premium picks section and install the Games and apps shown to earn the reward money shown. For the most part these are cool apps and games that you would normally use any way except now you are earning from playing them.You can try new ones everyday and earn.
4.Once you earn enough go to Payout request and choose: Amazon Gift Card. You will need about US $11 bucks or more before you can claim a gift card and enter your email.You will get roughly $10 on the gift card as some small fees seem to apply.
5. Once you get the Gift card in your Email it will have the Gift card code and all you have to do is going to Amazon and when you are checking out enter the gift card code and the balance will be applied to your account. You can then buy the item for free using your gift card.
Proof that this actually Works:
Here is proof that this worked for me.Watch the video above or see the pictures below.
Here is the Payout request screen after I earned enough to get my Amazon Gift Card.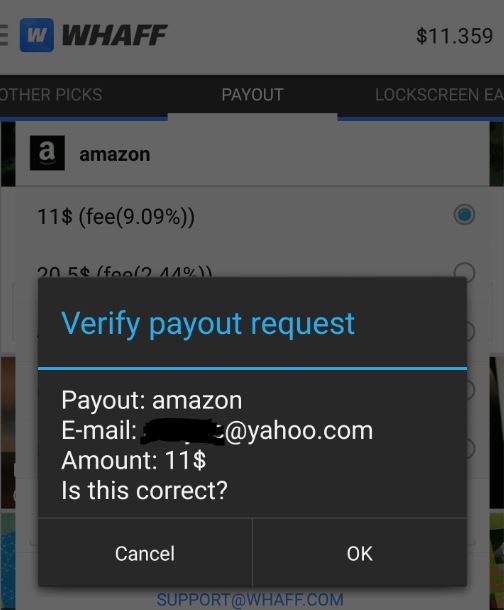 So here is the Gift card that was sent to my Email after about 2 days. It takes two days or so for the Payout request for the gift card to process and this does not include weekends for Whaff.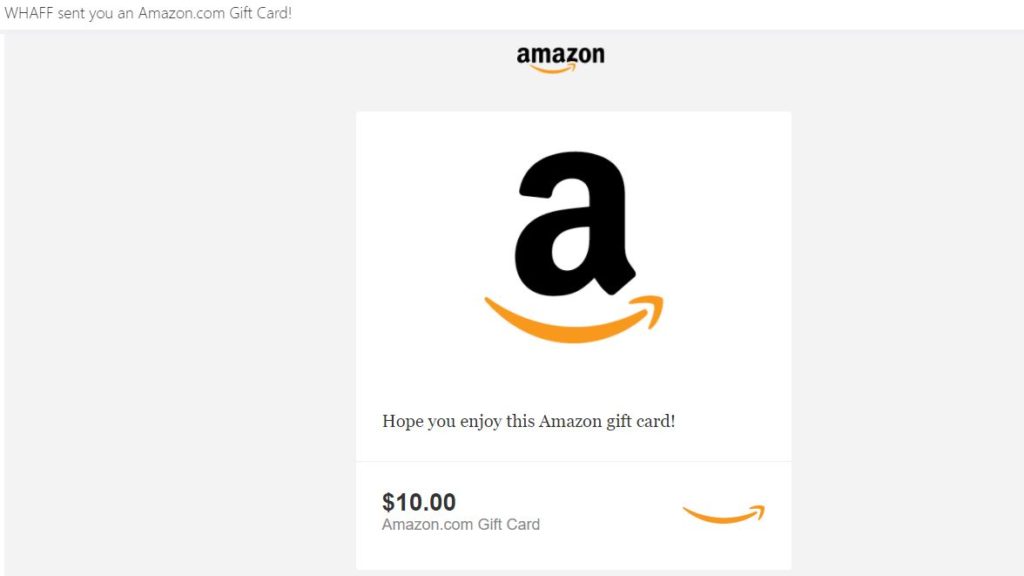 Here is also the Amazon Checkout screen showing the Gift card discount from my order.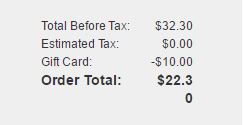 The Amazon gift card I got worked perfectly and I had no issues with the order I made from Amazon.
Get other Gift Cards as well
You are not only limited to Amazon Gift Cards with this method. You can also redeem:iTunes Giftcard,Google Play Giftcard,Steam, PSN,LOL,Karma Koin,Facebook,Minecraft,Blizzard Giftcards.So your options are varied depending on your needs.
Final Thoughts:
So guys I do hope you like this App and that it will help you in earning some extra money you can use to get an item or two you wanted from Amazon as I did. All things considered this is not a bad way to simply use your phone and earn. But do remember you will have to work on it before you can get to payout and it does require some patience and is not a super quick method.
Continue Reading we have even more Tips for you: