I must say with a very heavy heart The Galaxy S8 and S8 Plus has some very big problems. I really expected better from Samsung seeing this is a flagship device that costs hundreds of dollars. Also many Samsung Galaxy S8 owners are experiencing these problems too which means that this is not an Isolated incidence.
I personally love Samsung devices I have owned the Galaxy S2,S3,S5,S6 and now the Galaxy S8 personally. I have used all other devices in between too with little to no problems that can't be fixed with some creativity. On the other hand some Galaxy S8 owners are experiencing errors with key features of the Galaxy S8 that's outlined below.
Video Evidence of the Issue:
Here is a clear recording of the Issue so you can see for yourself.
The Problems plaguing the Galaxy S8 and S8 Plus
These are the issues I encountered personally within days of unboxing my Galaxy S8. I mess around with Technology allot so its OK to say I know my way around the block and how to fix my own devices. The Issues I encountered:
1. The Iris Scanner Stopped working or Iris recognition not working error.
2. Face recognition Issue where Face recognition failed or Face recognition not working.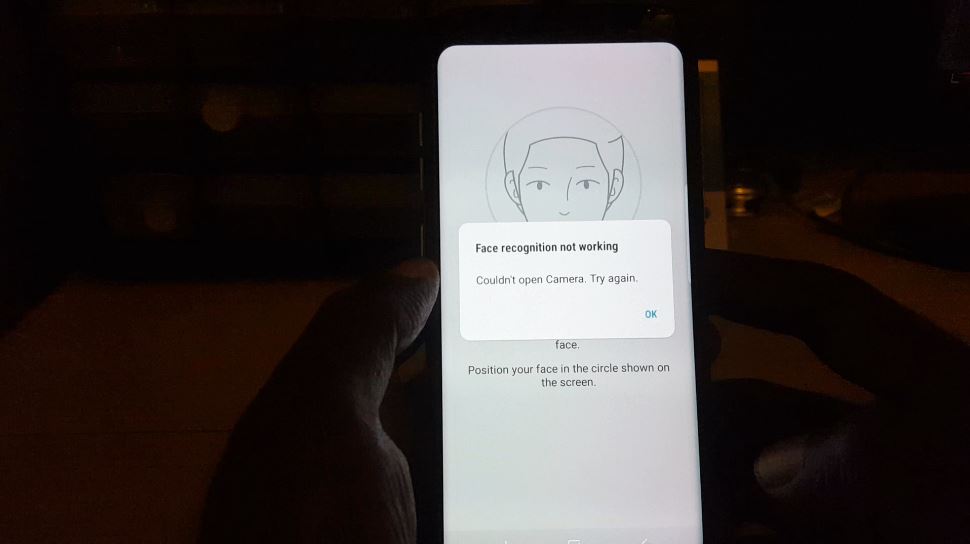 3.Front facing Camera Failed or Warning Camera Failed error.
As you might guess when these errors occur the sensors at the front of your phone will sease to function.I was able to fix the issues above the first time they happened, I was even optimistic that Samsung was not at fault here at first. I recorded what had happened and what I did here in great detail including everything I tried that failed before fixing it.
After that fix things were good for a few days and them bam the error happened again  when I was trying out face filters that are built into the Camera the Front Facing Camera went a bit blurry and then it was gone and simply crashed. After this the Iris and Face recognition also stopped working.I tried a number of things that was outlined in the first fix and when the error happened again I tried them all again. I even did a complete Factory reset which was a last resort and that did not help.
Other Issues that Have been reported by other Users:
Other users have reported WiFi issues were the device drops the connection. I personally have notice that my device drops connections every now and again which is not too bad. There is an exclamation beside the WiFi and a message that internet may not be available when it is.
There is compliant that the Camera is having issues focusing too. Users report that they have to tap the screen several time or something before the device actually focuses.
Other users complain that the Fingerprint sensor is not recognizing their fingers effectively or refuse to work right or work at all. Other than the placement mine seems to be fine.There are also numerous other issues.
Whats going on with the Galaxy S8 and S8 Plus?
I believe based on my experience that while this can be a hardware issues that in this case it's actually software based. There is a bug in the Firmware and I am hoping Samsung will find it and fix the issue  once and for all. They can roll out the fix in a security patch but it remains to be seen if they will actually do this any time soon. The Galaxy S8 is a really expensive device and I wish they would place more priority into the matter.
Also it would be great if they publicly acknowledge the existence of this bug or issue with their device and offer at least a temporary solution or something. The way in which this matter is handled going forward will say allot about Samsung as a company. I know they can't handle another scandal but come on if there is a problem put efforts into fixing it quickly.
The only thing I have not tried to do in order to fix this problem is to actually to try to revert the Galaxy S8 to the Original firmware the device came with. I love the way the device performs now but that useless without key features like the iris camera, face recognition and Front facing camera.
Your thoughts.
If you have any thoughts on the matter with the Galaxy S8 or S8 Plus or you are having issues yourself, please use the comments below and relate your issue. If others can state their problem maybe this article can gain traction and attention can be brought to our issues sooner than later.So go ahead and share your story in the comments.
Continue Reading we have even more Tips for you: