I am so excited right now as I have just got my new phone and I am ready for the  Samsung Galaxy S8 DUOS  Unboxing to show you whats inside the box. I will be using the phone for a few weeks before I post the full review and my hope is that this will hold my readers over until that is finished. This will also serve to answer questions others may have about the Samsung Galaxy S8 DUOS and how it differs from the regular Galaxy S8 if at all.So lets get straight into the unboxing of this smartphone.
Galaxy S8 Unboxing
Whats inside the Box?
Inside the Samsung Galaxy S8 DUOS box you will find the following items:
Galaxy S8 phone
Earphones
USB Type-C Cable
Travel Adapter
USB Connector (C to A)
Micro USB Connector (C to B)
Ejection Pin
Ear Tips
Quick Start Guide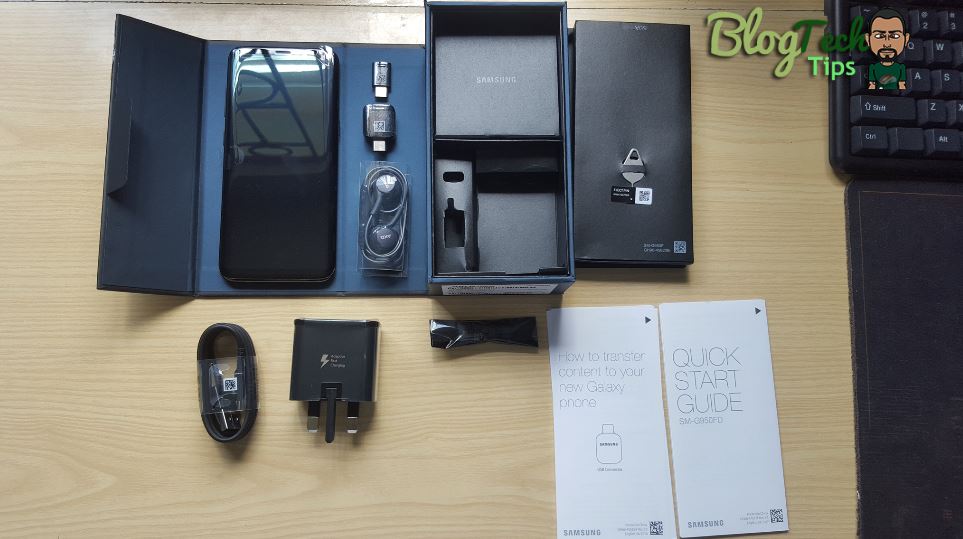 Video Unboxing:
To See everything that will be in the Box of your Galaxy S8 before you buy check out the video below by pressing play and see it for yourself.
Specifications and Features of the Galaxy S8 DUOS:
The Galaxy S8 SM-G950FD has a Exynos 8895 Octa-core processor 4×2.3 GHz & 4×1.7 GHz respectively. This is coupled with a Mali-G71 MP20 GPU,64 GB of Internal Storage, 4 GB RAM. It also has  a 5.8 inch Super AMOLED capacitive touchscreen that has been dubbed an infinity display due to its 84% screen to body ratio. The front camera is 8 MP with Auto focus while the main Camera is a 12 MP Dual Pixel sensor. This phone also supports wireless charging but a Wireless charger is not included.
The Display is Multitouch and has a resolution of 1440 x 2960 pixels (~570 ppi pixel density). The phone has a fingerprint sensor at the back and no home button and also an Iris scanner.It contains a 3000 mAh battery and much more cool features. The color shown here is the Midnight Black but there are a few other color options available also.
That's it for now guys you will have to wait for the full review where I will go into detail,look how it performs and much more.
Where can you Buy this Phone?
You can buy yours below.
Common Question and Answers
What is the Samsung Galaxy S8 DUOS?
The Samsung Galaxy S8 SM-G950FD which is the model I have is the International version of the Galaxy S8 that comes unlocked and was intended mainly for International markets. The DUOS in the name comes from the fact that it can use two (2) SIM cards at once or dual SIMS. Features like these are more common for International markets as they prefer the convenience of having one phone that can support two SIM cards.
Also don't be daunted by the name as non-international users also buy these phones especially in the USA as they are unlocked and can be used on any carrier and you can use one or two SIM cards. So its OK to get one, they even have some additional advantages that the normal S8 does not have.
Advantages of the Galaxy S8 DUOS
While this phone is similar to the regular Galaxy S8 it has a few extra advantages that include:
1.Unlocked boot loader for Flashing ROMS easily.
2.Supports two (2) SIM cards.
3.Comes unlocked and can work with any GSM carrier Globally (AT&T, T-Mobile and More)
4.No carrier pre-loaded Bloatware.
How does the Samsung Galaxy S8 DUOS differ from the regular Galaxy S8?
There is very little difference between the Galaxy S8 DUOS and the Galaxy S8 issued by T-Mobile,AT&T,Sprint and other carriers within the USA. They are the same phone the only slight difference is The DUOS comes with  two SIM card slots, Adapter brick (English Looking adapter) that comes in the box, different processor otherwise this phone is just as expensive and as powerful as those other S8 models you may see around.The adapter is not an issue as well as you can use a simple converter to have it working in a standard USA outlet.
Another cool benefit of getting the Galaxy S8 DUOS is that the boot loader comes unlocked and you can load custom ROM or flash custom ROMs on your device easily if you are into that sort of stuff.
Does the S8 DUOS Support Memory Cards?
Yes you can either Place 1 SIM card and 1 MicroSD card into the phone in which case it will operate as a normal phone would. The other option is to Place two SIM cards in from different carriers and both will operate in the one phone.
Do I have to use two SIM cards?
No you can use one SIM card and the phone will work fine you can simply Place a SD card in the other Slot for additional memory.
Is the Samsung Galaxy S8 DUOS a Clone or Knock off?
No it's a legit phone made by Samsung the only difference is that is that unlike carrier branded Galaxy S8 from carriers like T-Mobile, AT&T and so on is that they make their phones specifically for American networks and the people who use them, these phones can work anywhere also if unlocked by the carrier or at a cost. But with the DUOS its made for the International markets for places such as China,Japan,Europe and so on that commonly use dual SIM phones. So its a matter of personal choice if you want to go with the DUOS or not.If you want to know about Galaxy S8 clones read this article.
Are these phone sold or only used outside the USA?
No not at all they are sold and used the world over, in fact Amazon has them in stock which indicates they are bought by Americans or who ever, it does not matter as long as you like the features and price.
Does the Galaxy S8 DUOS Perform well?
It performs flawlessly and is indistinguishable from the Galaxy S8 provided by other carriers, in fact it's the same performance. This is a great phone you can buy with confidence.
What about Updates for my phone?
So far since removing my Galaxy S8 from the box I have received major updates on time and very quickly I might add, so far. I recently got a huge update which added new functionality to my Galaxy S8. Many others USA carriers have received the same update on time. Strangely enough some USA carriers have not rolled out the update to their customers as yet, one such provider that has not rolled out the update yet is Verizon S8 at the time of writing this article.
So you see this version of the Galaxy S8 or S8+ is as good if not better than other branded versions out there as we get security patches and updates quickly.
Do you have more Questions?
If you have more questions that were not answered here feel free to ask your Questions below in the comments section and I will be sure to answer. Also please do share this article to get the word out there about this great phone that they can get at a great price right now.