If you are not aware as a means of protecting your device Google has implemented what is known as  Factory Reset Protection (FRP) which is an extra level of security to protect your device in cases where some might decide to steal your phone and simply wipe or reset it in order to gain access to the device. This is a cool feature but at times it can cause issues for the user who own the device and want to factory reset it. So learn right now How to turn Factory Reset Protection off or on.
The procedure is basically the same for all devices but the setting might be located at different places in setting on different devices.
How to turn Factory Reset Protection (FRP) off or on Galaxy S8?
You can read the instructions below or watch the video which shows you what to do step by step at the end of the instructions right below.
1.Go into settings.
2.Select Cloud and accounts.
3.Accounts and now select Google.
4.You should now see your Google account/Accounts that's attached to your device.
Go ahead and select it or select one if you have more than one account connected.
5.Tap the three dots in the upper right and choose: Remove Account.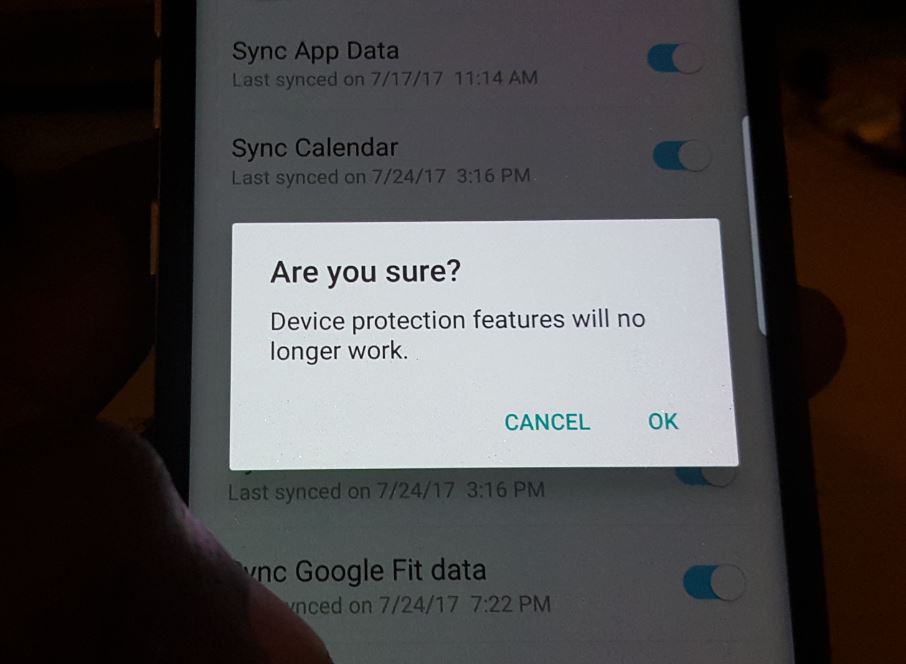 You may be asked to enter your Password or Pin, and you may see a warning as in the picture above asking: Are you sure? Device protection feature will no longer work. Simply choose OK. The process is completed when all Google accounts is removed from Google option under accounts.
You can go ahead and Hard rest your device when this is completed and your device will not encounter the FRP protection when you do.
How to turn Factory Reset Protection (FRP) off or on other Android devices?
For other Android devices the procedure is the same as above you only need to find Accounts or Google accounts connected to your device and remove them. I suggest you go to settings and look for accounts or use the search function in settings and look for Accounts or Google accounts. Once you find the added accounts that are associated with your device remove it or them.
Final Thoughts on FRP Protection?
The Factory Reset Protection (FRP) s a great thing to have on your phone especially if someone tries to steal it. But many times legitimate users reset their device and encounter the lock they then can't remember their Google account or can't remember the password. I have seen this happen allot and then they get locked out of their device. Disabling the lock seeing it your phone is the smart thing to do as you reset your phone.Later on after resetting and you reassociate your Google account the protection will be back.
If you found these tips the least bit helpful please do take the time to share this article and do remember to also leave a comment below as well, It would be greatly appreciated my friend.
Continue Reading we have even more Tips for you: