I finally bit the bullet and got a Yootech Fast Charge QI Wireless charging pad for Galaxy S8 and S8 Plus. This is my first Wireless charger and I must say I am very impressed with the technology as technology has come a long way. I went with this model Wireless QI charger as it came highly rated and was super affordable. So this will be my review of this product great product.
Yootech Fast Charge QI Wireless charger
This fast wireless Qi charger comes in a simple brown box with the Yootech logo on the front. Inside you can find the Wireless charger, Usual pamphlets and guides for getting started and a micro USB cable. It did not come with an adapter brick but there was no need as your phones adapter brick works fine out the box.
I have to admit that the Yootech Fast Charge looks way smaller than I had expected. I love the glossy finish, the rubberized ring to cushion your phone on the top and finally the LED ring that runs along the sides.It was super easy to setup and start charging my phone out the box. Simply connect a fast charger to activate the fast wireless charging and a regular charger seems to activate the regular charging. The LED looks so cool and its not over powering so not to disturb you at night especially if it's in your room as you sleep,this is a nice touch.
Checkout the video unboxing below to get more details on this product:
Charging The Galaxy S8 or S8 Plus
I simply place the Galaxy S8 on the charging pad and the wireless charging kicked in. You will need to make sure though that the phone is centered which is easy before charging begins. Another surprising thing I realized is that the wireless charger would charge the phone even through the case which was a thin case I had on. This was really impressive. You may have to remove your case if it's a thicker one.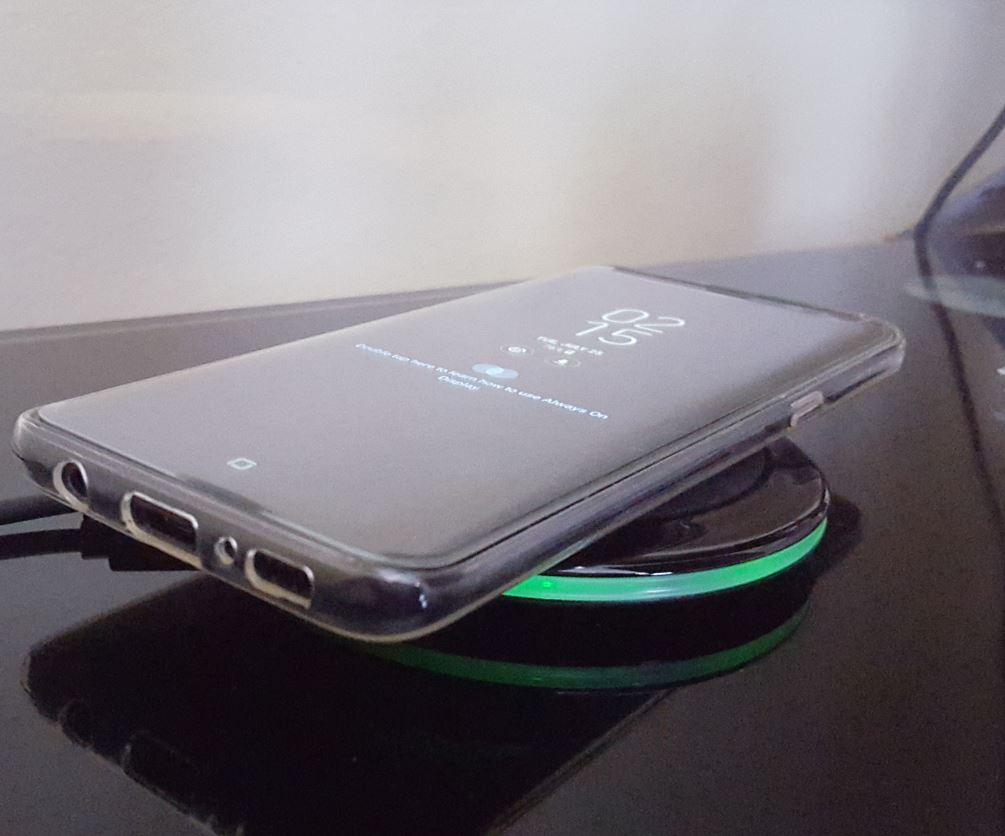 Fast Wireless charging is not super fast like wired fast charging but it's not bad.From 75% Charge the phone indicated it would take 47 Minutes to fully charge and from about 5% charge it indicated about 3 hours Plus or so for full charging. Maybe in the future as security patches are released it will see improved charging times. I also am not sure if the case being on effects charge time as well.I will have a detailed charge time test article and video coming up soon which I will link to here.
Get a cool Case for your Galaxy S8 that's works with this Fast Wireless charger while it's on
right here
.
Compatible devices:
This Fast Wireless charger will work with the Galaxy S8,S8 Plus,S7 Edge,S7,S6,Note 5 and more. I have personally tried it on the S8, S7 and S6 and it works wonderfully. I also can see where this should work for other phone brands as well that support Qi Wireless charging.
Where to buy this Product?
You can purchase this Fast Wireless charger below:
Why buy thus Product?
1.Very cheap price.
2.Really well designed and reliable.
3.Cool LED lights that are not overpowering.
4.Comes with Fast Wireless charging.
5. Works with lots of devices especially Samsung phones.
6.Prevents your charge port from being worn out or damaged.
Why skip this?
1.Its a after market brand wireless charger and not from Samsung. Some users may not like this. But from my experience this is one of the best you can get other than one from Samsung and it works super well,so there is nothing to worry about.
2. Fast Wireless charging is still slow when compared to Fast wired charging so bear that in mind. This is more the Technology than the charger though.
Conclusion
If price is whats keeping you out of the Wireless charging or Fast Wireless charging field it should not. Not while there are solid and reliable offering from Yootech Fast Charge QI Wireless charging pad that everyone should give a try. I can almost guarantee you will not be disappointed as so many customers cant be wrong about this product. Its super affordable, well made and worth the money you will spend on it.
I really like that when friends come over to the house now they don't have to worry about bring an adapter or cable,they simply put their phone down and wallah it starts to charge. Its make me look super cool and ups the fun with technology. So go ahead and give this product a try right now.
Continue Reading we have even more Tips for you: