Today I will be showing you a simple tutorial on How to Change Always on display S8,S8 Plus or Note 8. So if you are tired of the normal look of the Galaxy S8 Always on display here is how you can change it to something really original and fresh with a new look. First I will show you how to change the clock and add images and then I will go straight into how you can download fresh and custom new versions online. It always great when you can personalize your p[hone to your liking.
How to Change the Always on Display on the Galaxy S8?
1.Go to settings.
2.Next go to Display.
3. Scroll all the way down to the bottom of the Page where it says: Looking for something Else? and select : Always on Display in this section.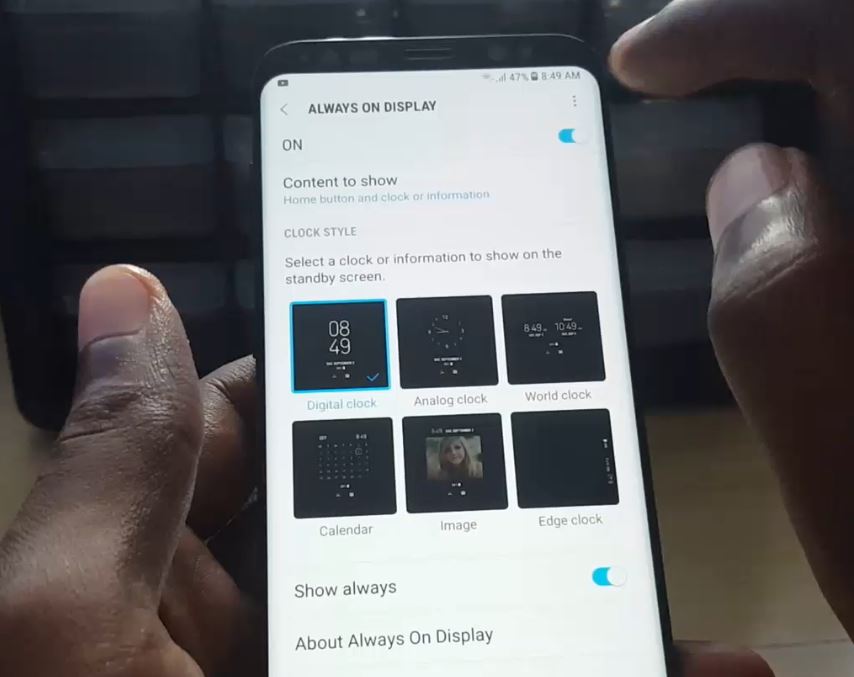 4. From the new screen you can now turn the feature on and off. You can also from here switch the display from a digital clock to an Analogue clock. You can also use a calendar or simply add an Image on the Always on display screen.
Download New Always on Display Lock Screens
You can also change the look of the always on display totally.
5.Continuing from above and click the three dots in the upper right of the screen. Select: Go to Samsung themes.
6.You may or may not need to do an update here. Next at the bottom of the Samsung Themes Page select: AOD option which actually means Always on Display.
7.Scroll through the listings and you can select the top rated AOD themes and select one and download. After downloading go ahead and apply. You can simply choose the first option of Image and Time when given the option.
Thats it lock your phone and the new AOD should show up with a fresh new look that makes the phone look really unique. Best of all the option given here is free, you can go for paid options in the themes store but the free ones are fine.
Thats it basically please share this article online with a friend and please take the time to leave a comment below as I would love to hear from you guys as always.