Ever wished that you could make your Samsung Galaxy S8 look like an iPhone? well you can easily done and this is not only limited to the Galaxy S8 but also works on the Galaxy S8 Plus, Note 8 and so on. Why do this you may ask? well it can make your phone look cooler and more appealing to look at. After a while staring at the default Samsung Touch Wiz theme can really get boring fast and one of the fun reasons for owning a Samsung phone is the ability to actually customize the look of your phone in every way including the icons.
So in this tutorial I will show you home to change the icons on your device to look like that of the iPhone and best of all this is free.You can also use this method to change the Icon to anything else you want as well including various other styles.
How to Make the Galaxy S8 Look more like the iPhone?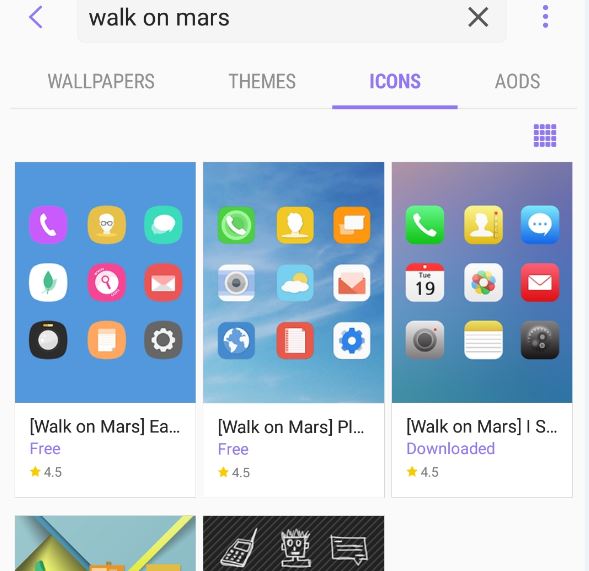 1.Go to settings.
2.Select Wallpapers and themes.
3.At the bottom of the screen select: Icons.
4.From the top of the screen select search: Walk on Mars and Select one of the I style Icon Packs as shown above and download.
5.Finally apply the Icon pack and that's it your Icons look allot like the ones on the iPhone.To finish the transformation look for a cool wallpaper to really finish the transformation and that's it.
How to revert back to the default Icon Pack?
Reverting back to the default icon pack is easy:
1.From the Samsung Themes store go to Icons main page.
2.Look at the top of the screen you will see My Icons there should be two pictures in the right corner,select the one without the tick and apply.
3.Wallah your theme will change back to the default.
My thoughts on this Icon Pack
I like this Icon pack as its free and it does make your phone more like the iPhone. It gives the interface a refreshing look especially if you are tired of the default look of the Icons of the Samsung Galaxy S8 or S8 plus. It's also very easy to go back to the default Icon pack or change the icons to some other style. Best of all there are more than one style offered in this icon pack theme, simply search again and you can give the other styles a try. You only need download them and apply.
Thats it for this tutorial and if you found this interesting please leave a comment below and do share this article online as it would be greatly appreciated my friend. Also check out some more of our articles below.