Popups are almost everywhere you go on the internet and they range from the mild to the really annoying.I at one point would just ignore them but as of late I have encountered some really annoying ones that are almost like viruses. With that being said I decided to get the Best Popup blocker for Firefox and Chrome so that I could browse in peace.In this article I will show you the Popup blocker I am using with great success and that you can start using too.
Worst Popups I have seen
The worst popups that I encountered as of late include one that would open a new tab and present a message with some warning or something but the real annoying part is that as soon as I close that popup window a new one would appear and so on. A variation of that one was one that once the popup window loaded it would cause the browser to feeze up totally. In those cases I had to go into task manager and force end the browser activity and on launch not reload old tabs.
Another one that really did it for me and had me go to popup blockers would open a new window make a horrible sound repeatedly. Told me that my Windows firewall was breached and hammered me with Popups and sounds. I could hardly read what was on-screen. Force closing the browser in task manager helped but it was so bad that it affected windows itself at times.
That was it and I decided to look into popup blockers and luckily I found one of the best ones to protect your self while you browse in both chrome and Firefox.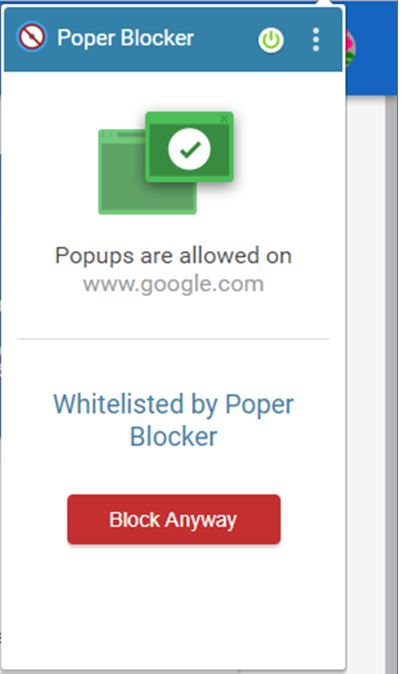 Best Popup Blocker
The best Popup blocker for chrome and Firefox would be Poper Blocker as it intelligently blocks popups on first install and can even learn over time and get better in case a few get through with the did we miss one option. I really love this browser extension as it's really efficient and it actually works.
Install on Chrome

1.To install on chrome click the three dots upper right of the browser, click on more tools and then choose extensions.
2.On the extensions page where you see the extensions installed if you have any look at the bottom of the page and click on : Get more extensions.
3.A new tab will open and use the search feature to look for Poper blocker and choose add to chrome.
That's it the extension will install and start blocking popups. If it missed anything Simply click on the icon in the upper task bar of the browser and choose: Did we miss one? and follow the wizard to have it block the popup.
Install on Firefox
1.Click the menu button in the upper right of FireFox (Three short horizontal lined stocked on each other).
2.Next select add-ons and on the add-ons page scroll down and select:See more Add-ons.
3.Search for Poper blocker on the new page and then choose add to Firefox.
That's it and it should now block annoying Popups and if it missed any as above simply click on the add-on in your tool bar and choose : Did we miss one? and identify the one missed.
My Thoughts
The browser extension Popper blocker is really handy for dealing with annoying, intrusive and even dangerous popups that can mess with your PC or browser. The good thing is that you can deal with them using this tutorial and tool.So guys if you found this useful please share your experience below and as always please take the time to also check out other articles and share.