So the creators of the Borofone BE10 Transformer Wireless Earphone were kind enough to send me an early sample of their Wireless Bluetooth transforming earphones for review. I must say that at first sight I was and still am impressed with the design and innovation behind this product. With these wireless earphones you are actually getting two (2) products in one. This is my unbiased review of the product based on my hands on experience while using the product.
What in the Box?
First I must say great presentation as the Box in which the product was packaged was well designed and very inviting. On first opening the package I could not wait to actually open up the earphones and give them a try. Just a quick note be sure to remove the plastic tab on the side and flip the box open to reveal the product. I actually slid mine out from the bottom like a drawer not noticing it had a presentation like flap that folded open, don't be like me lol.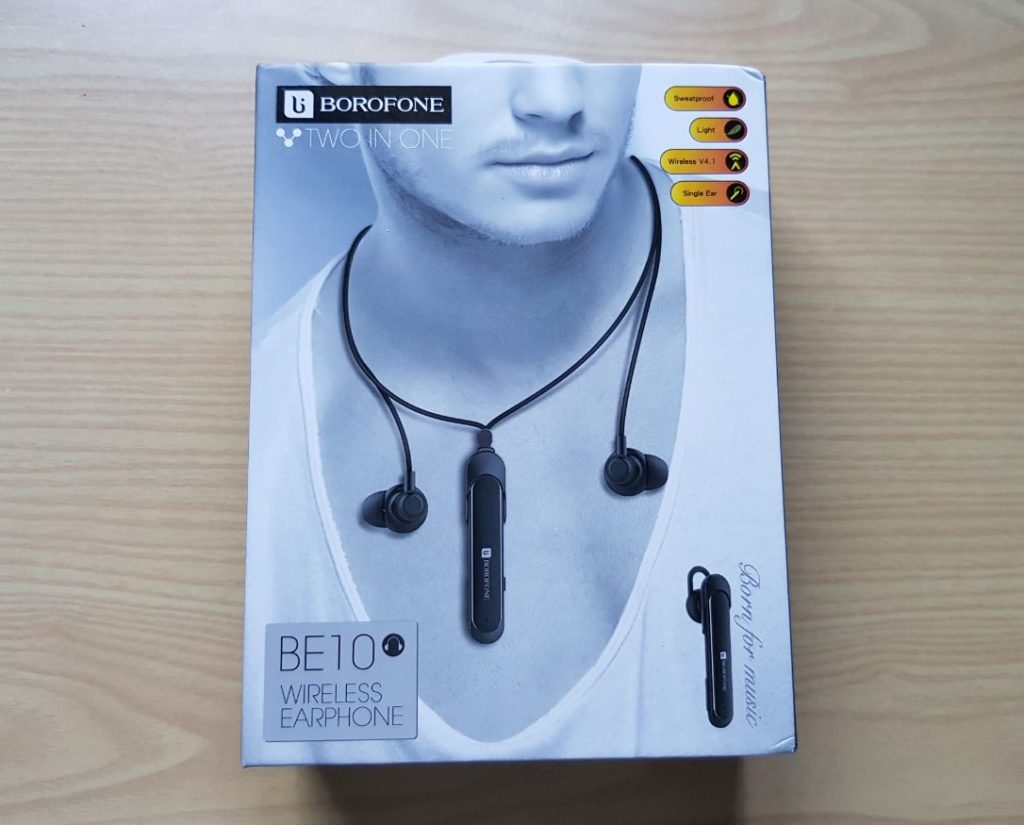 Inside the Box is a beautiful Black hard carrying case that's just so adorable and nice with the Borofone name and logo which is a great touch. Inside the pouch you get a Borofone sticker, the Earphone main control unit and battery,extra earbud covers, Mono earpiece cradle,earpiece hook,dual earphone with necklace cradle, USB charging cable and user manual with warranty card. Everything is nicely packaged and put together very professionally which worth highlighting .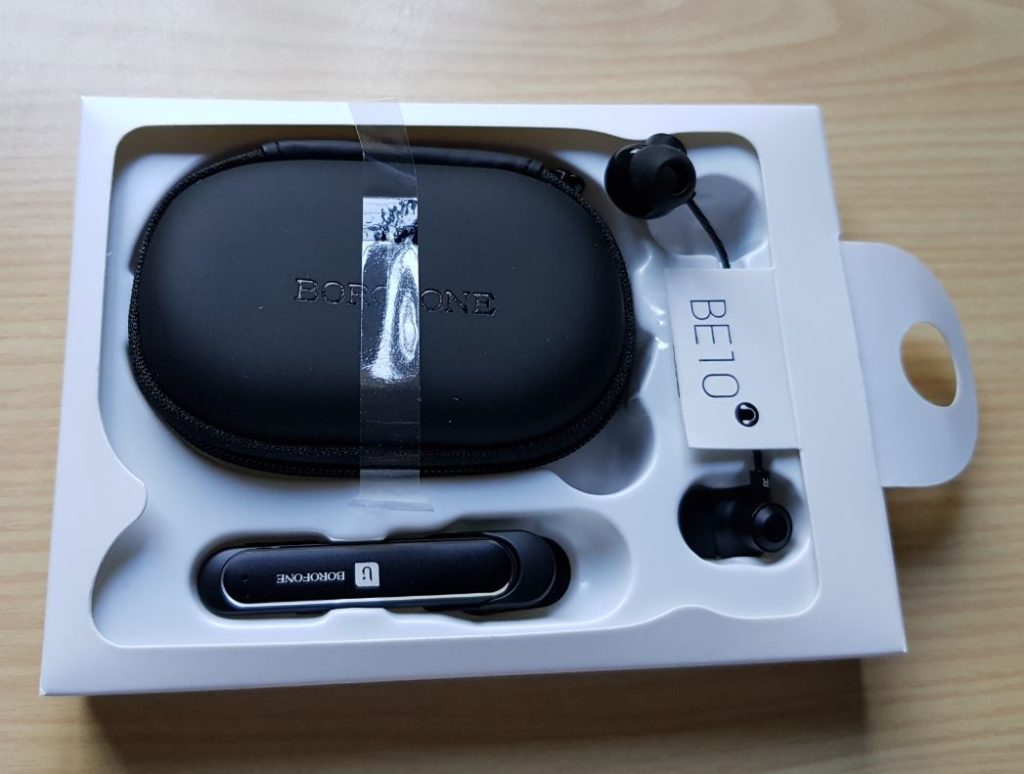 The Borofone BE10 Really Transforms
The reason Borofone BE10 is called the Transformer is because it has a Necklace mode that acts like a traditional Bluetooth Earphones with dual earbuds and Single channel Earbud that's more like a Bluetooth earphone. My favorite mode is the dual Necklace mode because it so easy to put on and place it aside when not being used. For example while testing this I was waiting around in an office for an appointment and I was listening some music and when I was called I simply clicked a button and removed them from my ears and that's it ,they were secure around my neck.
Later on all I need to do was place them back in my ear and click a button and the music would continue. I don't know about you but that's super convenient and useful. That's also a big issue I had with my normal earphones which were a hassle to takeout and put back in.
To change to single Bluetooth headphone mode which mainly for calls simply remove the main brains and power unit from the necklace and place it into the single earpiece that's in the package and as simple as that the product has transformed to a whole different device. Now that's amazing and convenient.
Setup and Use
I was really impressed how easy it was to setup the Borofone BE10 as all you have to do is make sure the device is charged, long press the multifunction key and once you see the flashing blue LED you will know the device is on. I then use my Galaxy S8 to turn on Bluetooth which found the BE10 and pair them. After this its was as simple as start playing my music and enjoy it on the Wireless earphones.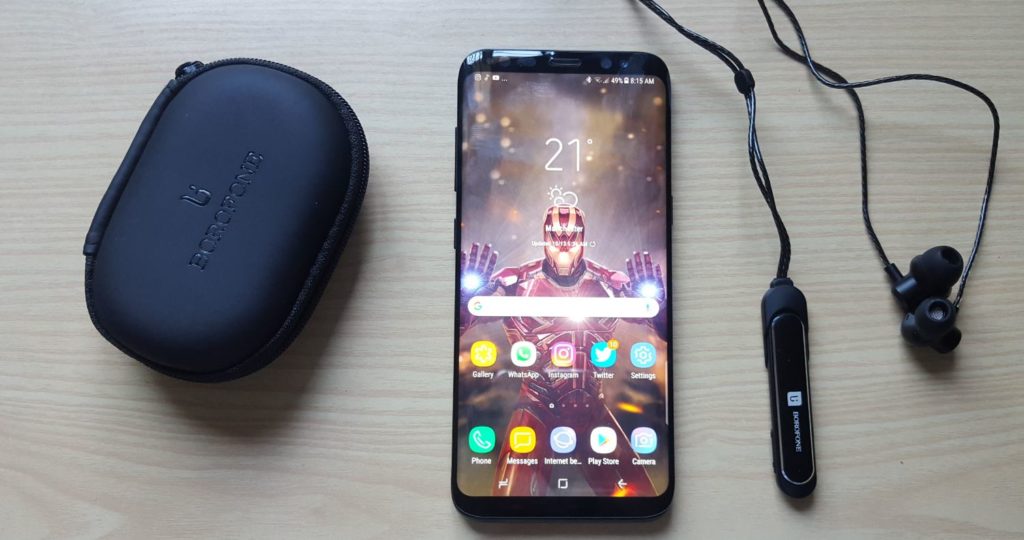 Vocal  Feedback
One of the features that I loved is the Audio feedback that indicates each time you power it on how much battery you have, when the device is paired and a bunch of the other voice outputs that tells you exactly whats going on with the device at convenient times.The LED on the front also indicates battery and charge state visually which is also nice.
Audio Quality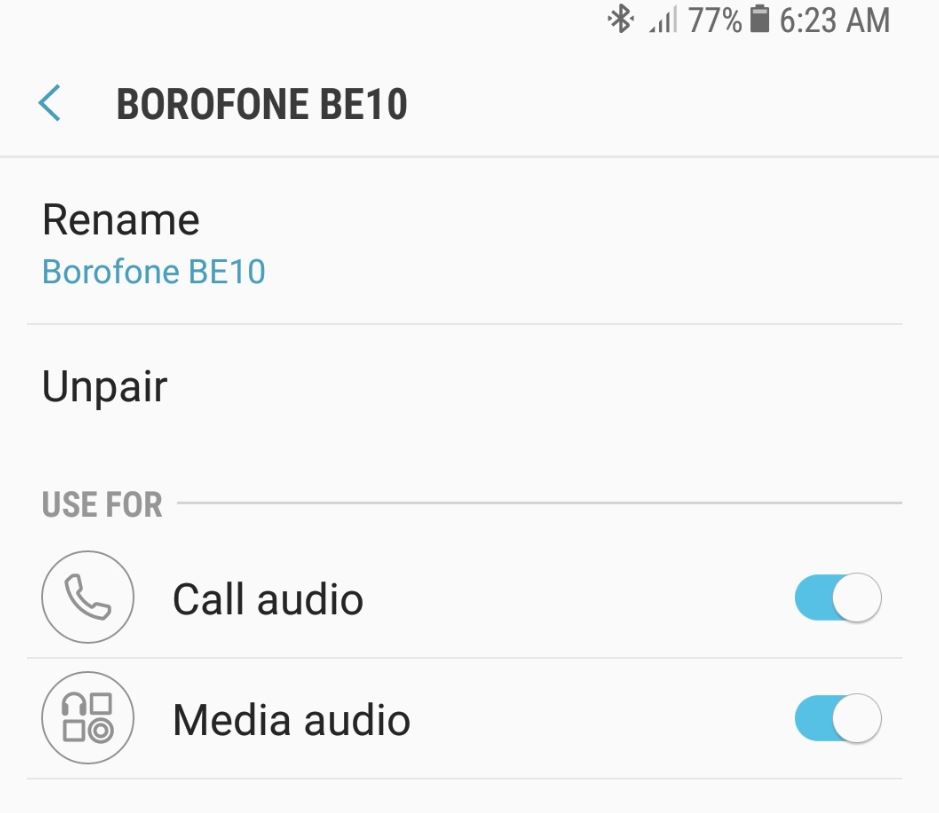 I am no audiophile but I do tend to appreciate and love great sound. The Wireless Earphones produce really rich sound that's very immersive. I love them so much that I ditched my regular wired earbuds that are now in a pile of wires on a side table. The sound in both ears are balanced and they get pretty loud so do watch your volume. I can hear all instruments and background sound in my music. The thumping of heavier sounds too come through quite nicely.
Watching Movies and so on your phone also produces really great audio which makes your listening experience really great. But do remember that the quality of the Video and Audio file will affect your experience. Overall I give the Audio a big thumbs up on listening experience.
Performance
The battery takes about 2 hours to charge. The range is great with line of sight or while on your body but if you move too far away or about 60 feet/20 meters you will be disconnected. The wireless is 4.1 and playing music I was able to get about 4 hours playback but remember that volume will affect this. The sweat proof cables was also a great touch especially for exercising. The mold of the earbuds also fit the ears perfectly and are really comfortable and I did not once have ear ache as with some of my other earbuds.
The functionality with calls is also great and makes interacting with your phone really easy. Simply double clicking the multiplication button can recall the last umber you dialed, an incoming call can be easily answered as well as rejected. Music also intelligently plays and stops as needed for calls and other events which is a great touch.
Video Review
Watch the video below to see the product in action right now.
What Can I use the Borofone BE10 for?
The Borofone BE10 can be used as a regular Bluetooth headset for listening and enjoying your Media or Music, As a Sports headset as you workout or run,for regular calls or Business. Enjoying content such as movies and more from your phone and much more. This product takes the traditional earphones or wireless earphones to the next level of convenience and performance.
Things that Could be better:
So as I don't believe that a product can be all good with no sore or bad points. We live in a realistic world and if things where all good then that would be really suspicious so let me highlight things that may be a point of concern for some users.
First the Borofone BE10 is not totally water proof it can resist sweat and slight splashed such as a little rain but never submerge in water. Also if you do not put them on correctly you will have issues keeping them in ear I suggest you see the pictures on the Kickstarter campaign to see how it should be. The dividers that slide should form a V of sorts with your neck at the center in necklace mode. But once you figure that out its sits around your neck perfectly.
I am also concerned about disconnecting the main brain and power unit as I am concerned that over time it may become slack and then eventually fall out over time. This is really not the case as of yet but I do wonder if it will end up like that. Overall only time will tell though but as of now its really well set inside there while connected firmly.
Where to buy this product?
Currently the project exists as a kicksrter project and Borofone BE10 needs your help in making it to market. I would not recommend this if it was not a great product so I suggest that you guys go over and back the project to get it to market and get yours right now by clicking here.
Why you should get this?
1.Super convenient for music simply wear it as a necklace and enjoy your music whenever you want.
2.You are getting two (2) products in one.
3.Great battery life.
4.Easy to setup and use.
5.Great Audio Experience- Works for Sports, exercise, listening to music and more.
6.Comes with great extras such as a nice Carrying case.
Why Skip this?
The product is really solid and the only reason you may skip this one is only some minor issue of which I could find very little. In fact I use this products daily now due to the convenience and ease of use.
My Thoughts
I really love this product and I can tell that a lot of love and creativity went into the design of the Borofone BE10-Transformer Wireless Earphone. I tend to know a great product if after using it for a while it highlights the major problems that I was having with a similar device that I use. My other earphones are now parked and I simply wear this set as a necklace and have my music to listen to at a convenience. This product cannot be beat and I love it, I actually go back to using it daily now as its my preferred earphones.
If you loved this product and the review I hope you have already been on Kickstarter and you are now backing this project before the campaign ends.Also if you have any questions or comments please leave them below and I will be sure to get back to you.
Continue Reading we have even more Tips for you: