So today I want to look at How to Get Rid of AVG Notification Bar on Android. I recently had a friend bring me her phone which had the toolbar as shown below which was from the AVG antivirus app which had left a new notification tool bar in the slide down notification area which she wanted removed. The strange thing was no matter how hard I searched it was next to impossible to find a direct option to turn the notification bar off. So I decided to put this article together to help others with the same issue.
What this Notification Bar?
At first I did not even realize it was a AVG notification bar as there were no identifiers only icons on the toolbar with four options to Boost, scan,check and some other option. It seems it gives quick access to the main features, I also have no idea how my friend activated or turned the toolbar on. When I installed the AVG app fresh on a new hone the bar does not show up and seems to either appear after a while or after turning on some feature by mistake.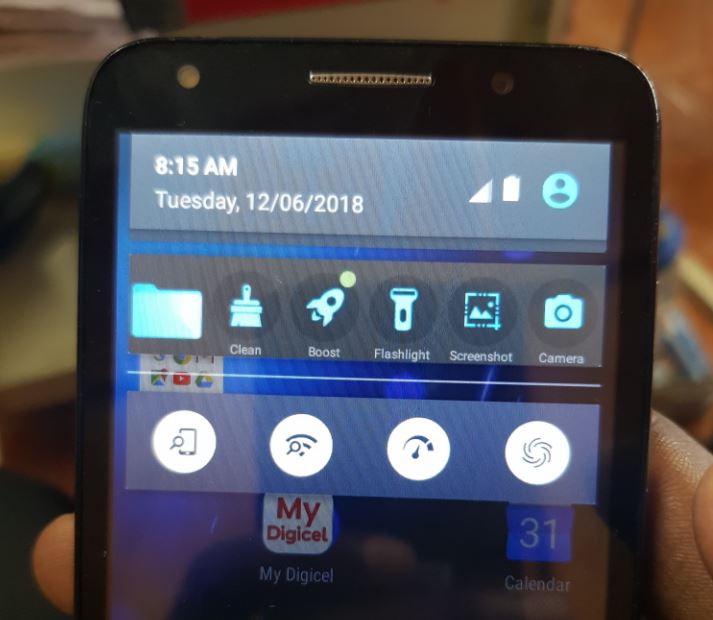 How to Get Rid of AVG Notification Bar on Android?
To remove the AVG Notification bar I found that it can be removed by:
1.Launch the AVG app.
2.Click on the menu option in the upper left of the screen.
3.Next go to settings and then protection.
4.From here turn off: App Install Shield
5.The bar will now be gone, but as a side effect AVG will have a warning in the notification area that issue detected.
Video Tutorial:
watch the Video below and see what to do step by step.
Alternative Things to try:
Alternatively you can try to set AVG back to its default settings as the toolbar is not added by default after first install. So go to settings, Apps and find AVG and then go to storage and clear cache and clear data. After this reboot as this will set AVG back to default if that did not work then uninstall the AVG app and install it afresh which may in some cases set everything back to its default and remove the toolbar that's so annoying.
Final Thoughts
That's it guys for how to Get Rid of AVG Notification Bar on Android and I truly hope this has fixed things for you as with my friends situation. These issues can really be annoying when they happen but I hope this article has saved you some time. If it has then do spread the love by sharing this post and do leave a comment below as well as checking out more of our content.