Now you have done it your Samsung Galaxy S8 or other similar device keeps reading out everything on your phone screen back to you and the controls for the interface has gotten really weird for navigating the phone. Well if this situation sounds like your current predicament then don't worry as whats happening is that you have activated Talkback or voice assistant on your device. In today's article we will be looking at How to Disable Talkback on a Samsung Galaxy S8.
Description of the issue:
Your Smartphone will start reading everything on screen that you touch or that it sees such as reading out an app that you click the icon of that will be highlighted such as : phone, internet and so on.It will tell you how many items in a list of options and the voice gets really annoying fast.
What is Voice Assistant or Talkback?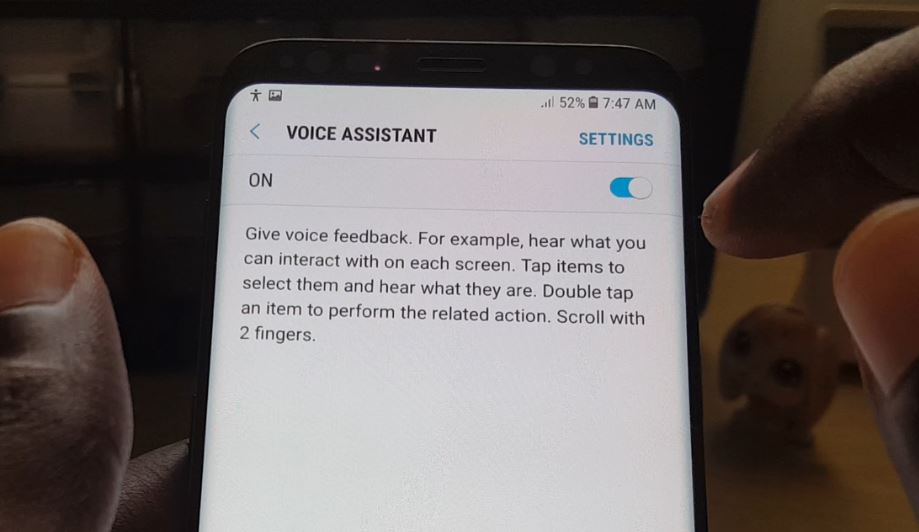 Talkback or Voice Assistant gives voice feedback. For example, hear what you can interact with on each screen. Tap items to select them and hear what they are. Double tap an item to perform the related action. Scroll with 2 fingers.
What devices does this apply to?
This fix applies to the Samsung Galaxy S8, S8 Plus, Note 8, Galaxy S8 Active and all other similar Samsung Smartphones and variants with a similar setup. So if you are having this issue then definitely give the fix a try.The feature is in new and older Samsung phones based on my experience.
How to Disable TalkBack on a Samsung Galaxy S8?
The controls are changed in this mode and in order to navigate you will need to: Double tap to select, double tap and hold to long press,to swipe use two fingers.Watch the video above to see how its done or keep on reading.
1.Go to settings you can do this by using two fingers to swipe down from the top of the screen and then select and double tap the settings icon in the notification area.Selecting the settings icon will also work if you can get to it.
2.Use two fingers to scroll, select the option by touching Accessibility once and then double tap to select. Select and double tap Vision.
3.At the top of the screen you should see voice assistant is on go ahead and select it and turn the option off as usual by first selecting it and double tapping and confirming the OK option in the same way.
That's it the annoying voice is now gone and navigation of your phone now works as it should.
Final Thoughts
Now you know How to Disable Talkback on a Samsung Galaxy S8 and you don't have to worry should someone ever enable the feature again without you actually knowing whats going on as in the case when this feature is activated on most device. If this was helpful then you should definitely share the article, otherwise Please leave a comment and do check out even more of our articles.