If you are getting the error message Download Failed The download was unable to Complete Whatsapp then you are not alone. In today's article I will be looking at how you can fix said error in case you are getting it when trying to view your friend's status as many users will.Don't worry as the issue can be fixed within a few steps as shown below and do remember to exercise patience.
The error:
The error reads: Download failed. The download was unable to complete. Please try again later. Most users encounter this error when they try to view a friend's status on Whatsapp.The error will keep appearing over and over and over again until the problem is fixed as shown below. Please also note that you could get the error as well when some one sends you a Picture or Video in a regular Whatsapp message and you try to view it.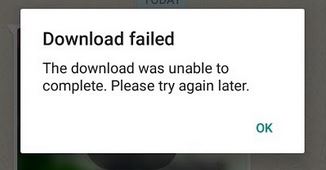 How to Fix Download Failed The download was unable to Complete Whatsapp?
1.Go ahead and close exit and close Whatsapp.
2.Go to settings and then Mobile Data.
3.Next select :Network Operators and wait for it to scan for available networks. Select choose automatically and it should do its thing and register and mobile network settings should now up now.
4.Select Access Point Names or APN , next select the three dots upper right and click:Reset to default.Next reboot your phone.
5.Go back to Whatsapp and try viewing any status again and this time it should load fine without the error.
Every device is different and you might not find the settings in the same place in such a case use search in settings to find :APN or any of the settings above and you should be able to take it from there.
or
1.Go to Google Play Store and search for Whatsapp.
2.If there are any updates available go ahead and update the app.
or
1.Go to settings.
2.Go to Apps and find Whatsapp.
3.Now go to storage and clear cache and clear Data.
4.Reboot your phone and test to see if the problem is fixed.
Video Tutorial:
Watch the video below to see how its all done step by step, simply click play to start the video.
What did I just do?
You simply reset a network setting back to its default which helped in fixing the issue. Additionally you could have tried to reset network settings on your device back to their default which should have a similar effect.
Final Pointers
I do hope the you were able to fix the Download Failed The download was unable to Complete Whatsapp error. If you were then leave a comment below and do remember to also check out even more content from the website. I would appreciate it too if you could share this article with friends as well.