Its so strange sometimes when your gadgets are working fine and then suddenly they develop a issue. It was the same situation when I got the error Your TV is currently connected to an inactive output. So follow along as I show you what the error means and how to fix it.
If its your first time seeing this message screen you may be stuck on the screen as seen and being unable to watch anything on your TV or cable set-top box.
The Error:
I first encountered the Your TV is currently connected to an inactive output when I was watching cable and suddenly I saw a screen appear that read: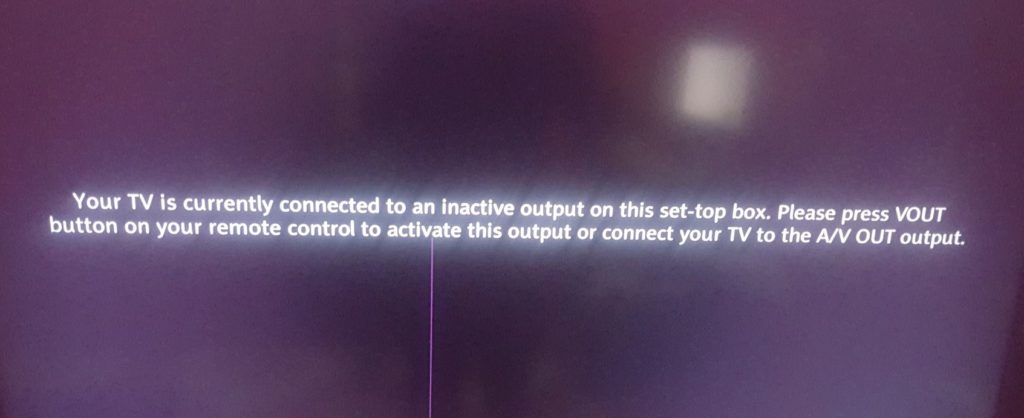 "Your TV is currently connected to an inactive output on this set-top box. Please press vout button on your remote control to activate this output or connect your TV to the A/V out output."
The message is also displayed with a black background with the text of the message in white. You may also hear sound in the background from the TV in some cases but nothing will be displayed but this message.
Fix Your TV is currently connected to an inactive output
To fix this error all you have to do is take a close look at your Cable Box or Set-top Box original remote as the one shown below.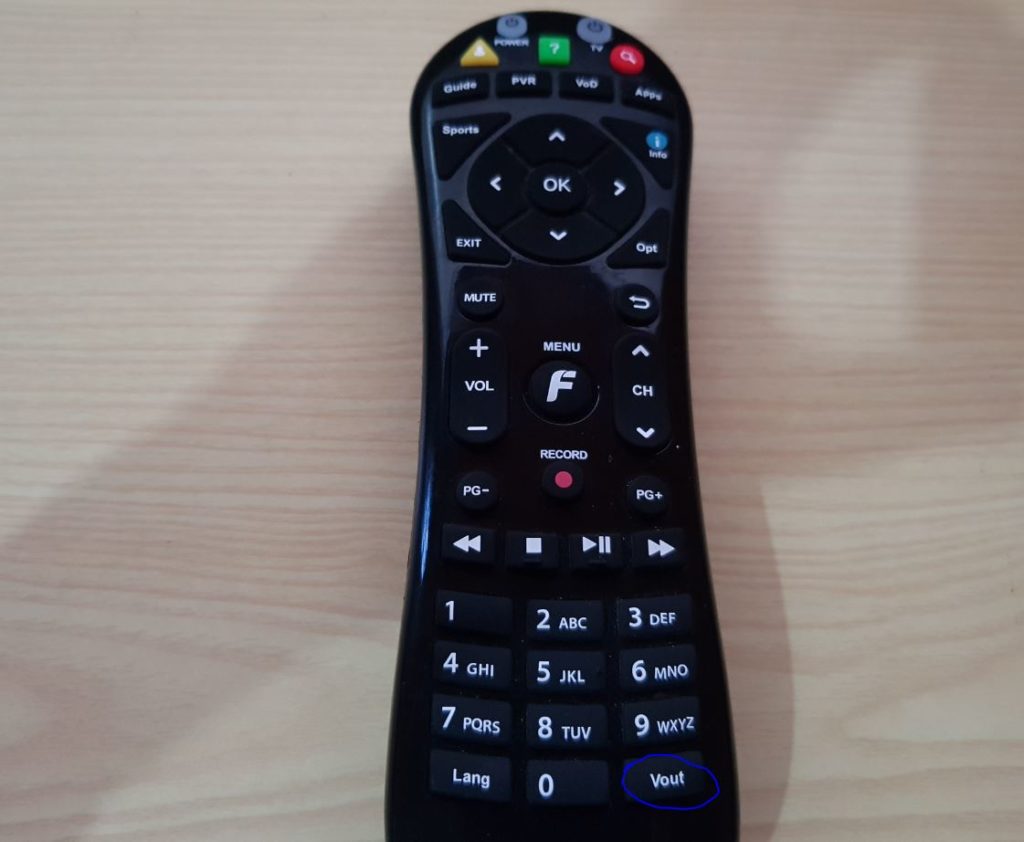 Now look for a button that says vout. It may be a simple button that's very small and almost not noticeable. In my case it was the last button on the remote that I have never pressed but it seemed to have been some how pressed maybe out of accident and thus the error message that was displayed.
The problem though is that if you did not do this directly you may think something is wrong with your TV or cable Box.
Other things to Try:
Well while the above fixed the issue for me here are some additional things to try in case your situation is different.
1.Find your TV remote and change the Video input source by pressing the button that says: vout (or) Source (or) Input. You may have to press it more than once to cycle through the various inputs.
2. Change your HDMI cable that runs from the TV to the cable box. Also if you have more than one HDMI inputs on the TV or the Cable box try switching between them and see if you get anything on the display.
3.Power off Cable or Set-top box and unplug it from the wall and leave it unplugged for about a minute or more and then plug it back in and power up again. You can do the same as well with the TV. This will power cycle the device and may fix the problem.
Before You Go:
Before you go please let me know if this tutorial helped you as it relates to the Your TV is currently connected to an inactive output error. I would also love if you could check out even more of our content and share this article.
Continue Reading we have even more Tips for you: