Did you know that you can connect two headphones on Samsung Galaxy at once for playing music simultaneously? well you can. This is great for listening to music or other forms of media with a friend.
Well with that being said today I will be showing you How to play music from two Bluetooth headphones on Samsung Galaxy at once.
Do note that by doing this there are a few things you will need but once you have these you will be good to go.
Devices this Applies to:
This applies to devices such as the Samsung Galaxy S8,S9,S10 and so on. So any newer Samsung Smartphones and it should work on the latest version of Android as well.
What is Dual Audio?
Dual Audio is a feature built into Android or Samsung Galaxy devices that allows users to Play sound from your phone to two (2) different Bluetooth headphones at once.
Benefits of this Tutorial:
With this tutorial you will be able to :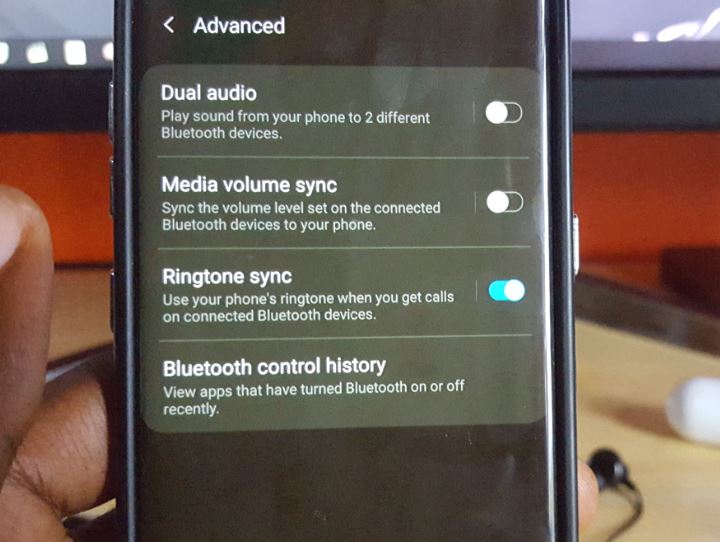 1.Listen to Music together using one phone without sharing a single headphone.
2.Watch movies together especially in a open space with others privately. All while not disturbing anyone else.
3.Connect your Bluetooth headset and a Boom Box or Bluetooth loudspeaker all at the same time.

What you will need?
1.A Samsung Galaxy Smartphone or Android phone.
2. Two (2) Bluetooth headphones or headsets.
3.This tutorial and a few minutes.
Video Tutorial:
Watch the following video tutorial to see how its done or read the instructions below.
How to play music from two Bluetooth headphones on Samsung Galaxy at once:
1.Go ahead and turn on Bluetooth on Your smartphone.Slide down from the top of the screen and press and hold the toggle for Bluetooth. In the Bluetooth setting toggle the Bluetooth option on.
2.Turn on both Bluetooth headsets on.
3.Go back to the Bluetooth on your phone and scan and pair the first Bluetooth headphone and then the second Bluetooth headset.
4.Start Playing some audio to test, chances are the option for Dual Audio should popup on your phone.
If the option did not pop up then within the Bluetooth pairing screen or Bluetooth history tap the three dots upper right. Select Advanced and in the new menu go ahead and turn Dual Audio option on.
5.Audio should now be playing simultaneously from both Bluetooth headsets at once. You have now successfully set everything up.
Before you Go:
Before you go do tell us how we did on How to play music from two Bluetooth headphones on Samsung Galaxy at once.
Please also share this article and do us a solid and check out our other articles as well.