Recently the makers of the BOZLUN W32S OLED Screen SmartWatch contacted me and decided to send me a sample device for review. So after receiving and testing this device I did this review. So do note that this is my unbiased review of the Smartwatch.
So join me as I review the BOZLUN W32S OLED Screen SmartWatch for you guys so that you can decided for yourself if this device is for you.
Whats Inside the Package?
The BOZLUN W32S Smartwatch come sin a nice elongated black box with gold writing, a image of a watch and gold trims towards the center of the box.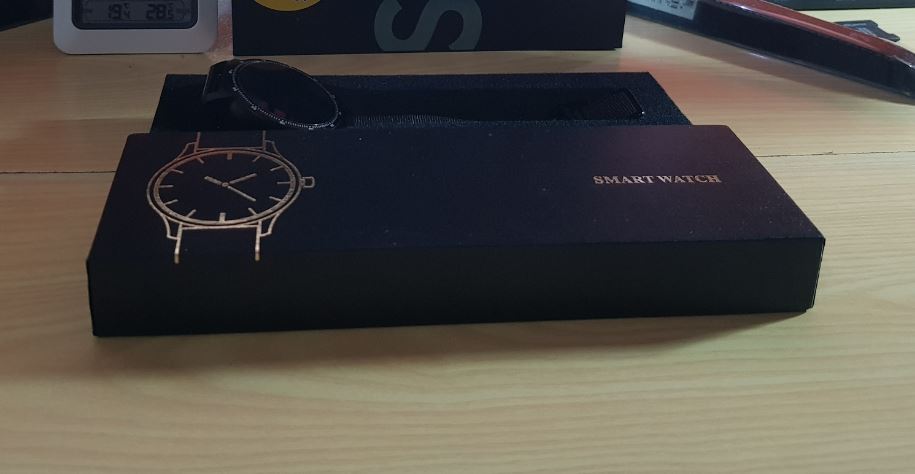 The box itself is a great addition and it looks much like a gift box with the absence of a bow on it. Everything is packed neatly with the Smartwatch inside, A User manual and magnetic charge cable USB that comes neatly packed.
Great presentation overall and attention to detail. I was really impressed and liked the packaging that would make a good gift as is.
The Smartwatch
The BOZLUN W32S OLED Screen SmartWatch out the box does comes with some charge but its recommended that you fully charge before using. I suggest that you go ahead and charge it on your PC or use your smartphone adapter to charge.
Out the box the straps were a bit long for me but luckily it easy to adjust by finding the clasp area where the watch closes and opens and opening the clasp mechanism and sliding the adjustable slider higher on the band and wallah it can be adjusted easy to almost any wrist size.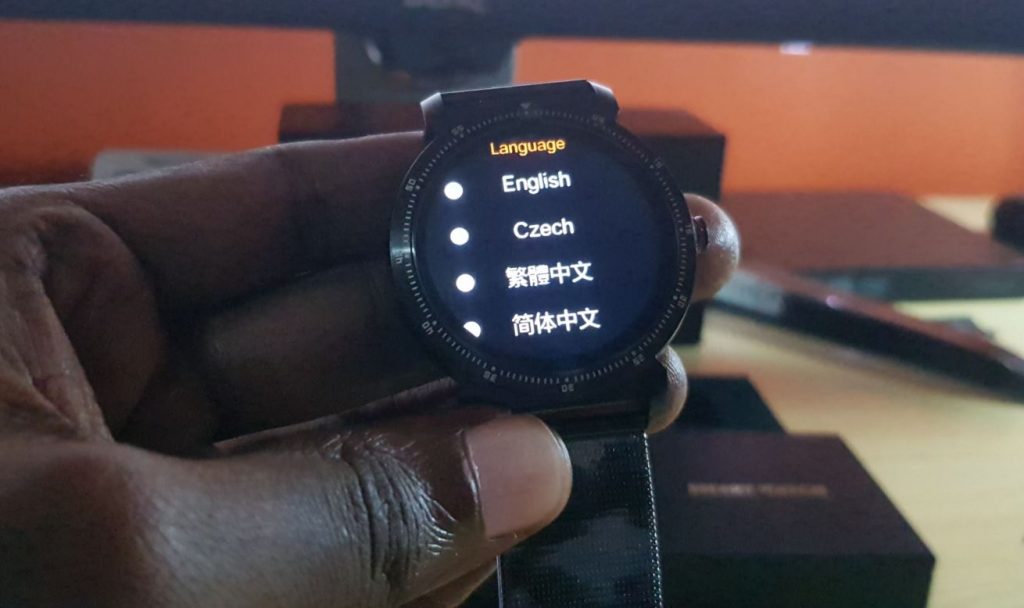 The interface is nice and you can really see that the OLED display shines through with nice colors. The touch is also really responsive a power tip is that after to go back in a menu or after making a selection simply swipe in the middle of the screen from left to right.
On setup you also get English along with several other languages out the box which makes this smartwatch really flexible.
Specifications:
This BOZLUN W32S OLED Screen SmartWatch features
GPS: No
Function: Noctilucent,Passometer,Sleep Tracker,Calendar,Alarm Clock,Chronograph,Remote Control,Month,24 hour instruction,Message Reminder,Week,Call Reminder
Movement Type: Electronic
Case Material: Alloy
APP Download Available: Yes
Type: On Wrist
CPU Model: W32S
Band Material: Stainless SteelMechanism: Yes
SIM Card Available: No
Battery Detachable: Yes
Screen Shape: Round
ROM: <128MB
Rear Camera: None
Brand Name: Bozlun
Waterproof Grade: Life Waterproof
Language: English
Screen Size: 4.45cm*4.45cm
RAM: <128MB
Band Detachable: No
Application Age Group: Adult
Network Mode: None
Multiple Dials: No
System: None
Style: Fashion
Resolution: 240*204
Battery Capacity: 220-300mAh
Compatibility: All Compatible
Bozlun: W32S
Color: Steel Strap(Black)
Features: Passometer, Message Reminder, Call Reminder, Distance, Bluetooth, Waterproof
Waterproof: 50M
System: Android/IOS
Do also note that the watch can be synced to Android or Apple smartphones.
The Display and Interface
I love the interface and you do get several themes as well as watch faces to choose from out the box. Simply bring the watch up to your face to check the time powers it on easy.
To scroll through menus simply shake your wrist back and forth to have the smartwatch scroll. Use the scroll know at the side to power on or of the display easily.
Touch is responsive and I have had no issues with touch so far. I also love the cool gestures as mentioned above that makes using the watch really intuitive.
Video Review:
Watch the full Video review to see this device and the features along with whats inside the box.
Built in Apps
The images and icons are really high quality and a joy to look at. Icons include: Phonebook, dialer, Messages,Call log,Notifications,Find device,Calnedar, BT, BT Music,BT Camera, Alarm,Pedometer, Sleep monitor, Siri, Heart rate,sedentary,Voice Memo,Power saver,App,Stop watch,Motion,Clock,Calculator and themes.
Most of the Apps tie in to your smartphone and depend on them to access stuff on your phone as its mainly meant to be a companion device for your smartphone. I find that it works nicely on its own with features such as stopwatch,calculator,Alarm,Calendar and so on.
The sync app is called FunDo and used to link the Smartwatch with your phone and control all the corresponding features such a call and messages, camera related. This watch cant make calls on its own though without your smartphone.
The Sync App FunDo
The app is simple to setup, simply go into setting and turn Bluetooth on and sync the device to Bluetooth on the phone which should pair and indicate your battery percentage.
Bluetooth Music will play your music through the smartwatch easily. Call logs show up, I could also dial numbers from my phone using the dialer on the watch.
The problem was though that while my Phone could see the smartwatch the app was unable to detect the Watch. All the major features worked but the app would not populate with data which maybe a bug. No issue though as the main sync worked just fine. Heart rate and step counters also works really well too.
Battery Life
Battery life is always subjective, if you are using your watch heavily it should drain quite easily especially with Bluetooth on. I find that using the power saving feature is recommended.
With controlled usage you can get a day of battery life. With standby or not using the smartwatch you should easily get three days or so. If there are any updates I will adjust the article later with the updated info.
Conclusion
The BOZLUN W32S OLED Screen SmartWatch is not a bad device. You get OK battery life and a companion device for your smartphone. It has a beautiful OLED display and lots of features especially when linked to your smartphone.
The Sync App needs tweaking though as it does not connect with the Smartwatch or does so intuitively. With a little adjustment out the box it fits the hand like a glove and feels really nice. You should definitely give this product a try as the Positives easily outweigh the negatives.
Where to Buy:
You can purchase yours below in the listing shown.
Why you should buy this Smartwatch?
1.Great OLED display.
2.Very responsive touch screen.
3. Lots of Apps and features.
4. Descent Price tag.
5.Made out of solid material and adjust to fit your hands easily.
6.Intuitive and easy to understand design and interface.
Why Skip this?
1.Sync App it difficult could not get it to work and this needs tweaking, although default phone Bluetooth and features work fine for most features.
2. Battery life is OK but could be better lets see if that improves over time