As you may know already the Galaxy S10 at times can end up with No sound problems where you are getting no sound from your device. In such cases it can be hard to track down solve these problems.
With this article all that has changed as we look at a total of nine (9) solutions to deal with the problem of no sound on Galaxy S10. This will also relate to the Galaxy S10e and S10 Plus as well.
So read on to try our various solutions to deal with the No sound issue on your S10.
Video Tutorial:
Why read when you can watch it being done step by step. Click play on the video to view the tutorial.
How to Fix the No sound issue Galaxy S10?
So here are the various things to try and do note they are in no particular order.
1.Stuck in Headphone Mode: Check to see if your phone is in headphone mode without headphones connected. If the phone thinks that its in headphone mode it will play sound but you will not hear it.
In these cases the headphone symbol is shown in the status bar. To fix this go ahead and clean the headphone jack. Lint or dirt can cause the fake headphone connected warning.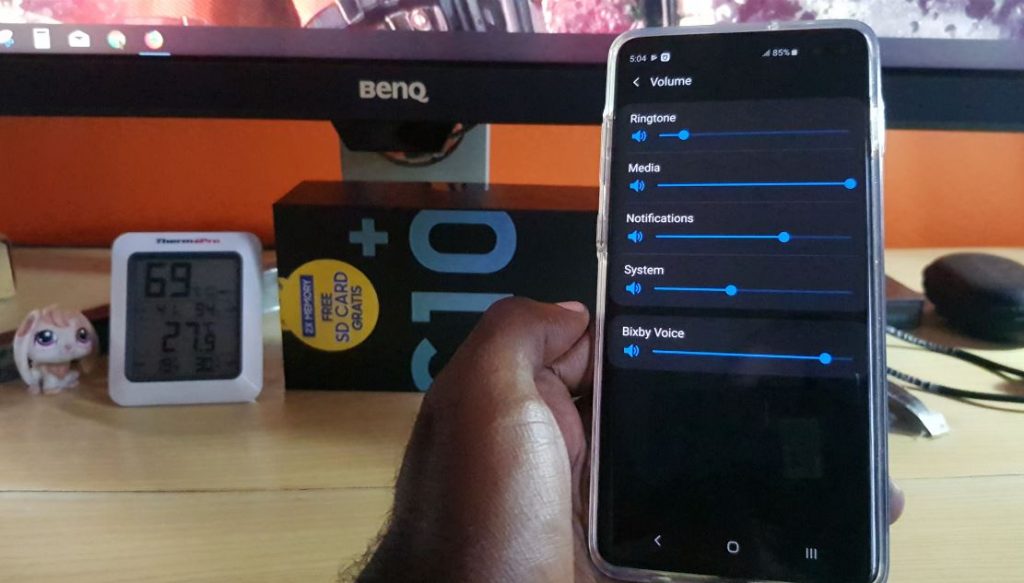 2. Reboot your Phone: A obvious one but don't rule it out. Go ahead and turn your phone off or restart it and once done check to see if you have audio again.
3.Turn off Bluetooth: If Bluetooth is on and connected you may have sound going to Wireless headphones or wireless earpiece. So simply turn your Bluetooth off.
A friend of mine had No sound issue and he could not figure it out, his small daughter was in the other room emptying out is breafcase and turn the Bluetooth earpiece on. Took us a while to realize that was the problem.
4.Turn the Volume up: Turn the volume up if it turned down it can simply be too low. Also check to see if the buttons are working as well for volume up and down or maybe they are jammed and turning down the volume.
Also make sure sound is not muted or set to vibration.
5.Are all Volumes turned up:Go to settings, Sound and vibrations, Volume and make sure all the sound settings are at least turned up to half way.
If any is turned all the way down you may have found the issue.
6. Reset settings to default: Go to settings, general management and reset. Now select : Reset settings and follow the instruction to reset. Do note it will not erase any of your data.
7.Reset App preferences: Go to settings, Apps and click on the three dots upper right and from the menu choose: Reset app preferences. Follow the instructions to reset prefrences.
8.Update your Smartphone: Go to setting, Software update and check for update manually. If there is one update as usually Android gets patches that fix known issues regularly.
Additionally also be sure to update your Apps as well on your phone.
9.App Issue: The problem may be caused by a App that is causing issues. If so then try tracking down by uninstalling the last two apps you installed. See if that fixes the issue.
You can also install them once more later. Another possible app is anything that uses the camera or accesses it as part of its function.
As a final step if all these do not work chances are you have a hardware issue and I suggest that you return your phone for a replacement or repair.
Before you Go
As always please do share this post and please comment below. It would be great if you could also check out our other articles. I look forward to seeing you again right here in another post.
Continue Reading we have even more Tips for you: