So today's we will be looking at the HOMIEE 720P Video Baby Monitor Review. I want to thank the team over at HOMIEE for sending in this Baby Monitor for review.
Its always great when we can receive interesting gadgets for review and baby safety gadgets are no exception.
So follow along as we look at this very interesting Gadget that a new mother will definitely want to check out as a key device for the safety of her little one.
Whats Inside the Box?
The HOMIEE 720P Video Baby Monitor come in a very beautiful box that does not skip on presentation. The features are also well represented on the box allowing you to know exactly what you are getting.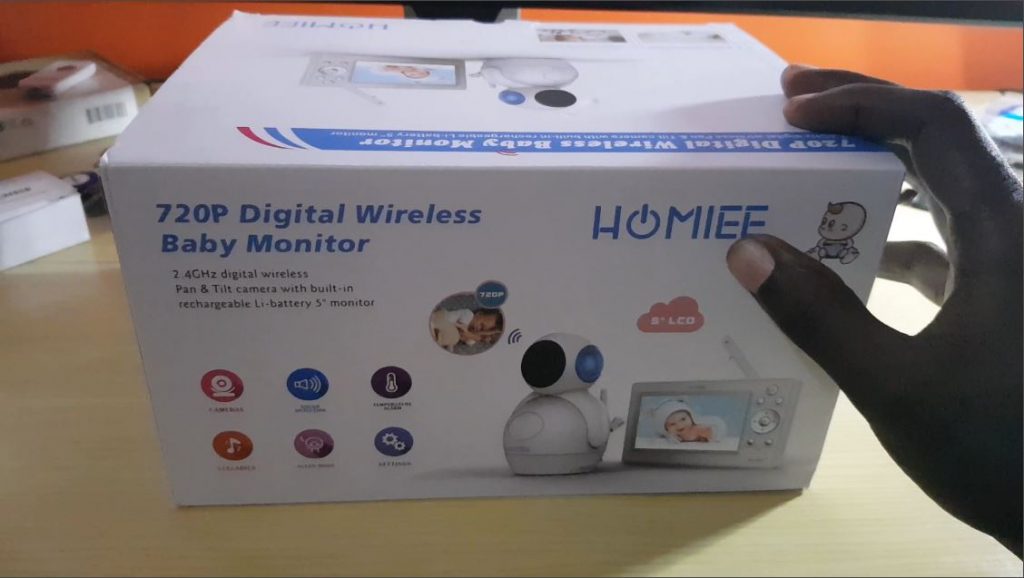 Inside the box you can find: The camera,Monitor,Power adapters (X2), Micro USB Power cables, User manual and welcome card.
The box features a very thick and protective foam material which insures your Baby monitor will not be damaged during transport. Overall the presentation of this product is very good and well put together.
Unboxing and Review:
Watch the video below and see the unboxing as well as the Video review of this product.
Setup and Usage
Setup of the HOMIEE 720P Video Baby Monitor was very easy. It was as simple as plugging in the Camera and turning on the monitor and it worked, no hassles.
I give Homiee maximum marks for ease of use as the features were easy to setup and controlling everything was dead easy. Basically its so intuitive that you wont need the manual. I am still wondering why they placed one in the box 🙂 .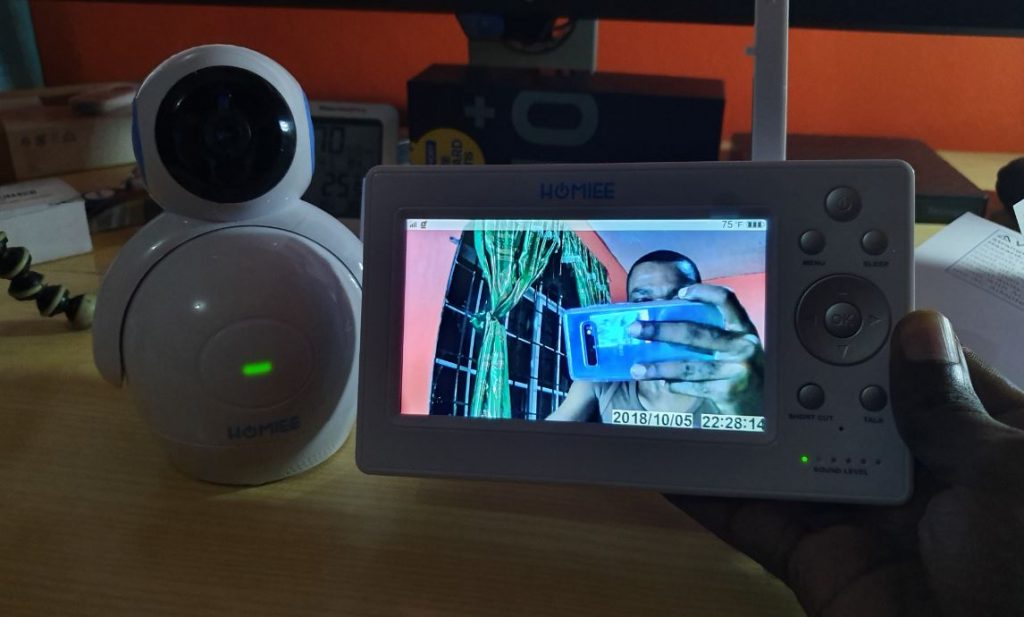 You may have to do some slight tweaking though right away of the time and date and having the temperature displayed as degrees Celsius but the setting can be found easily under the menu option.
The kickstand on the monitor makes it easy to put down and monitor from any flat surface. also the antenna pops out and retracts easily. The Monitor is a bit thick but that's most likely because of the built in battery to power it all.
Features and Specifications
The Baby monitor is 5 inches with a resolution of 1280 by 720 and features full 360 motion with pan, tilt and zoom. You also have a 1000 feet connection using 2.4 GHz wireless technology under ideal conditions.
The camera has a attractive design that appealing to look at. You also have two way Audio. There is also a night vision mode with up to a range of 5 meters in darkness.
I love the sound level indicator that's uses lights to indicate sounds levels on the monitor. Includes built in Lullabies to help to calm and put your baby to sleep.
It also notifies you when you are out of range, if temperatures gets too high and in case of low battery. When the display is asleep the baby monitor is still monitoring with Audio and sound level check so that you can check in on your baby. The lithium battery also provides really good battery performance.
Battery Life
Battery life of the baby monitor is really good overall. You can get up to 4 hours screen on time with constant use and about 7 hours with power saving which is not bad at all.
Best of all if you are near a outlet you can charge in between. I usually simply have it in sleep mode and keep a listening ear of the two way audio and wake the monitor up every now and again to check in or so.
Plus the Housing of the monitor does not feel flimsy at all and is very sturdy. The buttons too seem to be of good quality and wont break easily over time with usage.
The Range
The range is pretty good but bear in mind that thin walls and obstacles will reduce the range. Overall its good enough that you can on another level or floor of the house of two rooms over and it still works.
My house has thick walls and this monitor can easily carry a signal from one end to the next one. That includes audio and a high quality video that looks nice enough to make out lots of details.
My Thoughts on this Product
The HOMIEE 720P Video Baby Monitor is almost a perfect product as it does exactly what it claims and does so very efficiently. I am really impressed as my favorite features is the temperature monitor, two way audio and that you can play lullabies to put your baby to sleep.
As security goes the Baby Monitor does not connect to WiFi and so there is less likely your Monitors will be hacked. The Camera communicates with the Monitor and nothing else out the box. I personally can rest easier knowing this. A app and WiFi support would be nice but I rather have the security as this device is offline.
I think this baby monitor is one of the best baby monitors currently on the market as its durable and built sturdy, very flexible and easy to understand and operate. So if you need a solid product do give this one a try above others on the market.
Special Promotion Code for 15% off:
The HOMIEE team was nice enough to offer our readers a 15% discount. This is for US and UK readers. You can find your discount at the marked links below.
The code is automatically applied and will last until 07/30/2019 only so get your right now.
Where to Buy?
You can purchase yours in the link below.
Why Buy this Baby Monitor?
1.Lost of features and safety mechanisms built in to protect your baby.
2.Clear HD video and Night Vision.
3.Temperature,Sound and two way Audio.
4.Good battery life.
5.Solid construction and build quality.
6.Unique look.
7.Easy setup and understand right out the box.
Why you may skip this?
1.Would be nice if it had App support (WiFi) although you may trade some security for this if you are online.
2.Monitor is on the thick side which may be due to the battery to power the 5 inch screen.
3.Wish there was a battery in the camera itself as it has to be kept plugged in at all times.