This is how to Fix the Attention Make sure Fingerprint sensor is clean and dry Galaxy S10 problem. So if you have encountered this problem for the first see below for the solution to this issue right now.
So guys don't fret simply relax and take your time and try the suggestions given and you will be good in no time at all.
The Error:
The error which will pop-up on screen reads:
Attention
Make sure the Fingerprint sensor is clean and dry, then try again.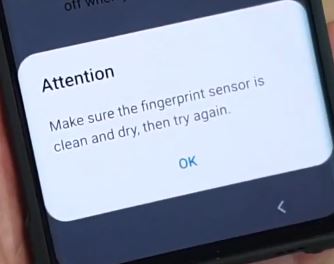 Also when this error happens your phone will be unable to scan your fingerprint at all.
How to Fix this Error
1.It goes without saying that the first thing you should do is make sure your finger is actually dry and clean. Clean the display especially around the Fingerprint sensor.
I suggest that you wash your hands with soap and dry it properly.
2.Erase some of your old Fingerprints by going to :Settings,Biometrics and security, Fingerprints and erase or remove a few of the ones you have stored.
After this try adding your Fingerprint a new. Also try different fingerprints.
3.Make sure your screen protector is not interfering with the detection of your Fingerprint.
4.Warm up your hands by applying some heat and then try adding your fingerprint once more. Its also recommended if your hands are very dry you moisten them up a bit with some lotion and try again.
Before you Go
Before you guys go please take the time now and share this one. I am sure someone else will find it useful. Please also comments and check out more of our content here on the website.