So we just got our hands on a Vodool WiFi Endoscope for review and we are very excited.
This product within itself is something that you don't see everyday but once you know what it is you tend to just know exactly what to do with it.
So join us as we go into the details of this product.
What is a WiFi Endoscope?
Ever had a ring fall down the drain or wanted to know whats inside that wall without tearing it apart? well that just a few of the things that you can do with a Endoscope.
A endoscope is a flexible camera that you can use to look behind, over, under or into very small spaces that you would be unable to see into before or with much difficulty.
Its a camera and rigid flexi cable that sends the video feed back to the your smartphone.
Features of the Vodool WiFi Endoscope:
The Vodool WiFi Endoscope features:
A display resolution of 1280 x 720p
Cable length of 3.6 m or 11 feet 9 inch
IP67 Waterproof
9mm Camera Diameter or Size 1/6.5-inch
Supports IOS or Android
What inside the Box?
Inside the box you will find The Wireless Endoscope, Micro USB charging cable, User manual and small Accessories. That's it everything comes in a small compact cardboard box with the product displayed neatly with the product information.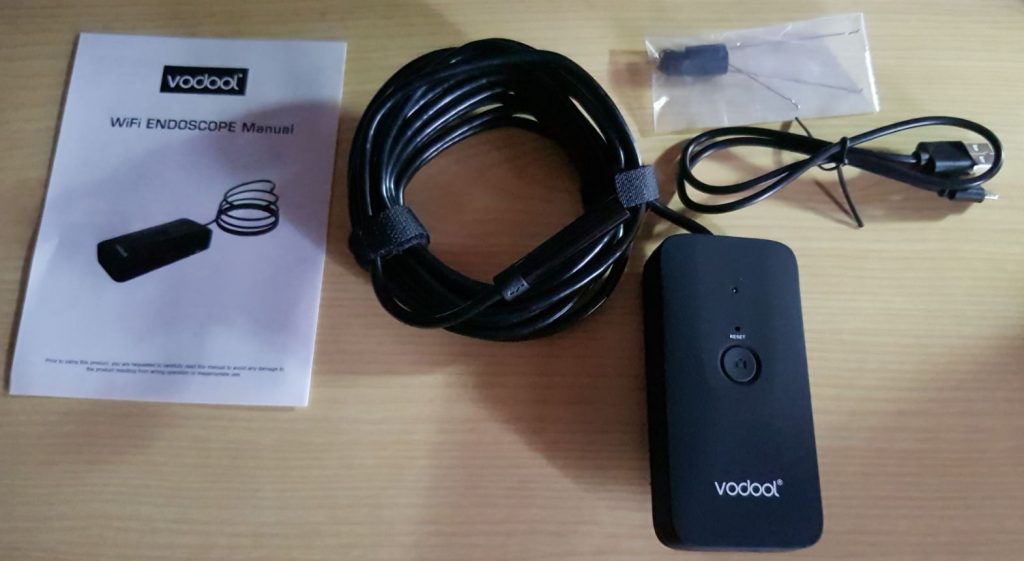 Setup of the Product:
The Vodool WiFi Endoscope charges easily and stores adequate power to do what you need without needing to be at a power outlet. Operation is easy and the App installs and connects easily to the Endoscope.
Its a hassle free setup and the device operates as it should. This is great as you can spend less time worrying about the device and more about what you are doing.
You may also need a assistant when operating this device. One to handle the Endoscope and the other to control the app. You can also operate this by yourself too.
Video Review:
Watch the following video to see the product unboxing and full review.
The Vodool WiFi Endoscope
The Vodool WiFi Endoscope is the type of Gadget that you need hanging around the house for those troublesome situations that may occur.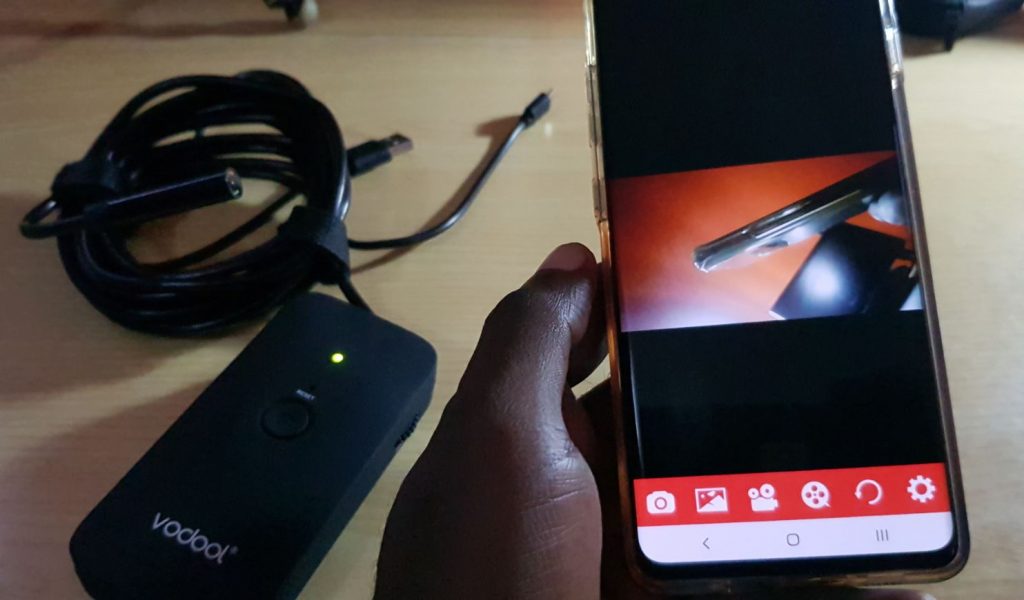 I am talking about a wedding ring falling down the sink, Checking house insulation, checking whats down that hole in the wall, seeing into that compact space in your car engine that you cant see.
The above are but a few practical uses of the Vodool WiFi Endoscope. Otherwise you may have to do allot of unnecessary disassembly or tear stuff apart.
You can see with pinpoint accuracy whats inside stuff you would have never been able to see before. Doing so you can find stuff and do repairs with pinpoint accuracy.
The possibilities are endless with this great device.For example again if the space you are looking into is dark the endoscope has it own LED light that you can adjust in intensity. If its a wet environment then no issues as this is waterproof.
With a snap of a button you can snap a picture and the app allows you to watch in real time. Everything is store on your phone for reviewing later.
How I use My Endoscope?
I was able to use my Endoscope right out the box to check a cavity in a Cinder block wall. I was able to see what what down the hole easily.
It would have been impossible before to see down the hole as it was dark and narrow space. I would have to punch out the entire hole in the wall and tearaway a entire section of the wall.
I am now able to see all that's down there and can seal up the hole and have the pocket filled. Not only that but I can see how deep the hole goes too.
This is but once simple use of this gadget.I am sure you can think of many other practical uses. As the cable is very long and very fixable.
Conclusion
I love the Vodool WiFi Endoscope its well designed, much thougt was placed into the features. I find that this is a gadget you can come back to time and time again.
The uses are endless and there in lies the allure of this product. I would definitely tell you to buy this one if you have a need as outlined above. You will not be disappointed at all trust me.
I love that this is so reliable, waterproof, has a built in light for dark spaces and has a very impressive length. The flexibility of the cable also makes it ideal for manipulating and getting into those hard to reach areas.
Nothing will get in your way as you work with this endoscope trust me.
Why Buy this Product?
1.It sells at a very good price.
2.Is waterproof.
3.Video is in High Definition.
4.Easy app support with storage on your phone.
5.Dedicated adjustable LED.
6.Allows for capturing Pictures and Video.
Why skip this product?
Could no find any major flaws with this product. Its well designed and put together.
If you have any additional questions about this product please ask them below.
Continue Reading we have even more Tips for you: