So I recently started to get this error where I would see at random the message flash at the bottom of the screen Currently Unable to send your message.
The error was strange as I was not trying to send a message and had no clue as to where the message originated and how to stop it.
This guide will show you how to get rid of the message and have it never appear again. ooh and restarting your phone will not get rid of it either as I am sure you have tried.
How I got the message?
I first noticed the message after someone else had used my phone. It disappears so fast from the screen but it enough to really get on your nerves.
The message reads in full:
Currently unable to send your message. It will be sent when the service becomes available.
What doe the message means?
A file is attempting to be sent by message and its not sending. This could be because the MMS or multimedia messaging feature is not set up on your phone or you don't have mobile internet enable.
How to Fix this error message?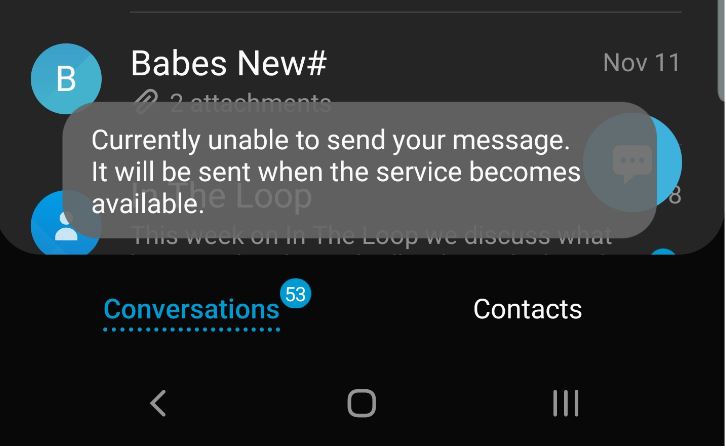 To fix this error message :
1.Go ahead and go to text messages or messages on your phone.
2.Now look through your last few messages to see if a file was sent that did not send but keeps retrying. This includes stuff like a picture or so on.
3.Long press the picture or file that was trying to send as a MMS or multi media message. Now select the delete option.
If the message is not important you can delete the entire text or MMS.
4.Go back to what you were doing the message should now be gone 100%.
How did this Happen?
Most likely someone either through a error or directly was trying to send a file and went to the file used the share feature and selected messages by mistake.
The error started as the file attempted to send over and over and could not thus the error you started to see.
How did I do?
How did I do on this one? did I solve the problem or mess up, I would love to know as your feedback is critical to what we do here on this website.
A minute of your time is all that would be needed to share your views in the section below marked comments. Did yous also notice the share button at the side a few clicks is all that needed to share as well.