If you see the following messages on YouTube while in your Creator Studio:
" Data is currently unavailable for some videos. As a result, information may be missing or inaccurate. "
This is a very common error message that pops up every now and again. What does it mean, how does it affect me and can it be fixed are some burning questions I am sure you have.
Below I will answer all those questions and show you what you can do to fix this problem.
The Error
This is usually appears at random for most creators. Usually it appears in the YouTube Creator Studio and only shows up after creator studio takes a abnormally long time to load usually.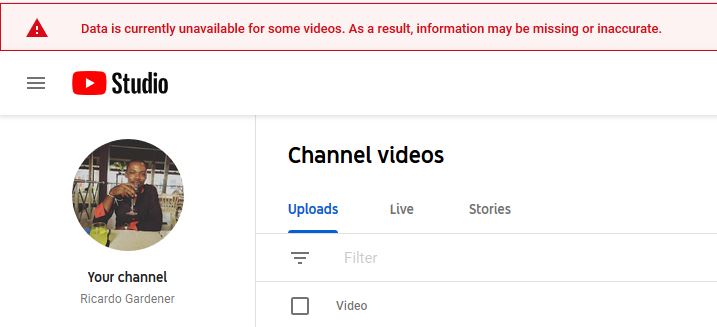 Its displayed at the top of the screen in red writing as stated above. Also you may notice weird inaccurate visibility and monetization status of your videos as mentioned and triangles as well as yellow icons where there was green before .
I suggest you don't make any changes while the messages is display is the information is inaccurate as a result of the error and nothing you have done.
You may also see this message appear and disappear from the bottom of the screen: Data is currently unavailable for some videos. As a result, the displayed information may be inaccurate. Retrying in 10 seconds.
How to Fix this Problem?
First 99% of the time this is a YouTube issue and you need not do a thing. The error will disappear on its own and everything will be display as normal.This can be in a few minutes or hours though.
OR
In other instances this may not be YouTube fault and you can try the following:
1.Log out of your account and back in.
2.Switch browsers or computers and see if you get the error still.
3.Clear the cache of your browser. You will need to log back in though so bear that in mind.
How did I do?
Did the tips above help? Chances are this is a YouTube issue and they usually have these issues fixed quite quickly most of the times.
Another cool way to see if it's there issue is to see if you get said error on a mobile phone. Sometimes is a error affecting one platform that needs to be fixed as desktop might be affected while mobile is fine.
Let me know your thoughts in our comments section I will be waiting to hear from you.
Continue Reading we have even more Tips for you: