This one is for those who are facing the You can't send friend request right now Facebook problem. If you are seeing the above mentioned error when trying to follow someone on your Facebook account do this now.
Do note that sometimes this can be received in error and is mentioned for those who see this message and are not in the wrong.
If you violated Facebook rules and was thus banned you should wait until the ban is lifted. This works the same for Android as well as apple devices.
The Error:
The error reads:
You Can't Send Friend Requests Right Now.
To help protect the community from things like spam, we limit the number of friend requests you can send in a given amount of time. Learn more.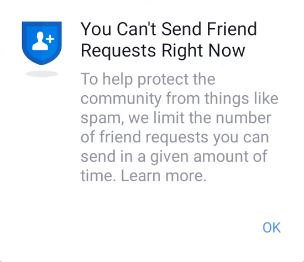 How to Fix the Problem on Facebook?
Go ahead and launch Facebook and Go to the Menu option which is the three lines stacked on each other which should be in the upper or lower right of the screen.
Now select: Help & Support.
Next Report a problem and select Something isn't working. Now look for and select: Friend Requests.
Explain your situation in the email and the error you are seeing. Do note if you were blocked for a legitimate reason such as violating Facebook rules then this will not work.Explain you cant follow and if they can fix the issue for you.
You can also upload a picture or screenshot of the error if you have it.
Send the Bug report and wait a few hours to a day or so and the problem should be fixed.
I do hope you found this guide useful and if so give us a share and please let me know how things turned out below.
Continue Reading we have even more Tips for you: