This is a look at the Lenovo IdeaPad Gaming 3 15 15.6 Laptop. This Laptop is one of the best bang for your buck Gaming Laptops on the market. It offers great performance and for cheap and you can upgrade simple components to get even more performance out of this Laptop.
So if you are in the market for a Gaming, School or Video editing device this Laptop does it all and at a great price.There is very little if any compromises with this Laptop that comes at a really solid price.
Physical Components
With this Lenovo IdeaPad Gaming 3 you get the Laptop out the box, Lenovos weird charger as I call it. The Laptop features a Eithernet port, HDMI, USB-C, 2 USB ports,1 headphone jack and that's it for ports.
This is a very beefy laptop in thickness but features great design. The front cover has some nice aggressive contour lines that distinguishes this laptop and sets it apart from the standard Non-Gaming laptops. The keys are also backlit and built for Gaming.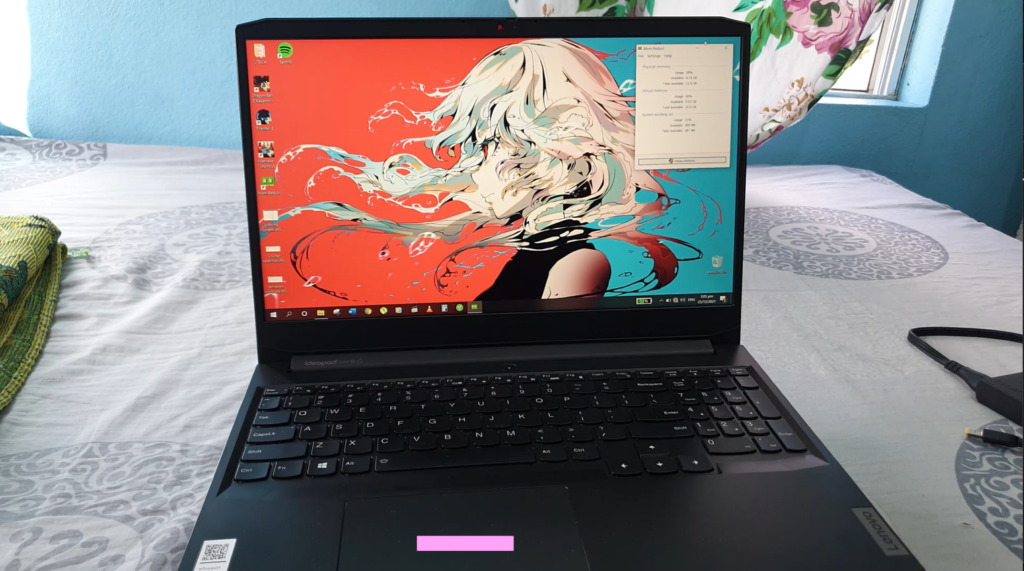 The webcam also has a privacy shield which covers the webcam,when not in use and shows in a bright red cover that clearly indicates when its on. The corners of the Laptop also has sharp cuts that distinguishes it in look to other devices as well.
On the underside we have very nice cooling vents which facilitates cooling of the CPU and GPU for maximum performance. The vents are also facilitated at the sides as well. Be warned though that this Laptop is a bit of a fingerprint magnet especially for sweaty hands.
Specifications of this Laptop
This device is a Lenovo IdeaPad Gaming 3 15 that has a 15.6″ Screen,this is a 15.6″ Full HD display (FHD) that has a resolution of 1920 x 1080. This is paired with a AMD Ryzen 5 5600H Processor with Six cores that shows up virtually as 12 in total @3.3 Ghz, NVIDIA GeForce GTX 1650 Graphics card, 8GB DDR4 RAM by default, 256GB SSD Storage out the box and Windows 10H although you can get Windows 11 version as well or upgrade. The version seen here is the Shadow Black which looks really nice.
Video Tutorial:
Watch the Video review and view this device for yourself.
Easy Upgrades for Boosted Performance
This Gaming Laptop is quite the deal out the box but but by spending a little bit more you can get two or even one more component and make it that much better.
I suggest that you at least upgrade the RAM from the default of 8 GB and add another stick of 8 GB Ram to make it 16 GB total. There is a extra RAM slot for that and all you have to do is buy and install the additional RAM. For RAM we recommend the Crucial RAM 8GB DDR4 3200MHz CL22.
You can also add a Extra Drive for additional storage as a secondary drive. This way you can offload your larger files and save space on your main Hard Drive. For that additional drive we recommend the Crucial P2 1TB 3D NAND NVMe PCIe M.2 SSD.
You will also need to open up your Laptop to do the upgrade which is not too hard and about a medium difficulty made easier with a video guide you should be able to find. A $130 bucks for RAM and Storage or even simply a $30 bucks upgrade of the RAM is easily worth the performance gain you will get.
Gaming and Performance
This Laptop Runs very cool and the cooling is very efficient, produces also very little noise during heavy load such as Gaming.This is most likely attributed to the very robust cooling system that built unto this laptop with vents at the bottom and sides.
It Runs PEST 2021,Dragon Ball Z kakarot, Titantanfall 2 Very well with Max settings which are the Games which are run on this device as of now.Audio is also very good compared to most laptops which is clear and crisp so you should have no issues hearing and enjoying your Music or Game tracks.
Please note the above Games were run after the upgrade of the RAM and as such performance may vary slightly or drastically if you have not updated your hardware and I cant speak to performance in the default state of the Laptop, although it should be pretty close.
Why you should get this Laptop:
1.Solid Hardware and bang for your buck.
2.Great cooling system.
3.Backlit Keyboard.
4.Upgradable for Increased Performance.
5.Great Gaming Performance especially after upgrading RAM.
Why you May want to Skip this:
1.This Device is a bit on the thick side but to be expected for a Gaming device.
2.A bit of a Fingerprint Magnet.
Conclusion
The Lenovo IdeaPad Gaming 3 15 15.6 Laptop features some of the best hardware you can get with everything carefully considered to give value and performance. No compromises where made as this is a Gaming device that easily handles all the latest Games you would want to play.
I personally think if you get this device there is very little it will not be able to do outside of Gaming. So this is recommended for Gamers and non Gamers alike. It strikes the perfect balance between price and performance.
If you add the additional hardware of the RAM and or Storage upgrades this device is almost perfect as a Laptop and would be hard to beat especially when compared to much pricier models that cost way more for vertually the same hardware.
I definitely recommend you buy this and do the upgrades out the box or soon after and you will be more than pleased. This is one of if not the best value in the Gaming Class and overall Laptops on the market that gives superior performance at what I consider a steal of a deal.
Continue Reading we have even more Tips for you: