Despite your best efforts you can at times run into the issue where your time wrong windows 11. This issue is not unique to Windows 11 and has always happened across the board even in older versions of Windows and is something I have seen from time to time.
Do note that with this issue simply trying to set the time manually may not even work. So in today's guide I show you what I do in order to deal with this issue.
Video Guide:
A video makes things much easier so see below what I do in order to fix this issue easily.
How to Fix Windows Time Problem?
Do the following to Fix time based problems in Windows 11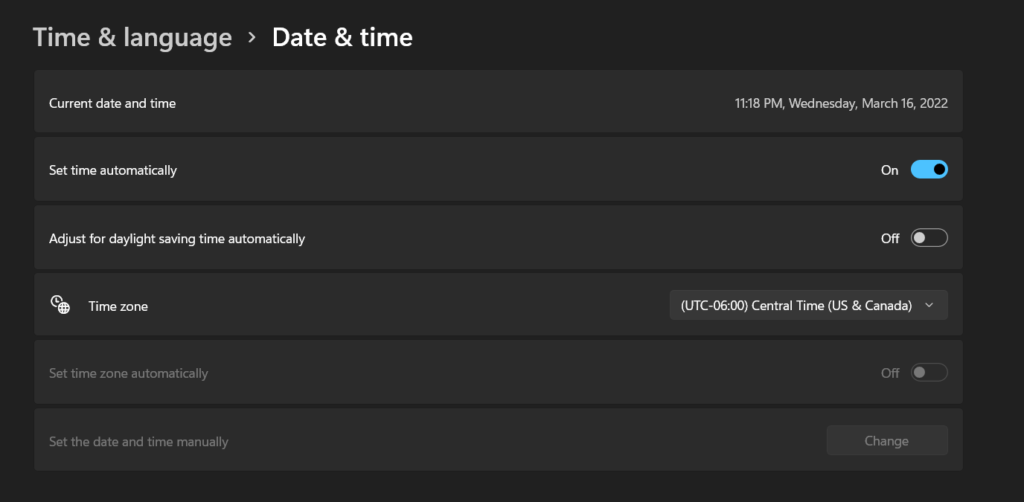 1.Hover the Cursor over the time and right click and select:Adjust date and time. Alternatively you can go to settings, Time and Language and then : Date and time.
2.You can try setting the date and time manually by turning off the automatic setting and clicking change but that tends not to work as the time will not show the time you set sometimes.
3.Go to time Zone and search for a time Zone that matches your area. You may find more that one so try another area, you can try one that's close to you in country or one that has a time that similar to your local time even if its not your region.
4.Set time to set automatically and depending on where you are turn off daylight savings.
That's it as for my Case I found setting my time from Mountain time USA and Canada to: Central Time USA and Canada and having the time set automatically did the correction for me and the time is now correct.
Before You Go
Please share the guide as seen here and do comment below, check out even more content as I do have plenty that you can see for yourself.
Continue Reading we have even more Tips for you: