I have been around personal computers for a long while and one of the most critical parts of monitoring a small home network to a larger one is the need for a reliable network monitor gadget that is easily accessible and can provide real time information to whats going on in your computer network.
Before I discovered the current network monitor gadget that I am using I tried several software and Gadgets and then I finally found one that was highly rated and actually functional enough to actually do what it claim and provide a great user experience. I finally fell in love with AddGadgets Network meter. Ever since then I have been using it on all my Windows installs from windows 7 all the way to windows 8 and I don't see my self stopping any time soon.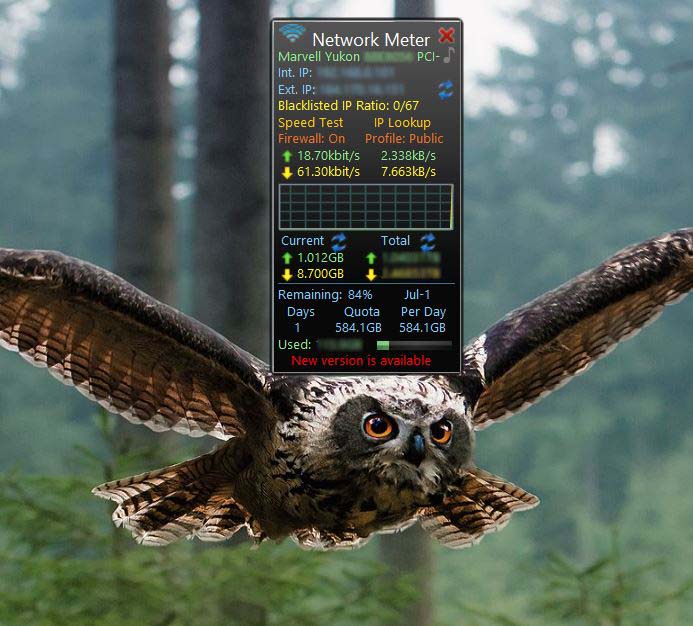 AddGadgets Network Monitor Gadget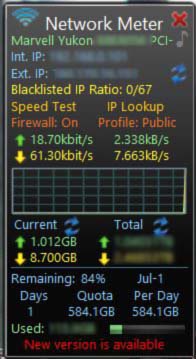 The Network monitor gadget has several useful features that makes it ideal for monitoring your network activity including displaying your current internal and external IP address, current upload and download speeds. Total uploaded and downloaded data, you can even set daily limits on how much data is to be used if you have a data cap. At the end of the month you can review how much data was actually used.
How to install and use the Network Monitor Gadget
If you are using windows 7 simply go to this website here and download the Network meter gadget. However if you are on windows 8 or 8.1 and above you will need to first download the 8GadgetPack here and then update to the latest version of Network meter Gadget here.
1. Simply install the 8GadgetPack which will allow you to install gadgets that can be found on Windows 7 (First introduced in Windows Vista) on Windows 8.
2. Once installed and you have the Gadget pack integrated (which also contains extra gadgets), simply update your Network Meter Gadget by installing the above version that you downloaded.
3. If you need to uninstall the old version (in case the pack already has one or to use the one) that comes with 8GadgetPack simply go to your desktop, right click and select Gadgets.
4. Scroll over till you find the network meter and right click and you can add a Gadget to the desktop or  Uninstall the current one.After this you can install a new or updated one.
Configuring the Network Monitor Gadget
To configure and control the look and feel of the Gadget simply locate it on the desktop and hover the mouse over the Gadget and look for the rinch like icon and click it. You will now be in the configuration menu which should appear as a pop out menu.
1.Under the options tab towards the bottom you are able to input your billing data that is based on your internet data plan so as to refine the way the gadget tracks the statistics it displays on screen.
2. Go to display to adjust the size of the Gadget, sizes range from 100% to 400% or custom-I only adjust this setting when I am dealing with larger displays and need a larger version of the Gadget on screen.Here you can also enable and disable different elements of the user interface such as the showing of your internal and external IP address.
3. Under display you can also control the total bandwidth usage and the graph that is displayed.
4. In the color tab you can refine the color of all the major titles and elements of the network monitor gadget and truly make it your own with various color codes.
The Network monitor gadget is one of the best I have ever seen when it comes to monitoring network activity on my computer very little happens in the background that I do not know of, there have been many times when there was nothing running and I noticed abnormal data usage and was able to track down rogue programs that were in the background and sapping my data and contain them.
Best of all the developers update this great gadget very often and its constantly under development and its improving each time getting better and better. If you double click on the widget you are instantly taken to Network and sharing center for windows. Clicking on the Gadgets name brings out all the statistics about your connection that is killer convenient.
If you have a question about this Gadget or would like some help use the comment section below and i would be glad to assist you.