I recently had the pleasure of purchasing and using the Lepa Maxbron 1000w Power supply because my Gaming Rig power supply of two (2) years plus simply died after being powered up, I simply heard a loud pop and that's was the end of it, I instantly knew my old power supply was dead. I decided to do my research to find a suitable replacement that would provide even better performance than my last power supply and yet be very affordable as the one that had died. I saw many offerings and for the most part they were flashy ones in the 1000 watts range, but I was also seeking one that was also modular for great cable management, that's when I came across the Lepa Maxbron power supply.
What you Get inside the Package?
Inside the package you will get the power supply that comes sleeved in a Red Anti vibration rubber shielding to reduced vibrations for a quiet operating performance and a black replacement in case you don't like the red.
Modular cable connections (

6+2P PCI-E connector

and every other major cable connectors that comes standard on a PSU)
User Manual
Cable binds
Screws
Power Cord
The power supply itself is black with the B1000M Maxbron marking on either side, there are two fans one to the rear and the other on the top, the main fan to the top has a nice fan grill with the Lepa logo of a lion in a gold like finish, on the other end are the main cables and the modular connection points.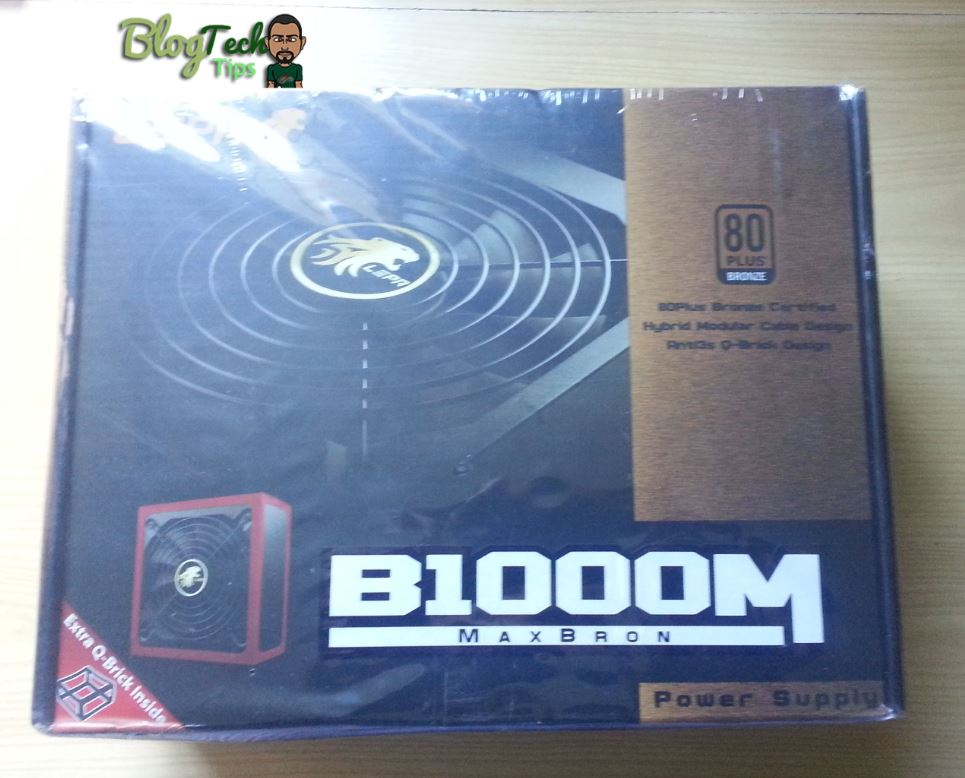 Specifications of the Lepa Maxbron 1000w
[wp-review]
The Lepa Maxbron 1000w is 80 PLUS BRONZE certified which means it will provide 88% efficiency of the rated wattage as a rule of thumb you should always buy power supplies that are 80 Plus certified or higher as no power supply on the market will provide exactly 100% efficiency. But this power supply will provide more than enough power to supply your computer with all the power that is needed, especially if you are into getting the latest Video Cards for gaming.
This power supply supports the latest Intel CPU and can even support SLI which is where you use two video cards instead of one. even if you do not need all of 1000 watts Lepa creates other great power supplies of less wattage, also if you need to calculate how much power or wattage your power supply will need to have you can use this: Recommended Power Supply Wattage Calculator.
Picture Gallery
How well does it perform?
In my experience with the power supply so far I was able to power all the components of my Gaming rig which includes: 4 Hard drives, 2 DVD drives, 6 Fans, a LCD fan controller, 1 Video card, water cooling pump and other minor components quite easily. The first thing I noticed in comparison to my old power supply is that the Lepa Maxbron 1000w is very quite, to show you what I mean My girlfriend and those that come to the house would often ask if it was raining outside? due to the noise of the fan but now it's so quite you can hardly hear a thing which is great if you want to create a computer that's as quite as possible.
After switching out my old power supply I was surprise that due to the modular cable design I was able to use less cables and inside my case was less cluttered than before. In fact inside was neater and air flow inside my case increased, my components now have more than enough wattage to perform at their best for even the most demanding tasks.Powerful single +12V design means that this will power the latest and most powerful CPU and GPU currently on the market.
Upon receiving this power supply I have simply installed and left it to do its work and its been humming away ever since, I have used my fair share of power supplies and its been a while that I have seen one that priced nicely and can deliver on what was promised, after all we don't have time to be using components that will fail and need to be returned shortly after getting them. Over all I am glad that I took the plunge and went with a less than popular name in power supplies and it has really payed off. Just to show you there are underdogs out there that are not well know but yet they create great products that rival or are better than most big brand names.
The Price.
One of the great selling points of this 1000w power supply is the very low price, as other power supply of this caliber cost twice as much, especially with the modular design. It's not 100% modular but for the most part that does not matter, I happen to purchase mine on sale and the price was very good. Even at its normal price its a power supply that can hardly be beat.
Video Unboxing
Advantages
Great price
Very powerful at 1000 Watts.
Is modular for great cable management.
Comes with Anti-vibration rubber sleeves.
Very quite in comparison to other power supplies.
Has every cable need to support multiple components.
Sleeved cables.
Disadvantages
Not a big brand name as some units in the market if that matters to you.
Is not 100% modular for main connections.
If you are looking for an affordable modular power supply that's cheap and effective at what it does without been too noisy there are not many offerings on the market as you will find that will involve throwing your money away but I guarantee you that this power supply will provide more than enough power to keep your components running perfectly. This power supply is at least worth your consideration as a great unit to power your current PC build or your next major one.