I love computers and the only thing better than a well built computer setup is a great desk to set it off and get you in the right frame of mind for work or play. However finding the right desk is more than picking out a pretty looking offering we are aiming for finding the best computer desks for home usage and we will not rest until we have achieved that goal and more in this article. So let us take the guess work out of buying a desk and give you the top selections from the most trusted brands on offer which will all be money well spent should you decide to go ahead and get any one of them.
Home computer desks
Lets kick this list off with a bang and get things rolling right out of the gate:
1. Walker Edison Soreno 3-Piece Corner Desk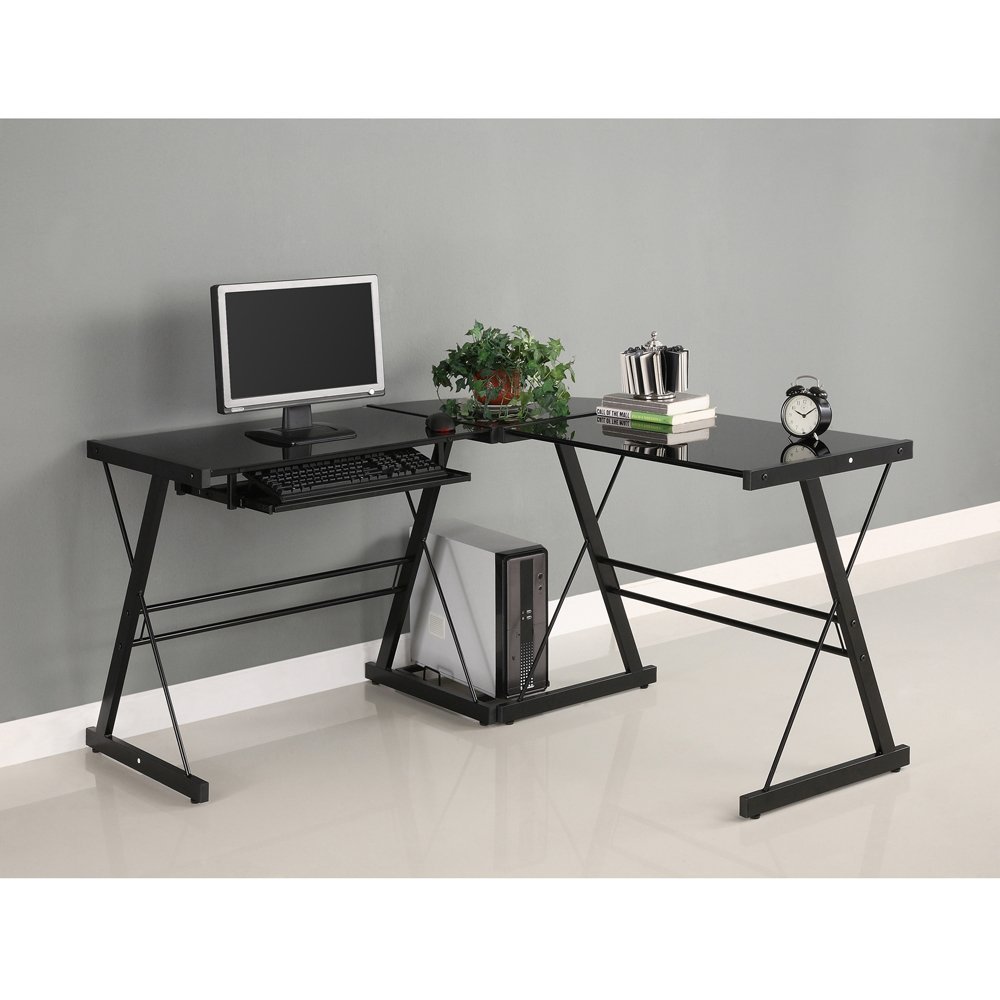 This is a modern design black tinted glass desk that has a very peculiar shape and design that's somewhat different from the traditional look you would expect from a desk especially ones that's made of glass and metal. This desk is very sturdy and the tempered glass can withstand up to 100 pounds without breaking and even if that were to happen its safety glass and does not shatter in a way that would cause severe harm or injury. The color options include: Black, white, silver and more so whatever the design look you are going for this great computer desks for home use will be right there along with you.
The table will comes disassembled as would be expected but the assembly instructions is well written and easy to follow for a trouble free experience. The price is also reasonable for what you will be getting:
Best reasons to get this Computer desk
1. Great price.
2. Well built and sturdy.
3. Easy to assemble without much headaches.
2.Bello 47-Inch Computer Desk with Curved Wood
For this version I thought we would bring out the wood and metal combination which leads to a very elegant looking desk that would go well with a well designed house interior without taking away from the look and feel. The metal frame is made of authentic curved wood with an Espresso brown finish and metal plus glass in strategic points to add to the rigidity of the entire frame. For your convenience and to add to the some what small footprint the keyboard tray is hidden beneath the main part of the table and can be pulled out or put away easily and effortlessly.
This desk is spacious enough to hold two 20 inch monitors or larger quite nicely, this desk will exceed your expectations as its well built and worth the cost for a desk that will last you a very long time.
Reasons you should get this Computer Desk:
1. It looks great and is well designed.
2. Very roomy.
3. Also easy to put together right out of the box.
3.Multifunction Desk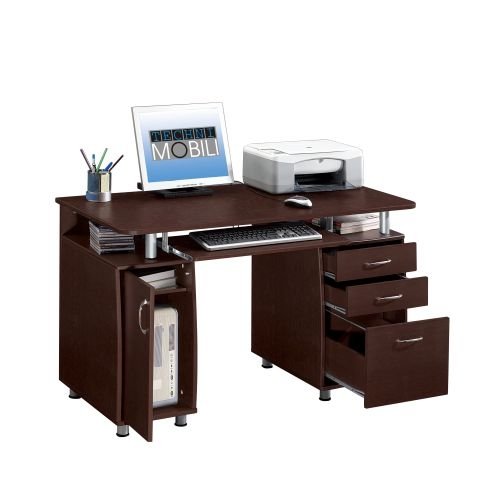 I like this desk because as the name implies this thing is filled with lots of functions and features which simply adds to its appeal, as you may be able to see from the pictures it has a chocolate brown finish . The assembly of this desk is quite tricky, but with some patience and time it's not impossible. Once you are over that hurdle it's all good from that point on, one of the best features I like about this desk is the cabinet section that you can keep your computer in and out of sight which makes everything neet and minimalistic overall, this desk could hold two 24 inch monitors with relative ease and there are lots of drawers for storing your stuff.
The reasons you should get this Desk:
1. It's large and offers great storage options for your computer and stuff.
2. Well built and very sturdy.
Reasons you may skip this one:
1. The assembly is tricky and requires patience but worth the time.
4. OakCabot Collection 60-inch L-Desk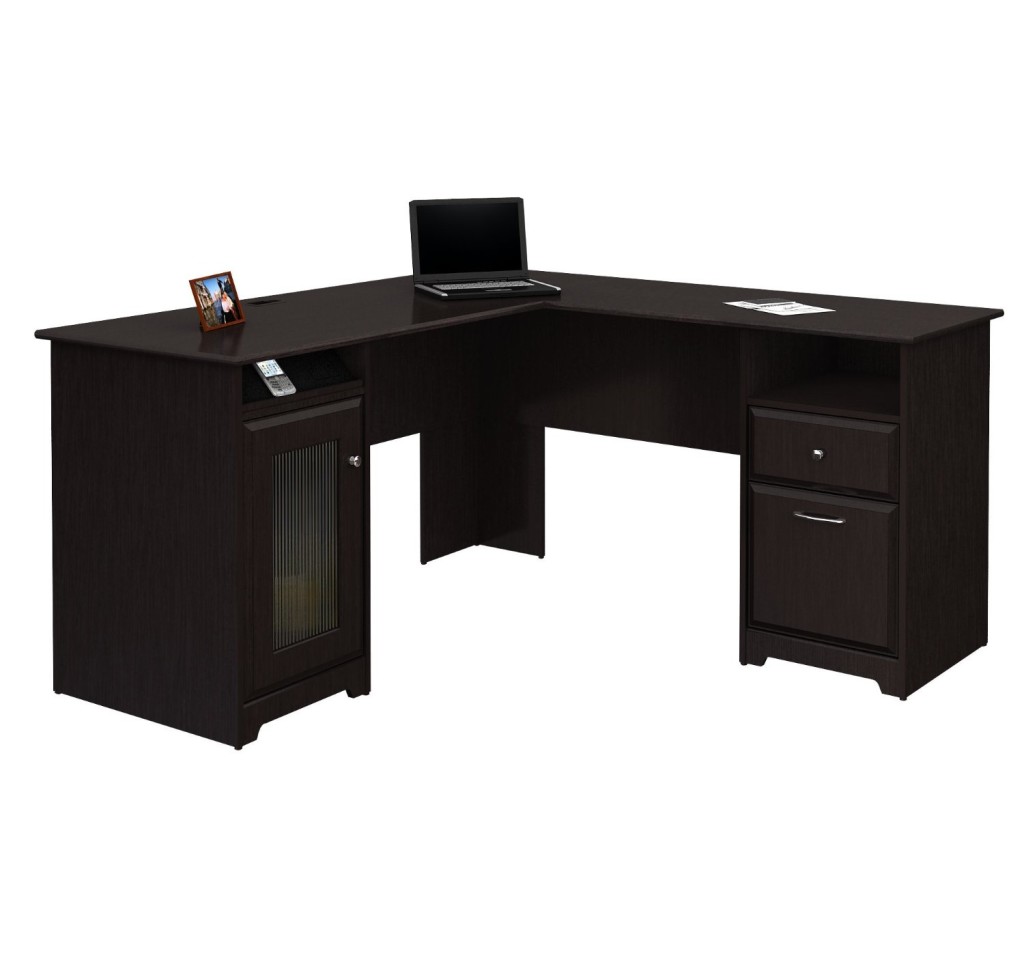 This L shaped desk is made from Oak for a sturdy and durable desk, this is by far one of my favorite desks because of the integrated USB ports and cable management features that makes using this desk very good. The deep brown color gives this desk a nice look that goes well with other furniture that you may have in the room. This desk also gives plenty of room on the surface of the desk for working and it fits well in limited spaces for maximizing space, I suggest that you place this one in a corner of the office or house.
I could easily fit a printer, one or two monitors and still have room to spear on this computer desks for home or office you choose. It might seem intimidating to assemble on delivery but give yourself enough time and should not be much of a big deal. You will also notice that the cabinet comes with a glass door and can easily fit a standard sized computer system unit with little difficulty.
Reason you should get this desk:
1. Integrated USB hubs for various gadgets.
2. Glass cover cabinet and nice Oak finish which looks great.
3. Great L shape that fits in a corner and takes up little space.
5. Techni Mobili L-shaped Glass Computer Desk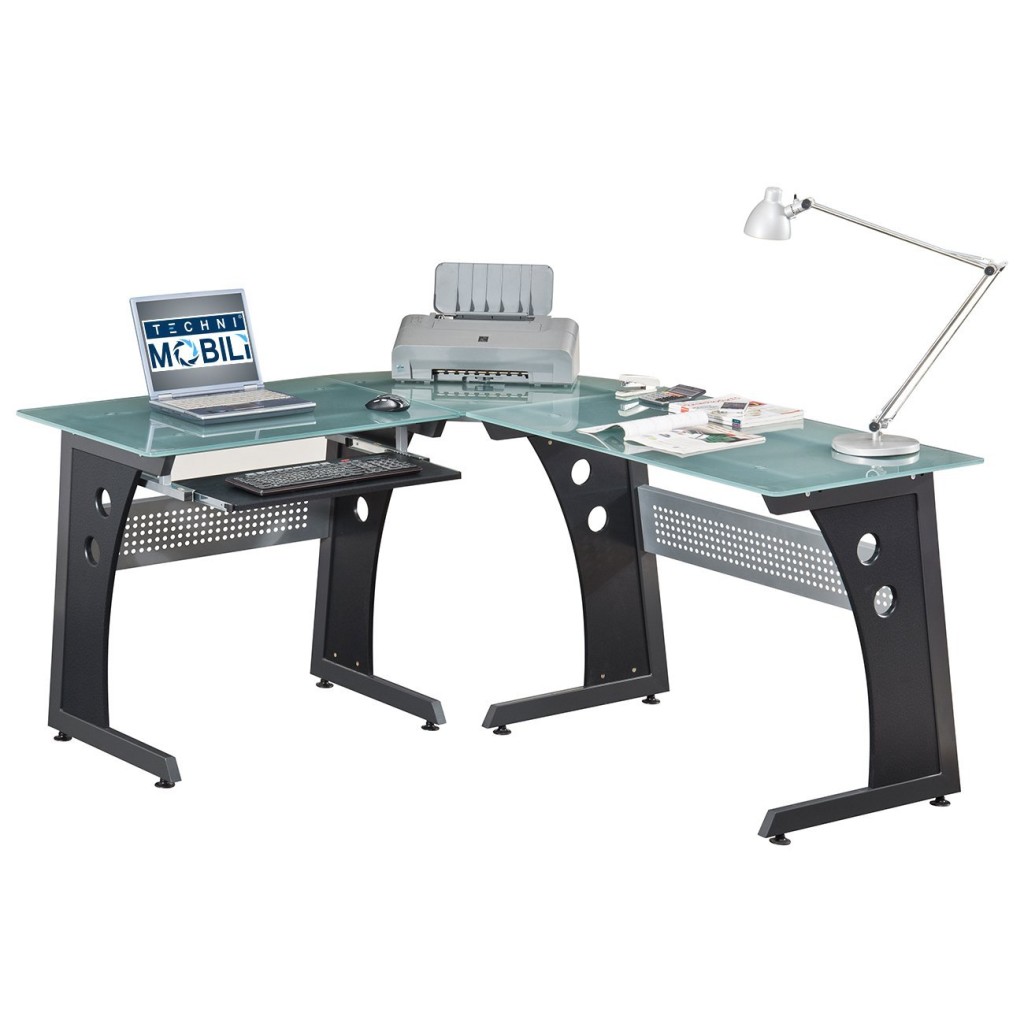 In the tradition of saving the best for last we have the Techni Mobili L-shaped Glass Computer Desk which looks just gorgeous if you are into metal and glass which is not only for look I might add. This desk is very good and its so flexible as you can interchange the long and short ends to fit the shape of your home space or if you like when you are moving things around this should be no hassle.
The glass is tempered for maximum safety and it's quite durable and to finish everything off there is a slide out tray that I love for not making the top of the desk cluttered. Also if you are worried about shipping don't be as you will receive the item in two boxes with the glass components being deployed by themselves.What I like the best about this desk is the modern feel that you will get and construction should be manageable as the instructions are well written and everything properly labeled.
The reasons you should buy this desk:
1. Great modern feel and look that goes well with a great house design.
2. Very durable build quality.
So that about wraps up our computer desks for home usage article, although these work well even in an office or home office but you get the idea, if you liked our selection please take the time to say so in the comments its always a pleasure to hear from our beloved readers that we love so much.