The Gear S Smartwatch is undoubtedly a well designed and sexy piece of hardware to compliment your wrist and is probably one of the best smartwatches available today that you can own. It's very lightweight and has a big display that you can get use to, with various colored bands and styles for your to customize it to your hearts desire. This device is also superior to the previous generation model by leaps and bounds to say the least.
The Gear S watch has totally revolutionized and set the bar for what is expected from a smartwatch in terms of design and performance with its curved 2 inch display that produces a crisp graphics as its Super Super AMOLED with a resolution of 360 x 480 which translates into an almost realistically looking watch face at such a fine resolution on which you can't see a single pixel to distract you from the awesomeness that's the Gear S. This literally puts this smartwatch miles above the competition when compared to the likes of the Apple Watch and other offerings from companies such as LG and so on.
Just like the displays on the Samsung Galaxy Flagship devices Samsung has once again created a great display that owners of the gear s smartwatch can be proud of or simply get lost in. What really sets the Gear S apart from other smartwatches is the size of the screen which is large but just right when attached to your arm. This device is ahead of its time in that the feature sets that you are getting on this device is what other smartwatch manufacturers have yet to aspire to, which Samsung has manged to bring to us early on due to their early entry into the game.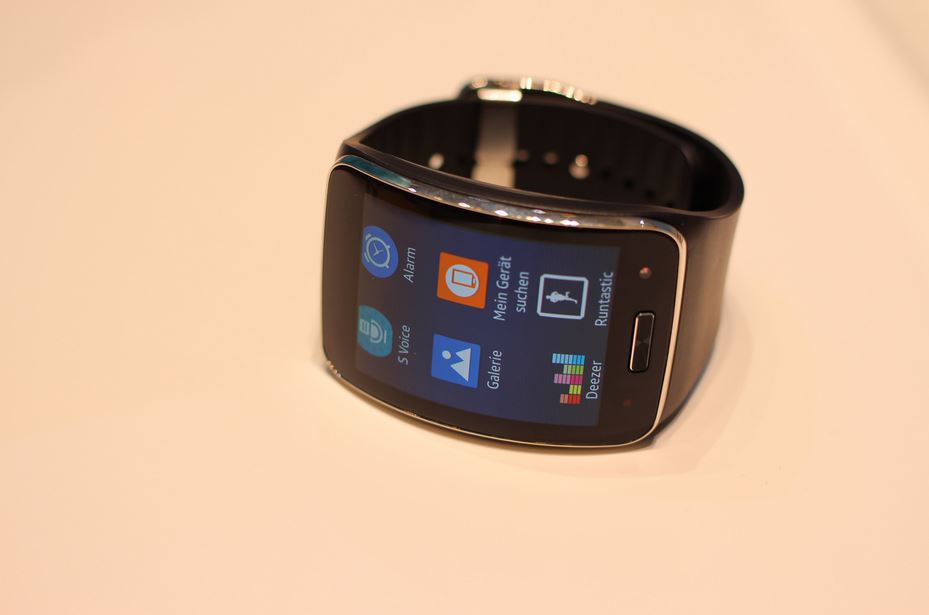 It's a fully Featured Smartphone
With this watch you are able to get full 3G data and voice calls without needing a smartphone which is yet another feature that distinguishes it from the competition as it has its own Sim card slot and does work as a phone by itself.The curved display also does the entire watch great justice as you can tell that curved screens were made for situations such as this which makes the entire watch large without seeming so.
You will love the displays ability to adjust automatically to light intensity making it possible to read the display in various environments without adjusting anything manually. The glass can get a little reflective but not to the point of being a deal breaker in my opinion.
The main button on the front of the display acts as a home button as on the smartphone and also a  power standby button which makes using the device easy and intuitive. A cool feature is that if you leave your smartphone calls can automatically be forwarded to the watch which is a cool feature.
No Camera!
For some reason Samsung decided to ditch the camera for the Gear S watch which is a step backward in my opinion as they are normally the ones to throw everything into their devices including the kitchen sink if you know what I mean.
The perfect companion to your Samsung Smartphone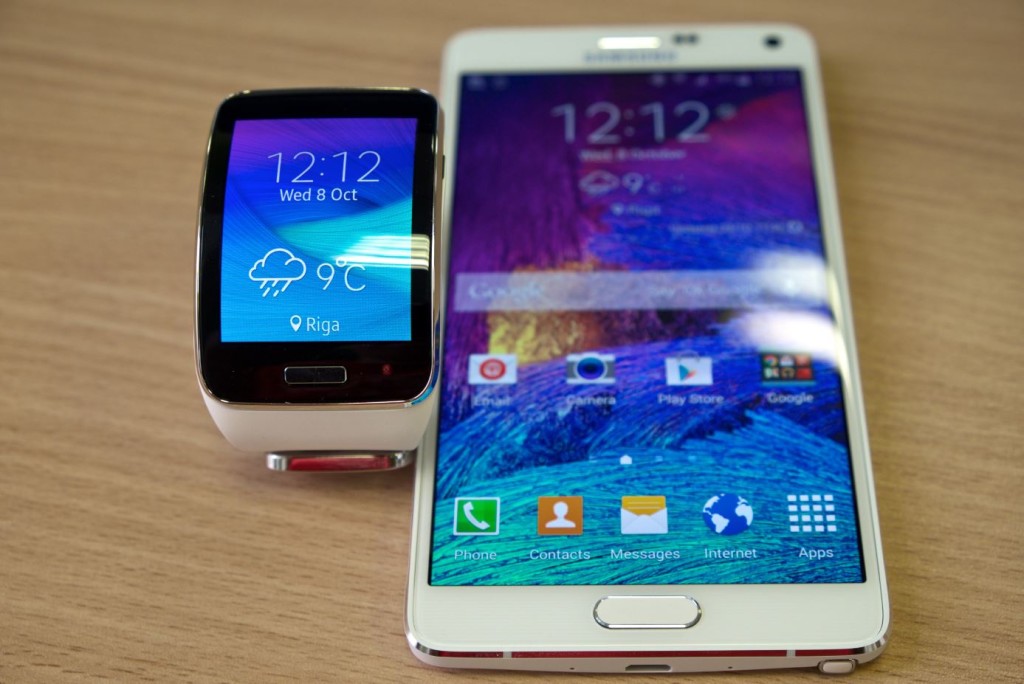 If you own a Samsung smartphone that a very good reason for you to get a gear s smartwatch to work together although the Gear S can work on its own. Both devices compliment each other perfectly as intended by Samsung and its the only way to make full use of both devices.
Tizen Operating System
On the Gear S can be found the Tizen operating system which works and can be customized from your Samsung device quite easily. The operating system runs smooth on the Gear S hardware without any noticeable slow downs except for the usual ones from of the animation sequences when transitioning between screens and so on.
The gestures make navigation easy as by swiping down from the top for settings and up from the bottom for the App tray, from the left for notifications and from the right to scroll through the home screens. You will quickly learn these features as its very similar in a sense to the OS on your Galaxy Smartphone that you are accustomed to.
Also included are features such as a calculator, web browser, S Voice, stop watch/timer and much more that you can get from the Play Store or Samsung Gear Apps marketplace. You can connect to the internet by mobile data or by wifi easily. Even texting is possible despite the small area you have to work with for a keyboard but the one saving grace is that you can use voice input for typing which makes up for this a bit.
Sound and Audio
The speakers are loud enough to be clearly heard, I wonder how Samsung Actually fitted such a great speaker in such a small space? plus with noise cancellation tech working the other party should have no issue hearing you while you use the device as a phone so you can talk into your wrist as long as you want, but do note you could be using a Bluetooth headset if you wanted to as those work fine with the watch.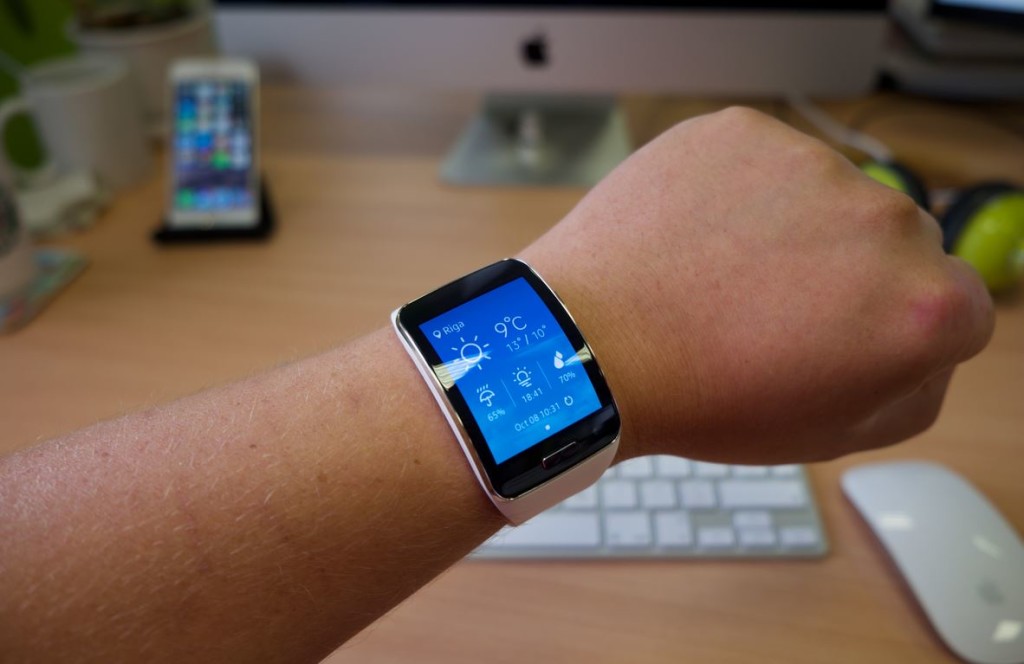 Water and dust resistance
The Gear S is dust and water-resistant up to 1 meter for up to 30 minutes which means that if you are away from your phone while at the beach or pool you can enjoy yourself without missing a beat or a call which is a great feature that other smartwatches do not have.  During these instances you can make and receive calls and even browse the internet.The entire core of the watch face can be removed from the straps and you can even get yourself different bands to your liking.
Durability and strength
As a daily device that can survive a busy lifestyle the Gear S can easily survive being banged around, splashed and submerged in water or being used in dusty and grimy situations without you having to worry about your watch falling apart on you. Do watch the curve screen as while its durable it's not immune to scratches.
Health and Fitness
You can never forget the health suite that's similar to that of the Samsung galaxy devices in measuring and tracking your health and fitness progress that integrated into the Gear S. The watch makes this all the more convenient as you can easily leave the smartphone at home and carry the watch as you workout which is way more convenient. The fitness suite includes: heart rate scanner, Nike running App, GPS and with your favorite music loaded unto your watch you can have all you need for a great workout session.
Battery Life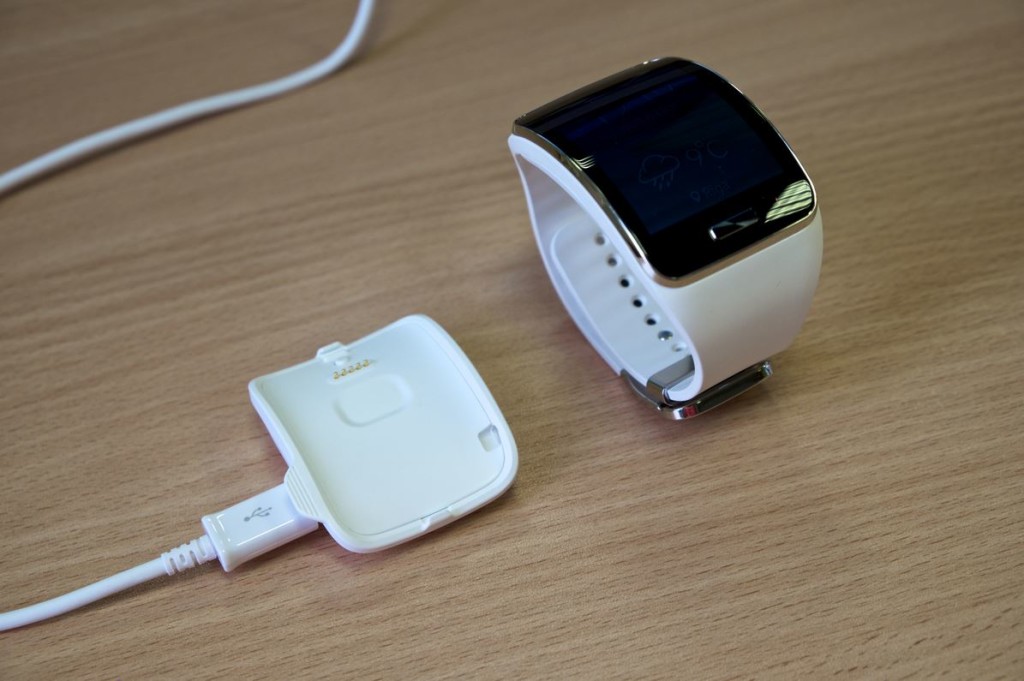 Another area the gear s smartwatch shines is with excellent battery life and on a full charge you can get a full day of usage and should you employ energy saving features or use it as a companion to your smartphone alone then that can even go a much longer way of up to three days.
Why should I buy this:
1. If you own a Samsung Smartphone.
2. You want the best smartwatch experience available.
3. You want a Beautiful display that's pixel perfect.
4. For the Dust and water-resistance.
5. Its a standalone phone for making calls and browsing the internet.
Potential deal breakers:
1. Only works with Samsung devices
2. The price, you do pay a premium for this and other smartwatches.

Continue Reading we have even more Tips for you: