It's another day and another Laptop review. Today I have a Black beauty for review and this is the Lenovo Ideapad 100 which is a new Laptop that you should be considering as your next Laptop. Now to be clear there are a few models on the market but the one I have here is the Lenovo Ideapad 100-15IBD which is one of the better models.If you are looking for something more affordable than this unit be sure to check out our review of the Lenovo Ideapad 100s.
This model has a 15.6 inch screen and comes with Windows 10 x64 bit.It has an impressive 8 GB of RAM,a 5th Generation Core i5 5200u 2.20 GB Quad core processor, 1 terabyte HDD. You also get 1 USB 3.0, 1 USB 2.o, HDMI, Ethernet, DVD drive,WiFi 802.11 b/g/n, Bluetooth 4.0, Up to 4 hours battery life, webcam, headphone and 4 in 1 card reader.
The Ideapad 100 vs Lenovo Ideapad 100s
The major difference between the Ideapad 100 featured in this article and the Lenovo Ideapad 100s is price and performance with the 100s having a very cheap price but you do pay a hefty price for that affordability with less than stellar performance. Don't get me wrong its good for basic tasks but that's it.
The Ideapad 100 which this review is surrounded is no slouch and does not have those weaknesses as it's a powerhouse capable of handling just about anything you can throw at it. Trust me when I say I am really impressed with this laptop right out the gate.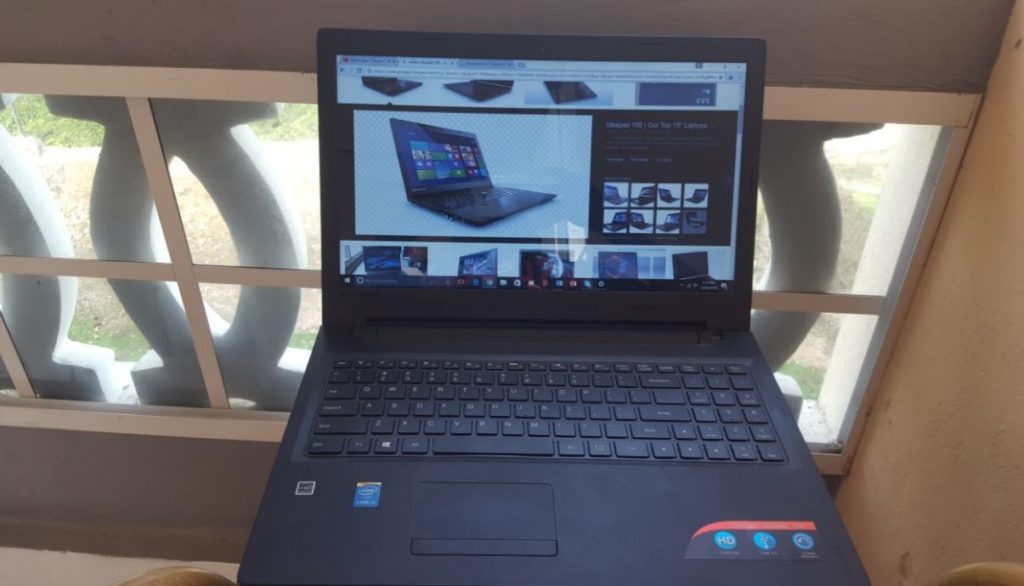 Bombastic Sound
I love the sound produced by the Lenovo 100 from the basis that I can easily listen to music videos from YouTube with clear and crisp audio quality. Playing music through streaming or stored locally is just as easily enjoyable. If you need your sound with more thump I recommend you get a set of external speaker with dedicated bass. But the speakers are good-by themselves as standalone units for on-board sound.
Video and Picture Quality
The screen resolution is a HD screen at 1366 x 768 and great for video. The laptop is also able to decode video easily with its capable processor. look forward to really crisp and clear video, color reproductions are on point. I have yet to find any issues.
Word processing and Work Performance
I recommend this Laptop as a Work horse. You can put it to work at school or in a Business place it will fit in. From simple to high-end applications such as Adobe Photoshop, adobe after effects and other applications will be covered. You can then imagine that word processing will be easy especially with a full featured keyboard with numeric keypad section.
In fact I am using it right now to prepare this article and I am satisfied. Considering I always work from a desk this is a big switch and this Laptop made the switch from my high-end desktop which is a powerhouse was easy. If that's not a great vote of confidence in this laptops capabilities then nothing else would be.
Everyday Gaming
Basic gaming is covered as I had Candy Crush soda installed and that was no issue for the processor to get through. The game was very smooth. So if you are considering to do gaming on this laptop it should handle most games at low to medium settings,but don't go overboard as for hard-core gaming as on a gaming desktop you would need a dedicated GPU and this is lacking in this model of this Laptop.
As long as you keep your expectations grounded and don't try ruining the latest crazy graphics high-end games at max settings you should do well with the average title and nothing more or you will have a horrible experience.
Communication and connectivity
This Lenovo Ideapad 100 is great for Skype and communicating in general. You will have plenty of connectivity to anything you need with ease. The connections are more than adequate I only wished I had 3 instead of 2 USB ports which would go a long way if you have plenty of external devices to connect bu USB. The DVD drive was also a welcomed addition I particularly love the eject mechanism in the side that looks like a plastic tab instead of a button which was a creative touch.
Conclusion
Overall I have reviewed both Laptops in this series including the one that cost way less and found them to be good laptops with a few flaws when you look at them objectively. I am glad to say that the higher series of this laptop does not have those performance flaws in the 100s series in terms of performance constraints, in fact this version of the laptop is a real powerhouse that well worth the price you will pay so go ahead and get this the money you will pay for it is worth it.
Buy it Now:
If you are looking to buy this Laptop at a great price check out the listing below and the price:

Price Disclaimer
Save
Continue Reading we have even more Tips for you: