It seems that every where I go now a days I see a BLU branded smart phone and with Good reason, as the brand is earning a reputation for creating cheap Android phones that are very reliable and the Blu Dash 5.0+ is a premium BLU smartphone that worth having or at least giving it a consideration on its merits as your next phone. So in today's review I would like to look at this device which I have personally purchased and used and give you a run down of its strength and weaknesses.
The Blu Dash 5.0+ Features
[wp-review]
We would like to start off our review by highlighting the more note worthy features that have been packed into this Android Smartphone. So right out of the box you will be getting a device that has:
A 5 Megapixel rear Camera, A Quad core or Four (4) core processor that's clocked at 1.3 Ghz per core, 4 Gigs internal memory with the ability to expand to a whopping 64 GB capacity by SD Cards, comes with Android 4.4 Kit Kat out of the Box, has a large 5 inch display, it's also sporting Dual Sim capability and its unlocked meaning it will accept any GSM Carrier that uses SIM cards globally.
What this all really boils down to in the end if you do not understand the Tech lingo is that this phone is very fast and offers lots of capable features that makes a very versatile and flexible device on any major carrier that you may choose to use it on.
 Whats inside the Box?
I was both surprised and delighted the first time I opened the box as I was expecting the normal set of accessories that I normally get from the many phones that I have bought for myself and friends over the years.  Not only did I receive a Wall charger which doubles as a USB cable, pair of in ear headphones, user manual but to my surprise I also got a Screen protector and a very nice slim fit rubber case too which I was not expecting.
This was very convenient as right out of the Box you will have everything you need to unbox and start using this phone without needing to get anything else which is a great value that you will not get with phones that cost fives times as much, you know the ones.
You can check out the Video Unboxing from my YouTube channel to see exactly what I mean:
The Design and Look
The phone itself is well designed and is a great device to look at, nothing is out of place and you have several colors to choose from which offers great variety, they include: Black, Blue, Grey, Pink, white, and yellow which all look nice as you can see from the pictures I chose the Blue version. The buttons are all in strategic positions which accentuates the curves of the phone.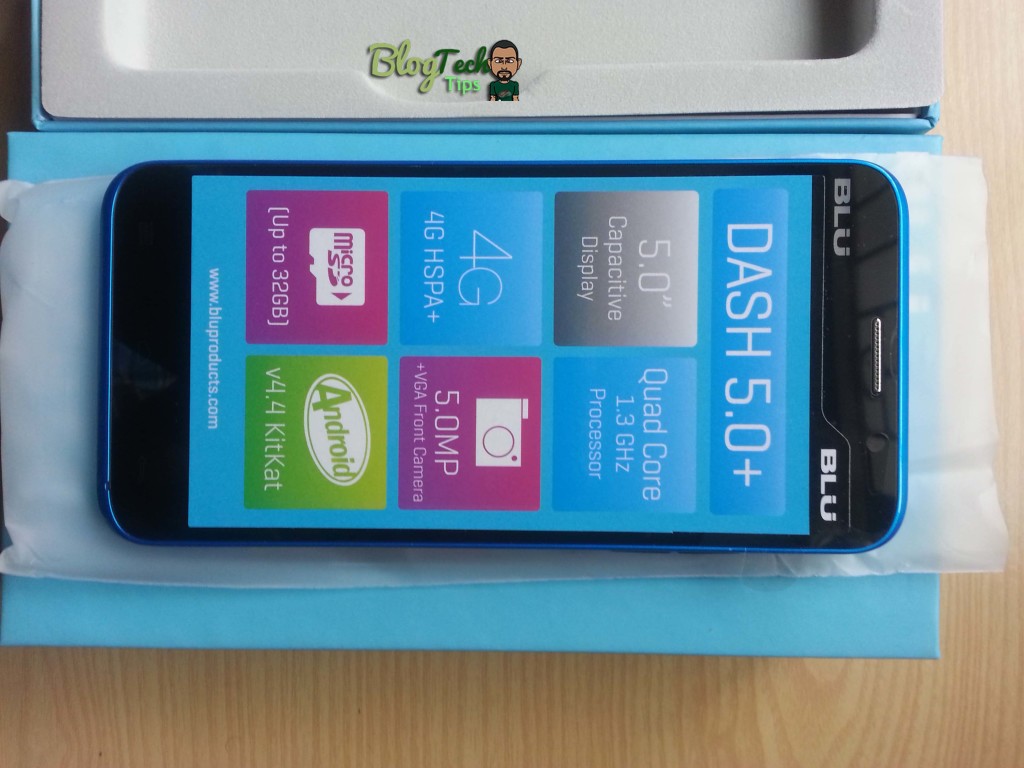 I however did not like the Silver metal finish on the button in fear that over time they might chip and give the polish look a less than great look as now but the addition of a free case placed that fear to rest. Also it tends to draw curious eye ever so often as most people who use my device like the look and feel and admit they would definitely buy this phone for themselves after using it for a bit.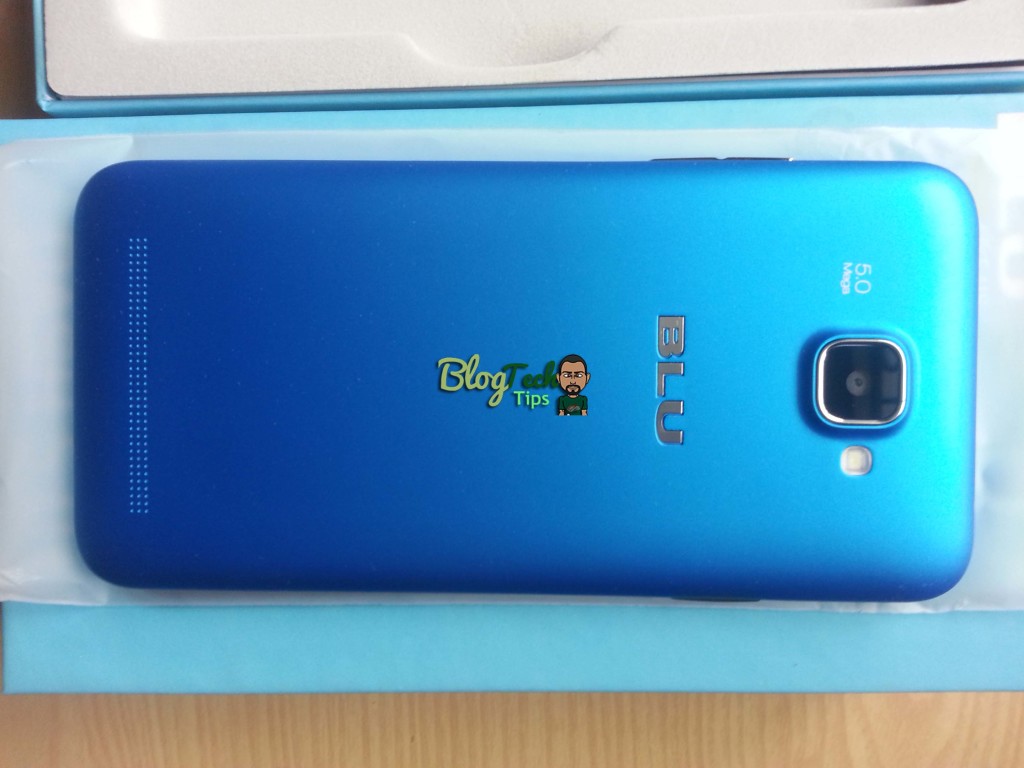 The Performance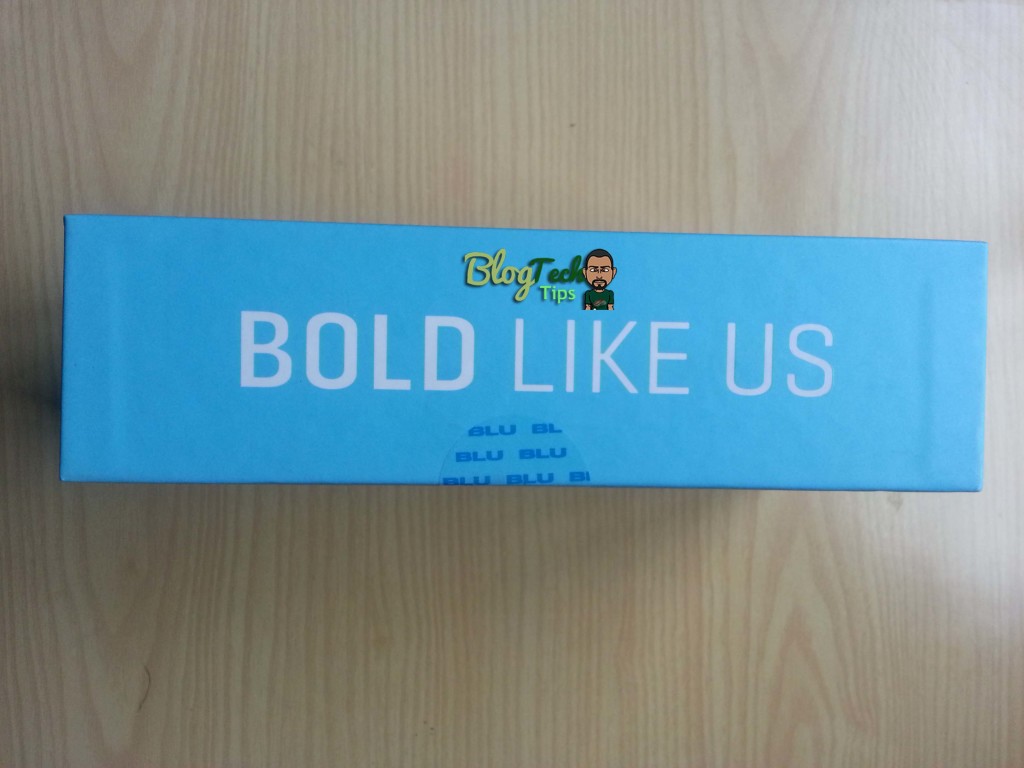 In the performance department the Blu Dash 5.0+ is no slouch and with all four cores, on first start-up I found the device to be very responsive, feedback from the touch screen was fast and snappy and I could not tell the difference in comparison to other more expensive and big brand name phones that I have used such as the Galaxy S5. On first starting things up though I noticed that there was a lack of per-installed Apps out of the box, it would have been nice to have at least a few games and useful Apps from the start though.
My first test was to install and Run a simple Playstore games, connecting to my wireless router was not difficult and easy through the Android interface, you will be surprised that some phones actually fail to connect to certain brands of routers and become a pain with other brands but not the BLU. The Game that I downloaded was Candy Crush which is a very popular title, a few seconds later I was enjoying a great experience with this title which had sharp graphics and a crisp look on the 5 inch display of the Blu dash 5.0+.
All and all on testing my games and other Apps I found the device to be quite capable and I could not find a single Playstore title that was not compatible or would not play.
Call Quality and Network Performance
Where this phones shines is in the dual SIM department as you can have the best of both worlds and have two network providers on the same phone, or even one if you so choose. I was able to place two full-sized SIM cards and use both networks and switch between them as I chose which was great as I was able to take advantage of promotions that I liked from either network and save.
If you are used to carrying two phones at once you can now condense those into one with this phone. Also if you travel or even like to switch carriers this phone is unlocked and is not tied to any GSM carrier so you own your device and can choose the network of your choice and switch accordingly.
The Price of the Blu dash 5.0+
As you can see from the Price this Smart phone is very attractively priced and its a steal in my book considering how cheap this phone is for the many features at the low price point. In fact a Samsung Galaxy cost more than 5 times as much as this and yet this device can give it a run for its money in terms of what you are getting for the cost makes this a great budget phone that will give you high end specs and features at a low end price, I really wonder how the manufacturers did it.
 Storage
The on board storage of 4 GB is nothing much, but drop a MicroSD memory card into the device and the problem is solved,they are so cheap now that I was able to get a 32 gig one for cheap and simply stored all my pictures and moved all the installed Apps to the memory card and all the phones storage is still not used.
I really like my media so it's no surprise that I might upgrade my Memory card again, but so far I can store my videos and Music and play them back quite fine.
Reasons you should purchase the Blu dash 5.0+
1. Performance is great able to run Apps and 3D games quite well with no lag.
2. Loud and clear Audio Playback.
3. Great Battery life.
4. Comes with great extras and all you will need to start using your phone without buying a thing.
5. Looks very nice and looks like it costs way more than the price tag.
6. Unlocked and Dual SIM capability for maximum flexibility and convenience with any GSM network.
7. Low price
Reasons you may want to skip this:
1. Small amount of built in storage could be greater, but considering its adequate and you can easily buy a very high-capacity SD cards for a little over $10 bucks this is hardly a drawback.
I totally love this smartphone and you would think that for a phone to be this good it had to cost hundreds of dollars then you are totally in for a surprise. You may not know the BLU brand but you may recognize their signature of providing great device at a fraction of the cost of those big named manufacturers.
Continue Reading we have even more Tips for you: