I recently had the pleasure of looking at and reviewing a Laptop from the  Acer Aspire ES1 series which turned out to be a very nicely priced cheap Laptop that was way under the $200 price tag. This coming from the company Acer that's known for producing some great and very affordable gadgets especially affordable laptops for the masses. My aim was to find a Laptop for a client that could be used for basic web browsing, doing school work and streaming video and listening to music all at a rock bottom price that would give me maximum bang for my buck. I had a budget of $200 bucks limit and I set out to find him a laptop that matched his specifications and budget.
Acer Aspire E 11 ES1-111m-c40s
Finding a Laptop at the less than $200 price point was a challenge to say the least but I finally found and decided on the Acer Aspire e 11 es1-111m-c40s. It was very compact, lightweight and portable right out of the box which was the first trait I noticed right away. The finish of the surfaced was a gulf ball like texture and it had some great connectivity features, I could hardly believe how much great features Acer was able to pack into this laptop at the marginal price point they were offering this device at.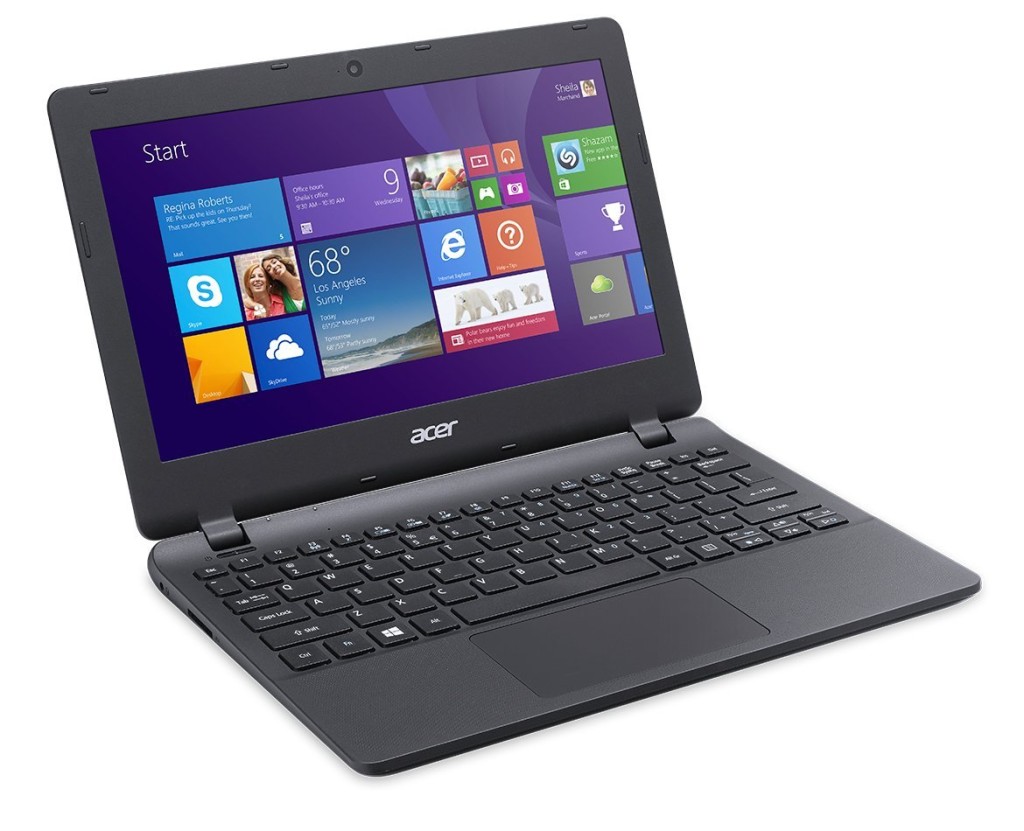 [wp-review]
The Specifications
As for the formal specs, it had a:
Intel Celeron N2840 2.16 GHz Processor
2 GB DDR3L SDRAM
32 GB Internal Storage
11.6-Inch Screen, Intel HD Graphics
Windows 8.1 with  5-hour battery life.
What was cool was that it had a fan less design that had no spinning blades which lead to a very quite device, a USB 3.0 port and HDMI out to the back of the device which was great for connecting your device to a larger screen TV if you wanted. I was however disappointed with the storage capacity and as a result I recommend that you pick up a external storage drive to fix this. Otherwise this laptop was more than a deal that I could not walk away from, now let me be very clear that this laptop is not fast or record breaking in speed but what it does great is being very power efficient and is a laptop that will work nicely for someone on a budget that need a cheap solution for school work and web browsing.
While this device does quite nicely at the tasks mentioned above it does get very slouchy if you try to play very graphically heavy HD videos. I found playing basic video files an easy task but little else in that department. Otherwise typing was super and I could browse the web at very nice speeds or throw this into a bag and go due to the small size.
Gallery of the Acer Aspire e 11 es1-111m-c40s
You just got to love the design of the Acer Aspire E 11
His this Laptop for me?
This in my opinion is a no brainer, if you are looking for a great value, you have a limited budget of under $200 bucks, you want a device for web browsing, doing school work or document preparations such as typing, listening to music and watching or streaming your favorite movie then go ahead and get this Laptop, you will not find a better deal than this while supplies last. Also if you like this device and have a little more cash then you can opt for another Laptop in the Acer Aspire E 11 series that has a bumped up specs with a little higher price point but with the same great features.
Why should you get this?
1. Very cheap and affordable at under $200 bucks.
2. Light weight and portable
3. Very quite with a Fan less design.
4. Performs very well at basic computing tasks.
5. Can be used for basic entertainment and works well for those on a budget without breaking the bank.